UN climate summit warning signs are adding up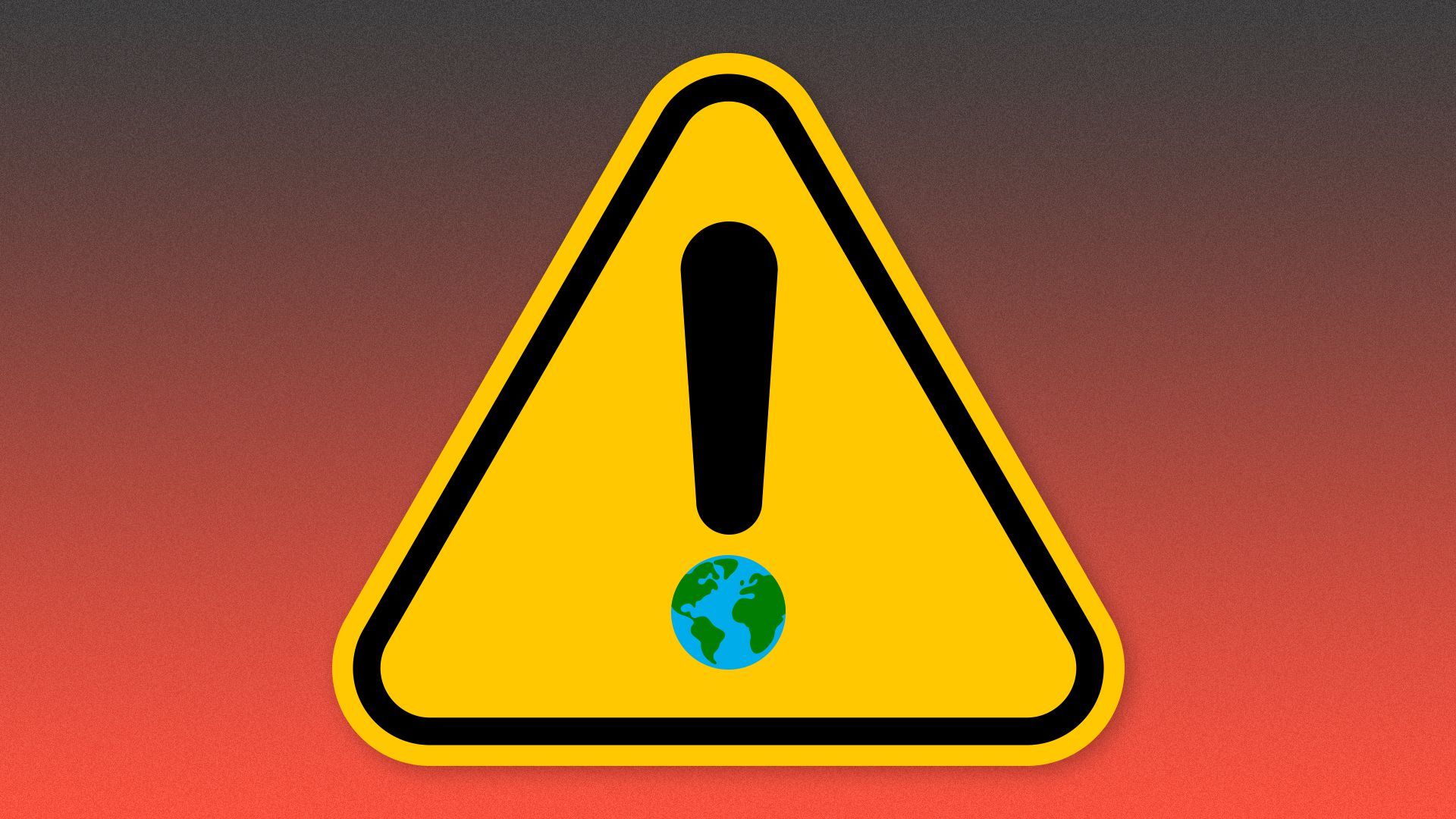 There are growing signs that make-or-break climate talks in Glasgow, Scotland, this fall won't produce tangible plans for emissions cuts that keep the Paris agreement's targets viable.
Why it matters: The climate summit is billed by world and environmental leaders as the last, best hope for securing the global commitments needed to get countries on track to avoiding potentially catastrophic levels of climate change during the next several decades.
Also at stake is crucial, long-promised financing for developing nations to better withstand the impacts of global warming.
State of play: The biggest stumbling block standing in the way of progress at COP26 is the lack of cooperation between the world's two biggest emitters, the U.S. and China.
Hostility between the two countries on a host of issues has soured any potential cooperation on climate, dashing the Biden administration's early hopes that it could separate climate, as Axios reported Tuesday.
John Kerry, the top U.S. climate emissary, failed to even secure an in-person meeting with high level Chinese leaders during a trip to China earlier this month, despite having hammered out a joint 2014 agreement along with President Obama that helped paved the way for success in Paris.
What they're saying: "I choose to be optimistic," former Vice President Al Gore told Axios. "But a realistic view has to take into account the unwillingness thus far of China to increase its ambition for reducing emissions," he said, noting the stark difference between now and the cooperation between the U.S. and China pre-Paris.
"China has not yet made the kind of commitments that can generate the momentum I would like to see in Glasgow, but there's still time," Gore said.
What we're watching: COP26 organizers are scrambling to better the prospects for a successful summit.
UN Secretary-General António Guterres, together with U.K. Prime Minister and COP26 host Boris Johnson, announced an informal meeting of heads of state on the sidelines of the UN General Assembly in New York on Monday.
President Biden is also stepping in with his own lobbying and coordination effort by inviting Johnson to the White House next week and holding a head-of-state-level, behind closed doors meeting Friday.
This meeting will discuss the need to commit to bolder emissions targets on both carbon dioxide, which is the main long-lived greenhouse gas, as well as methane, a powerful but shorter-lived, powerful warming agent.
"President Biden is really working hard on this matter," Gore said. "The question is whether we are moving fast enough and so far the answer is still no, we're making progress. We're gaining momentum. But the crisis is still getting worse significantly faster than we're mobilizing solutions."
Between the lines: At the Monday meeting, which a senior UN official said will allow leaders to have a "frank" discussion out of the view of cameras, the secretary-general will make clear his metrics for success in Glasgow and "raise the alarm" about gaps between summit goals and commitments so far.
The gathering, which a senior UN official said will allow leaders to participate in person and virtually, will make clear what the secretary-general considers to be the metrics for success in Glasgow.
These include new emissions reduction targets for 2030 consistent with getting to net zero by 2050, in order to limit warming to at or below 1.5°C (2.7°F) above preindustrial levels by 2100.
Guterres is also pressing industrialized nations to finally make good on a 2009 pledge to mobilize at least $100 billion annually to help developing nations combat global warming.
In addition, he is calling for more money for the hardest-hit, poorest nations to adapt to global warming impacts, and a rapid end to funding the construction of new coal-fired power plants.
"It will be a frank closed-door discussion where the secretary-general intends to raise the alarm. He will ask each country to be as ambitious as possible and to do something," the senior UN official said, calling Glasgow a necessary "turning point" for climate action.
Our thought bubble... Beware the ghost of COPs past: Perhaps the most deflating UN climate confab of all-time took place in Copenhagen in 2009. Then, as now, there was a new U.S. president pressing reset on the climate button. There also was no U.S.-China blueprint.
Then, a global recession dominated the pre-summit agenda. Now, it's a pandemic and related economic and political turmoil.
Then, the Danes were unprepared as hosts. Now, the British are hastily arranging for 20,000 delegates, leaders, activists and journalists to gather at an extraordinary time that is forcing them to devise plans to vaccinate many participants in need.
The bottom line: It's time for climate advocates and world leaders alike to buckle up for a turbulent period of climate diplomacy.
Go deeper