All-civilian Inspiration4 launches on 3-day mission in orbit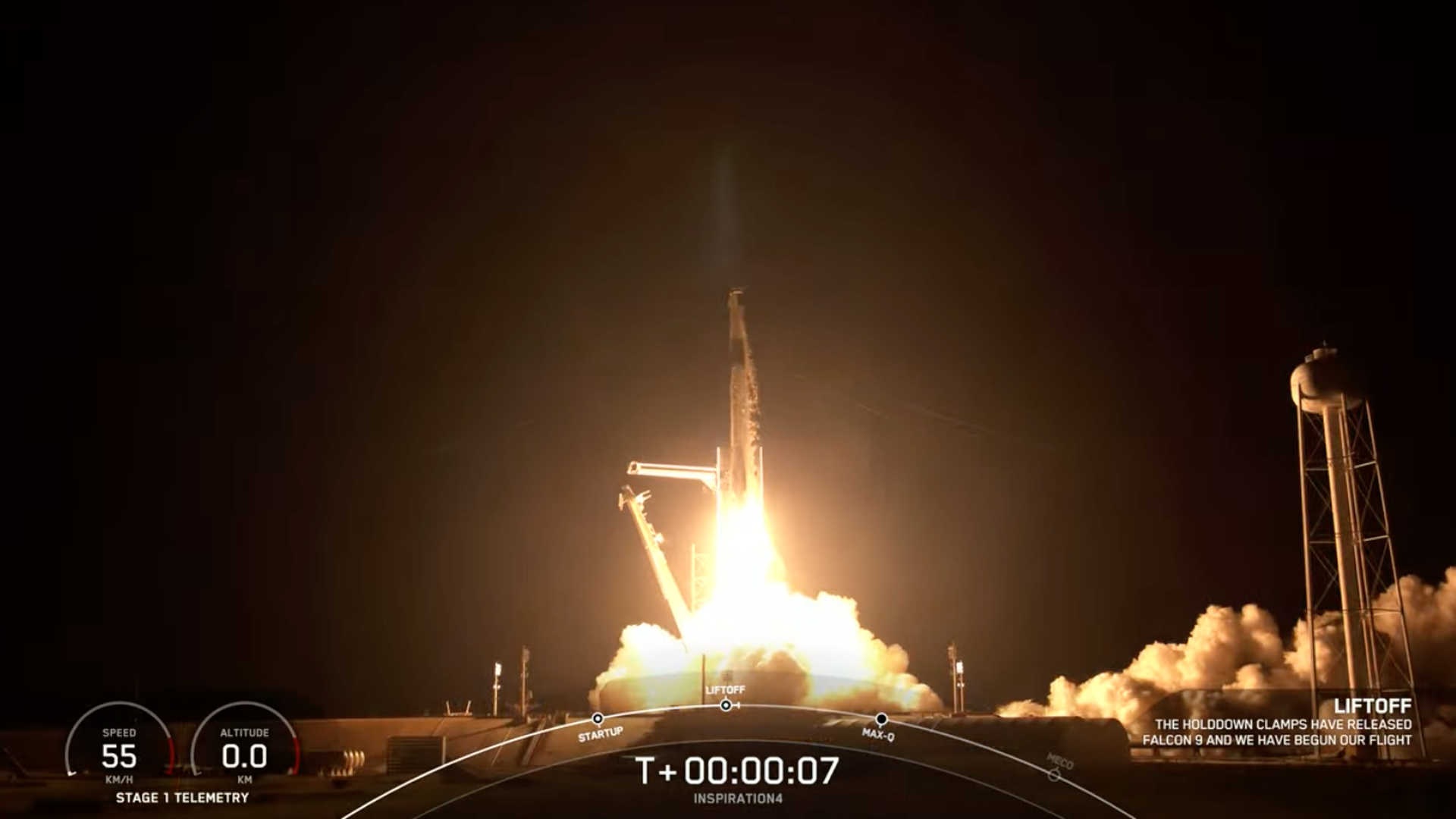 SpaceX's all-civilian Inspiration4 mission made history Wednesday night when it launched into orbit.
Why it matters: It's the first time a crew of amateurs has launched to orbit without a professional astronaut onboard. The mission also signals the start of a new era in space — one defined by an industry pushing to launch many more private people to orbit in the coming years.
State of play: The SpaceX Falcon 9 rocket carrying the Inspiration4 crew members launched from Cape Canaveral, Florida, at 8:02 p.m. ET on Wednesday.
Jared Isaacman, Sian Proctor, Hayley Arceneaux and Chris Sembroski will now live in their Dragon capsule in orbit for the next three days, before coming in for a splashdown somewhere off the Florida coast.
"We're very aware of how lucky we are, to be part of this history that SpaceX is creating right now," Isaacman told said at a news conference Tuesday ahead of the launch.
Catch up quick: Isaacman is the commander of the Dragon and the brainchild of Inspiration4, chartering this flight from SpaceX.
Arceneaux was chosen for this flight by St. Jude Children's Research Hospital, her employer and the place she was treated for childhood cancer. St. Jude is also the beneficiary of a $200 million fundraiser associated with Inspiration4.
Proctor was picked through a reality TV-style competition for entrepreneurs, and Sembroski was selected as part of a raffle anyone could enter.
All four crew members spent a little more than five months training together with SpaceX, far less than the usual time a professional astronaut trains before flying to orbit.
What's next: The crew will now spend three days living in orbit — experiencing weightlessness, staring at Earth and the stars and performing experiments.
They've also taken some of the comforts of home up to space with them.
Sembroski, Arceneaux, Isaacman and Proctor will be able to eat cold pizza and other relatively fresh foods their first day in orbit, and they have movies and TV shows to watch while in space as well.
The big picture: SpaceX hopes to one day make space travel like air travel, with very little training necessary for folks flying to orbit and even beyond.
The company also hopes to bring about a future in which there are a significant number of people living on Mars, which would require opening up space travel to many more people.
The bottom line: If the space industry wants to bring about a future where there's a city on Mars and people living in space, more and more missions like Inspiration4 will need to start flying.
🎧 Go deeper: Listen to the new season of Axios' How it Happened: The Next Astronauts here.
Editor's note: This article has been updated with details of the launch time and comment from Isaacman.
Go deeper