Biden enlists business leaders in campaign for vax mandates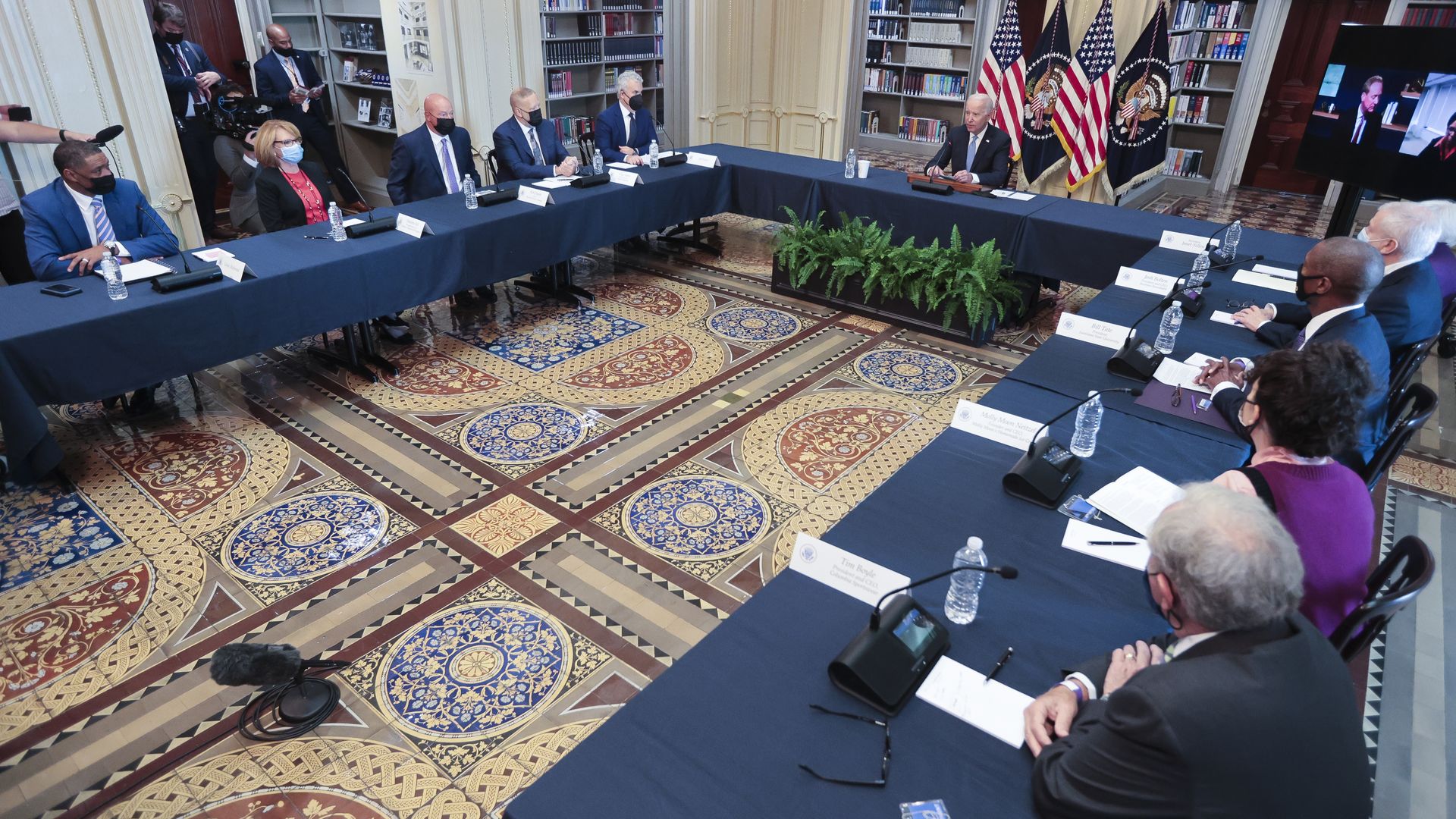 President Biden convened a meeting of top business leaders Wednesday to build support for a sweeping vaccine mandate that will affect most of America's workers. The message: Vaccines work, and the stalled uptake is holding back the economy.
Why it matters: As vaccine rates have flattened across the country, business leaders have the power to impact their employees' decisions. Many corporate leaders had been looking for stronger federal guidance to lean on.
"Everyone present was lauding the government [for] giving us employers a level playing field," Columbia Sportswear CEO Tim Boyle, who attended the meeting, told CNBC.
Columbia's stores are located in numerous geographical areas with different rules as it relates to the pandemic. "How are we supposed to manage that? This is a point of clarity ... it's a path forward," Boyle said.
Change of heart: After Wednesday's session with Biden, attendee Molly Moon Neitzel, founder and CEO of Seattle-based Molly Moon's Homemade Ice Cream, tells Axios the debate over whether or not to require the vaccine for her 180 employees has ended.
Now, she will — after the Labor Department issues rules on the matter.
Neitzel says that 96% of her employees are vaccinated, but that the seasonality of the business means she'll hire another 100 or so workers in the new year. "I'm thankful that this mandate will be in place, so I can just make it a requirement of the job," she adds.
Catch up quick: Biden last week laid out a six-point plan that included a requirement for all federal employees to be vaccinated — with no testing alternative — and for private sector companies with more than 100 employees to ensure their workers are either vaccinated or tested weekly.
State of play: The Labor Department is crafting an emergency rule that will apply to the private sector employees included in the mandate, Biden said at a press conference after the meeting.
With details around cost and enforcement still to be ironed out, Biden listened to participants and was open to criticism, Boyle told CNBC.
The president approached the meeting with curiosity and humility, Neitzel added. In particular, he wanted to hear about what had worked for the business leaders in the room.
Biden publicly invoked commentary by Wall Street firms like Goldman Sachs and Moody's, which have said that vaccinations will have a positive impact on jobs and the economy.
"Employers want the virus to go away, [in order] for the economy to come back. The virus is absolutely running the economy," Neitzel says.
What they're saying: "We need the private sector and nonprofit organizations to step up in helping close the vaccination gap in our communities," Kaiser Permanente CEO Greg Adams, said in a statement to Axios after the meeting. "[W]e are calling on other organizations … to mandate the vaccine for their employees."
The bottom line: Mandates drive vaccination rates up.
Kaiser Permanente says that its employee vaccination rate went from 78% to 90% after it put in place a requirement.
Go deeper