Racial equity is elusive in the legal weed business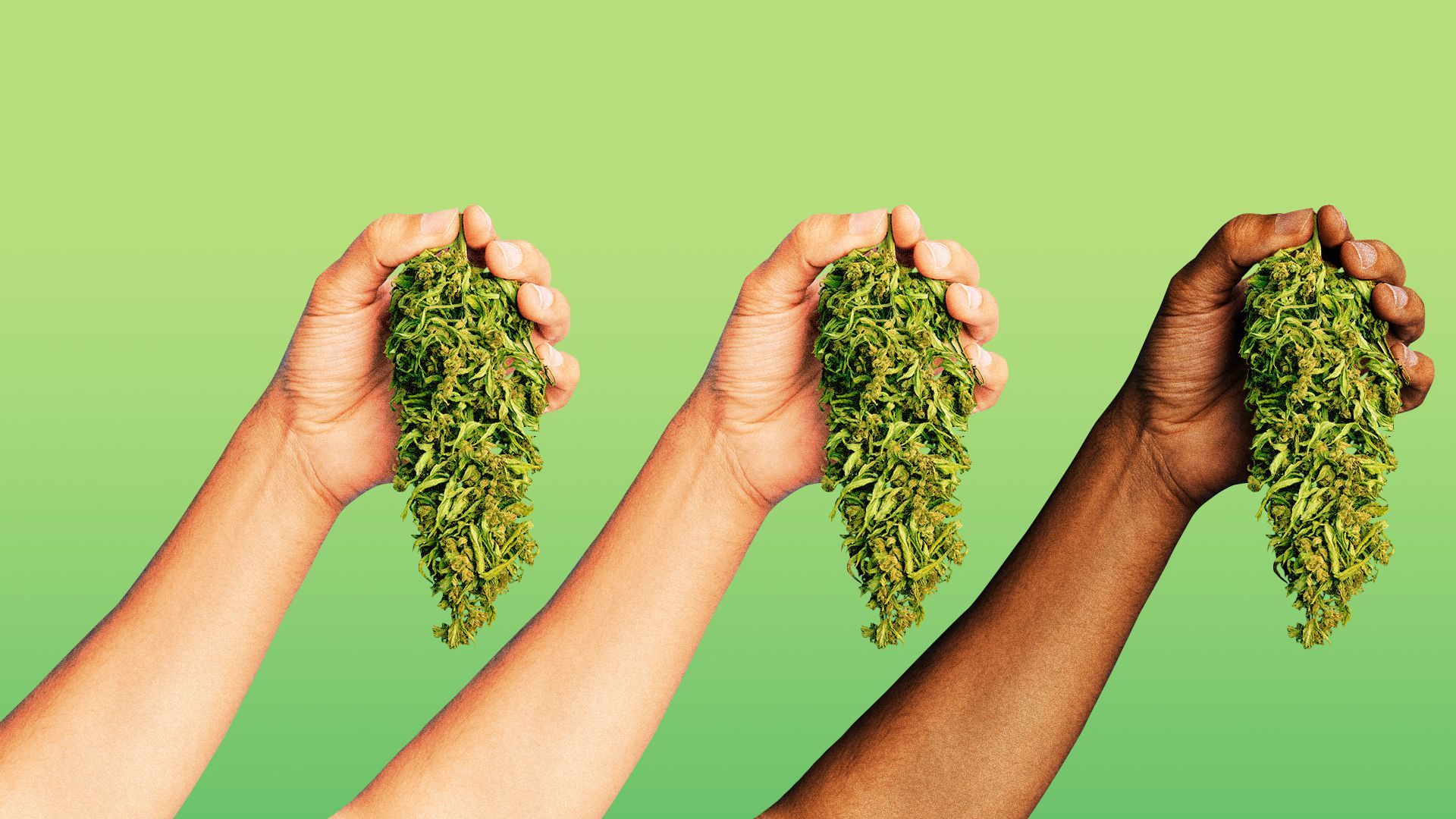 Efforts to help Black and brown people succeed as cannabis entrepreneurs are not working — despite efforts in weed-legal states to encourage diversity in ownership and management.
Why it matters: People of color have been disproportionately targeted by the "war on drugs," so, as the pot industry expands, cities and states have tried to make social justice a priority in granting licenses.
But people in underrepresented groups often lack access to the capital they need to go up against "big marijuana."
They also lack the family-and-friends connections that give others a boost.
Driving the news: In July, three Democratic senators (Cory Booker, Chuck Schumer and Ron Wyden) released a discussion draft of legislation to remove cannabis from the federal list of controlled substances — a move meant "to end the decades of harm inflicted on communities of color."
Comments have poured in on the Cannabis Administration and Opportunity Act, which would:
Automatically expunge federal nonviolent marijuana crimes.
Enable medical research on cannabis.
Give legitimate cannabis businesses access to banking services.
Keep people from being denied public housing or federal student loans because they used cannabis in states where it's legal.
Create an "Opportunity Trust Fund" from federal cannabis tax revenue "to reinvest in the communities most impacted by the failed War on Drugs, as well as helping to level the playing field for entrepreneurs of color who continue to face barriers of access to the industry."
The big picture: Some states that legalized cannabis have set aside licenses for underrepresented operators, but that hasn't moved the needle.
"Ownership and C-suite representation — it's mostly white men still," Morgan Fox, spokesman for the National Cannabis Industry Association, a trade group, tells Axios. "It's trending in the right direction, but it has a long way to go."
"Most social equity programs have failed — even programs that were designed to yield a multitude of minority owners," says Amber Littlejohn, executive director of the Minority Cannabis Business Association.
Too many winners of the social equity license lotteries "have sold their licenses or, in truth, are backed and managed by companies that are not minority owned," Littlejohn tells Axios.
The set-aside programs are "shiny and pretty and everyone feels good about them, but they don't actually oftentimes kick in until the tax revenue funding comes in" from cannabis sales.
By the numbers: A 2017 survey by Marijuana Business Daily found that less than 10% of marijuana business owners are Black or Latino —a percentage that plummets when you only count "plant-touching" businesses like dispensaries and farms.
Littlejohn, whose organization submitted 30 pages of comments on the Booker-Schumer-Wyden draft, said she suspects the numbers have actually gone down since then.
Too many winners of the social equity lotteries "have sold their licenses, or, in truth, are backed and managed by companies that are not minority owned," Littlejohn says.
Black consumers nationally are 3.6 times more likely than white consumers to be arrested on cannabis charges, despite roughly equal rates of use, according to New Frontier Data, a cannabis consultancy.
An estimated 40,000 people are incarcerated for cannabis-related offenses, according to a report by New Frontier Data.
"At the end of the day, what is truly necessary is more education at the police force level" to close the enforcement gap, Giadha A. DeCarcer, founder and CEO of New Frontier Data, tells Axios.
What they're saying: Nicholas Vita, CEO of Columbia Care, one of the largest multistate cannabis operators, says that federal legalization is inevitable but not imminent — and that BIPOC operators must be an essential part of industry expansion.
Vita — a white graduate of Columbia University and whose company is public — says that so many Fortune 500 companies are sniffing at the cannabis market that it'll be an ongoing challenge for underrepresented operators to compete.
"How do you create a nationally legal entity, where you have a lot of minority entrepreneurs coming into an industry with a lot of historical associations, and not disenfranchise them before they have a chance to get out of the starting gates?" he asks.
Reality check: Any federal legislation is going to be a tough sell.
On the right, there are objections to legalizing pot, amnesty programs and expunging the records of offenders.
On the left, there are complaints that the draft bill doesn't go far enough in redressing racial inequities or compensating targeted communities.
Go deeper