Padilla, Paul introduce bipartisan bill to protect 200,000 "Documented Dreamers"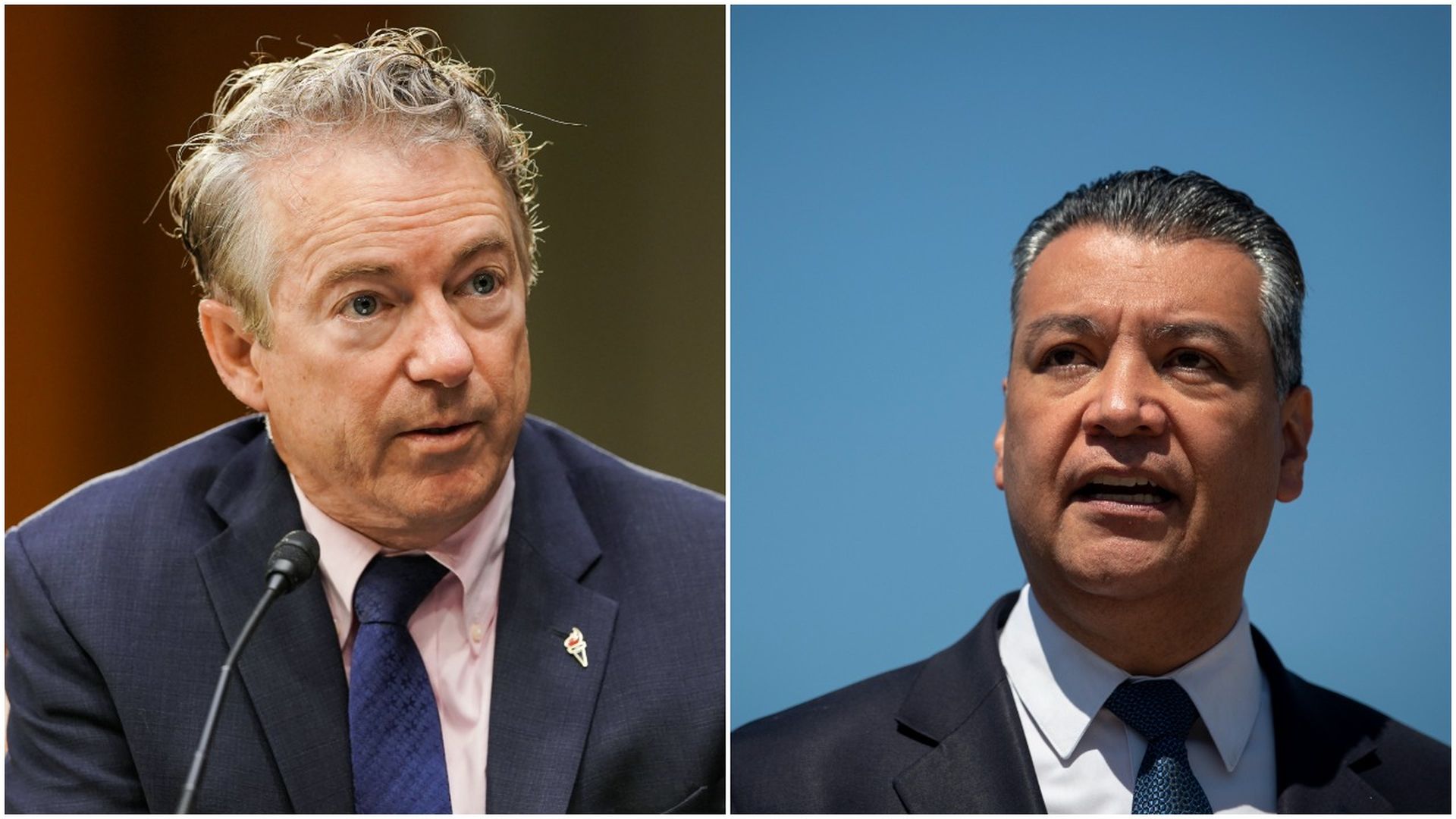 Sens. Alex Padilla (D-Calif.) and Rand Paul (R-Ky.) on Wednesday introduced a bill that seeks to provide a pathway to citizenship for the country's 200,000 "Documented Dreamers."
Why it matters: Documented Dreamers are children of long-term visa holders who often wait years for a green card and face deportation if they don't receive legal immigration status after turning 21, when they lose dependent status.
They come to the U.S. as dependents of long-term nonimmigrant visa holders, including H-1B, L-1, E-1 and E2 workers. Backlogs mean they often have to wait for a green card or other forms of immigration status for years or even decades.
Most are Asian American, according to Dip Patel, a Documented Dreamer and the president of the immigration advocacy group Improve the Dream. Roughly 70% emigrate from India, Patel said.
Details: Padilla and Paul's legislation, called the America's Children Act, would provide a pathway to permanent residency and establish age-out protections that lock in a child's age on the date they file for a green card rather than the final action date.
It would also provide work authorization for Documented Dreamers 16 years and older while their green card applications are pending.
"These children who have legally called the United States home for many years and even decades ... shouldn't be penalized by the government's failures in addressing green card backlogs," Paul said in a statement.
"We cannot turn our backs on the 'Documented Dreamers' who have spent most of their lives in this country, contributing to their communities and our economy," Padilla added.
Reps. Deborah Ross (D-N.C.), Mariannette Miller-Meeks (R-Iowa), Raja Krishnamoorthi (D-Ill.) and Young Kim (R-Calif.) introduced a House version of the bill in July.
What they're saying: "People don't realize that this is happening, that thousands of people who have been ... brought here at a young age, raised and educated here on visas with a legal status are having to leave the country," Patel told Axios ahead of the bill's introduction.
He was 9 when he and his parents came to the U.S. from India to open a small convenience store in Illinois.
"Over 200,000 Documented Dreamers who had felt hopeless now have hope for being recognized as something we have long felt: Americans," he said in a statement Wednesday. "We are America's Children and this bill will recognize us as such."
Go deeper