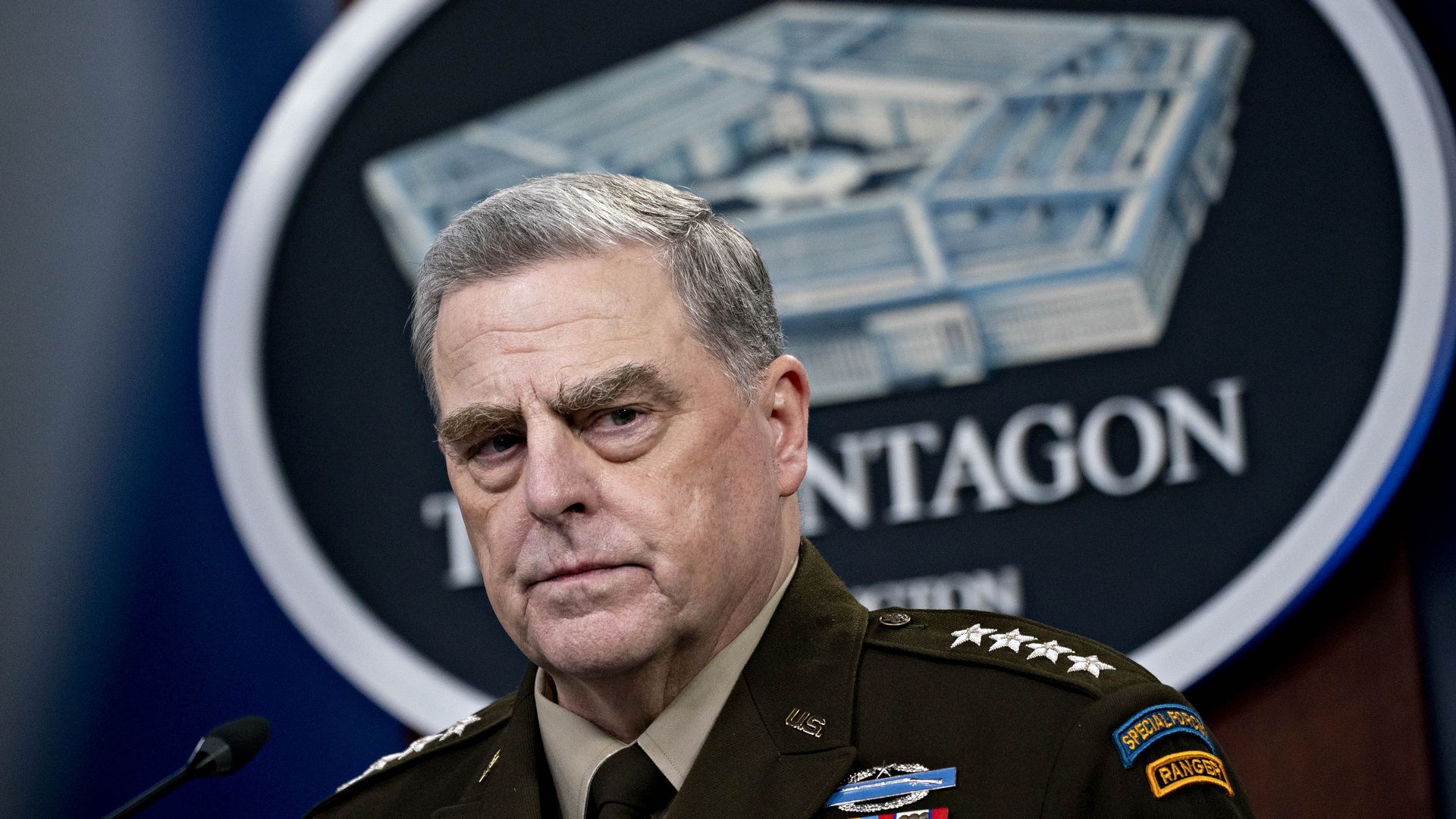 When Joint Chiefs Chairman Mark Milley goes before Congress on Sept. 28, he may face some of the most hostile questioning of any modern four-star general.
Driving the news: Newly released excerpts from "Peril" by Bob Woodward and Robert Costa — detailing secret moves by the nation's highest-ranking military officers to manage national security risks that he perceived Donald Trump posed in the final days of his presidency — are driving questions about whether Milley went too far. 
The big picture: Republicans were already irate with Milley for playing a starring role in a string of recent Trump books.
Even some of his friends are cringing over his extensive and high-profile scenes in these books and perceptions that he's participated on "deep background" with multiple authors.
Extensive direct quotes attributed to Milley have led Republicans to accuse him of personally leaking to authors.
Details: The most explosive Woodward/Costa excerpts report on two phone calls the authors say happened between Milley and his Chinese counterpart — on Oct. 30 and Jan. 8.
In the account, Milley reportedly assures the Chinese general that Trump would not attack China and that if Trump did decide to attack then Milley would give his Chinese counterpart a secret heads up.
Milley has yet to respond to this latest reporting.
What they're saying: Sen. Marco Rubio (R-Fla.), who serves on the Senate Foreign Relations Committee, cited Woodward's and Costa's reporting in calling for President Biden to fire Milley, accusing him of working to "actively undermine the sitting Commander in Chief of the United States Armed Forces."
"General Milley has attempted to rationalize his reckless behavior by arguing that what he perceived as the military's judgement as more stable than its civilian commander," Rubio said, calling that "a dangerous precedent" that "threatens to tear apart our nation's longstanding principle of civilian control of the military."
Behind the scenes: In mid-October 2020, top Pentagon officials grew concerned about intelligence they'd seen. It showed the Chinese were consuming their own intelligence that had made them concerned about the possibility of a surprise U.S. strike against China, three sources familiar with the situation tell Axios.
One of the sources said: "I think they [the Chinese] were getting bad intelligence... a combination of 'wag the dog' conspiracy thinking and bad intel from bad sources."
Then-Defense Secretary Mark Esper worried the Chinese were misreading the situation and that their misperception could lead to a conflict nobody wanted.
Esper directed his policy office to issue a backchannel message to the Chinese to reassure them the U.S. had no intention of seeking a military confrontation. The message: Don't over-read what you're seeing in Washington; we have no intention to attack; and let's keep lines of communication open.
These backchannel communications were handled a couple of levels below Esper, one of the sources said. U.S. officials involved thought the Chinese received the initial message well. Milley followed up later in the month with a call to his Chinese counterpart to reiterate the message, two of the sources confirmed.
It's unclear whether anyone at the Pentagon told President Trump or the White House what they were doing.
Around the same time Esper learned of the Chinese concerns, he also learned that a long-planned deployment to Asia had been moved up a couple of weeks earlier than previously planned, to accommodate COVID quarantine protocols.
Esper told colleagues the last thing the Chinese needed to see at that moment — when they were already misreading Washington's intentions — was more planes, according to one of the sources.
Esper went so far as to delay this long planned exercise in Asia until after the election, to lower the temperature.
Axios has not independently confirmed that Milley told his Chinese counterpart he would give him a heads up if the U.S. planned to attack China.
One source familiar with Milley's conversations with his Chinese counterpart would only broadly characterize them as Milley saying something to the effect of: "We'll both know if we're going to war... there's not gonna be some surprise attack and there's no reason for you to do a pre-emptive strike."
Between the lines: A debate about what Milley did or didn't do during the final days of Trump's presidency was not, to say the least, what Milley's allies had planned for his scheduled Sept. 28 appearance before the Senate Armed Services Committee.
They'd seen it as an opportunity to set the record straight on the chaotic U.S. exit from Afghanistan.
Since Afghanistan fell immediately to the Taliban after President Biden ignored Milley's advice to keep in several thousand troops, Milley's friends and allies have wanted him to have the chance to tell his side of the story.
They thought doing so through a media appearance might be seen as inappropriate, and that given the gravity of the situation it would be best for him to say his piece under oath in a congressional setting.
Milley allies were especially agitated by the White House saying he'd supported shutting down the air base at Bagram — a decision Milley felt compelled to make because of Biden's orders to remove all troops from Afghanistan against his recommendations.
What's next: Those wishful plans for Milley's hearing are out the window. Questioning during the Sept. 28 hearing will likely focus more on the chairman's behind-the-scenes actions during the final days of Trump.
Members also are gunning for Defense Secretary Lloyd Austin over his handling of Afghanistan.
As Axios' Zachary Basu reported Tuesday, Senate Foreign Relations Chairman Bob Menendez (D-N.J.) took the extraordinary step of threatening to subpoena Austin and other Biden officials who decline to voluntarily appear before the committee.
Go deeper