Inspiration4 launch: SpaceX to send 1st all-civilian crew into orbit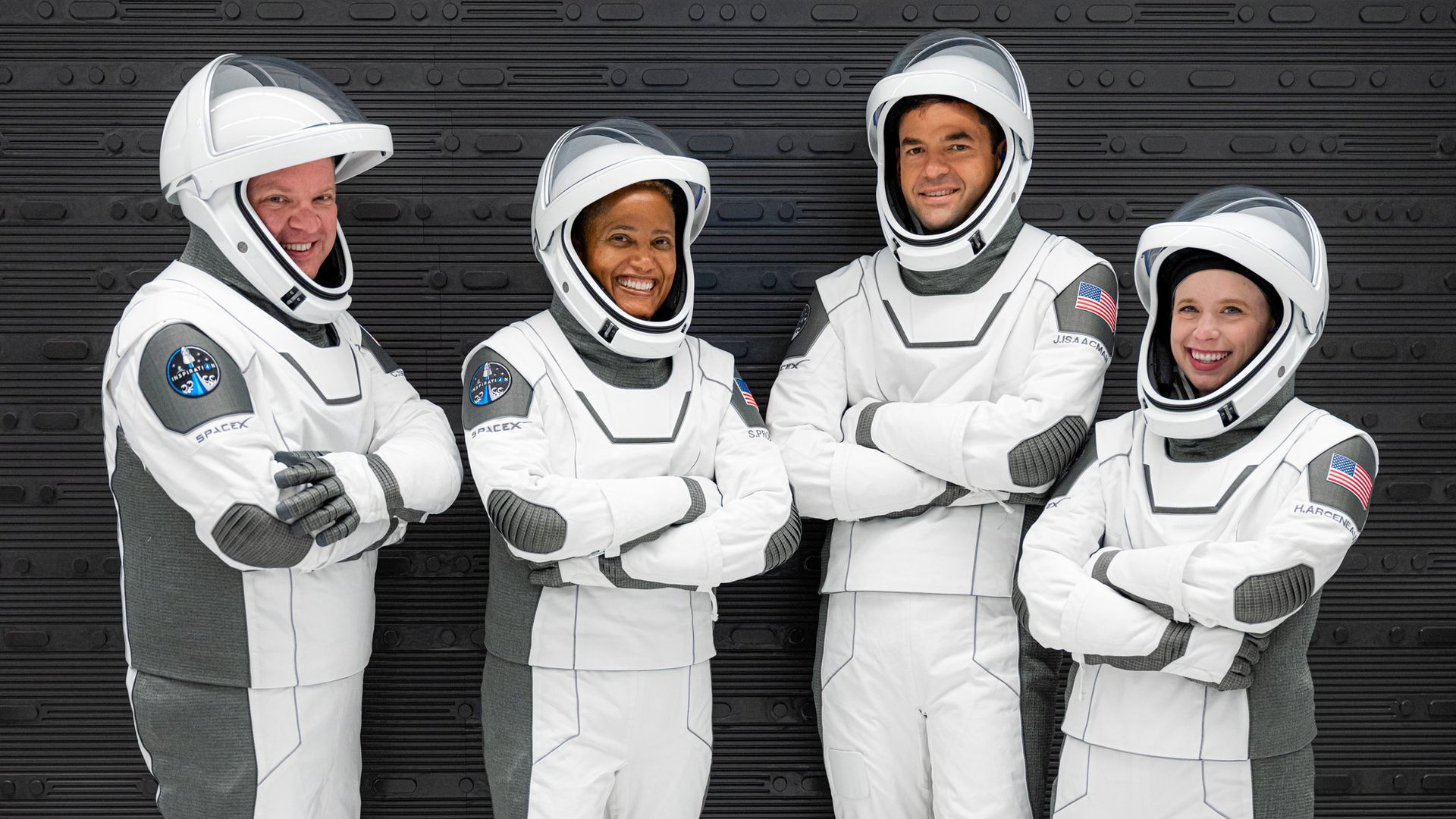 The Inspiration4 crew is set to launch from Cape Canaveral, Florida, on Wednesday evening. The first all-civilian flight to orbit will act as a proof of concept for SpaceX and the broader private spaceflight industry, which wants to send many more people to space in the coming years and decades.
The latest: SpaceX has completed fueling the Falcon 9 rocket. The launch, streamed live via SpaceX, remains on schedule for liftoff at 8:02 p.m. ET.
The crew members, who have had about six months of training and preparation, were strapped into their seats inside the Dragon capsule around 5:20pm ET.
What to watch: The four crew members will spend three days in orbit, flying higher than the International Space Station and giving the cupola — a brand new, huge bubble window from SpaceX — a test drive.
They'll fly to space in a SpaceX Dragon capsule atop a Falcon 9 rocket.
Background: Billionaire Jared Isaacman is the brainchild of this mission and the commander of the flight.
He originally contacted SpaceX in 2020 to see if he could invest in the company, but he'd just missed a funding round and then offhandedly made a joke about wanting to be a customer — as in fly to space — one day.
That day is coming sooner than he expected. The person he was speaking with at SpaceX got him in touch with the human spaceflight program, and they came up with the idea for Inspiration4.
Sian Proctor, the mission's pilot, was picked via a reality TV-style competition for entrepreneurs. Chris Sembroski was chosen via a raffle, and Hayley Arceneaux got her seat through her employer, St. Jude Children's Research Hospital, which is also benefiting from a fundraiser associated with the mission.
What's next: After their three days in orbit, the crew will splash down somewhere off the Florida coast within their Dragon capsule.
Editor's note: This is a developing story. Check back for updates.
Go deeper