The precarious White House climate posture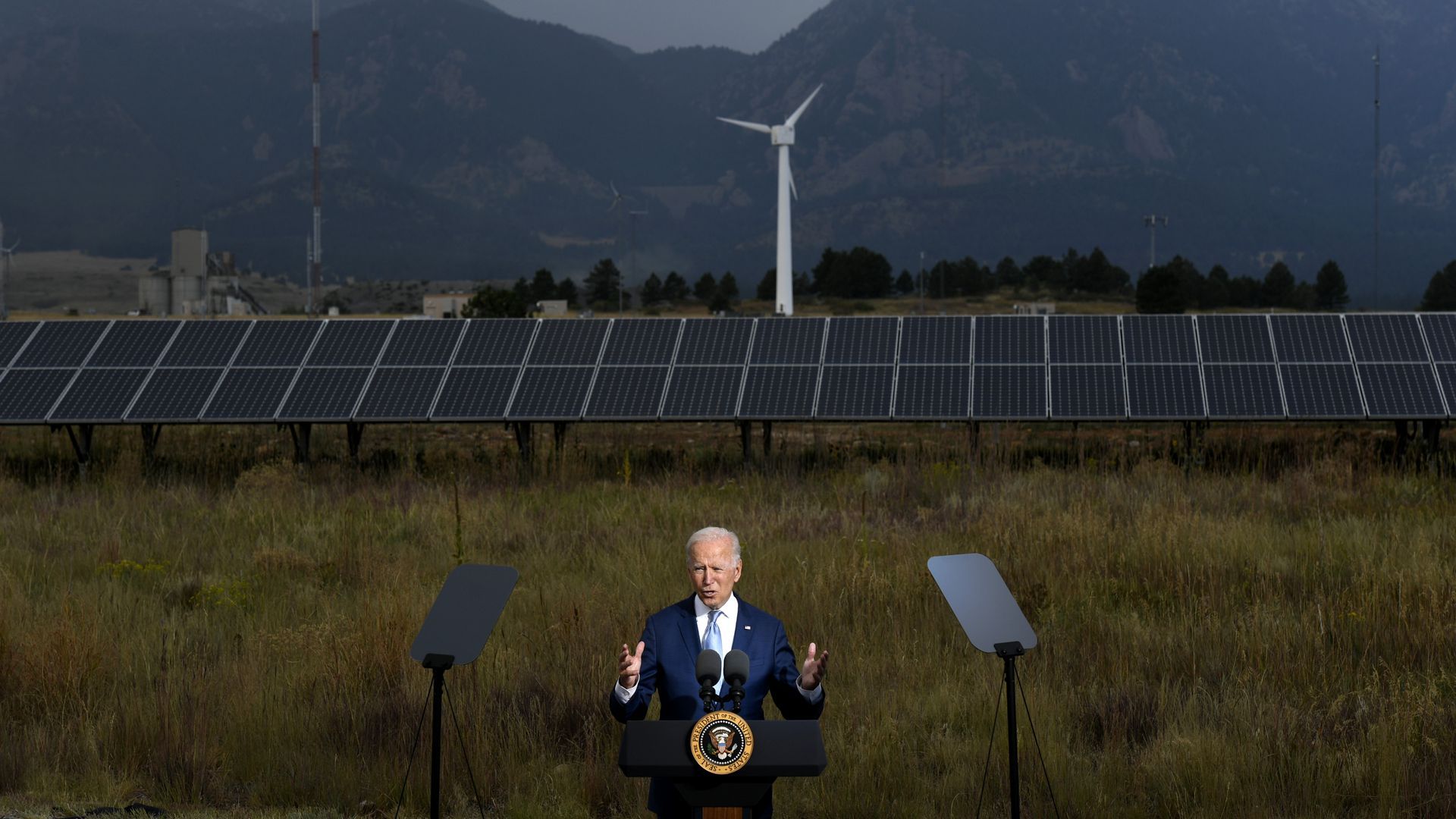 The White House is stepping up its PR push for strong climate measures on Capitol Hill even while arguing it can make lots of progress with executive powers.
Driving the news: President Biden yesterday called for congressional action in remarks at the National Renewable Energy Laboratory in Colorado.
He touted proposals in the bipartisan infrastructure plan, like transmission investment, and clean energy and electric car measures in the far more sweeping plan Democrats are trying to move on an uncertain party-line vote.
On Monday Biden also promoted his climate efforts after visiting the National Interagency Fire Center in Idaho. The NYT has more on his appearances.
The intrigue: What caught my eye was the press gaggle en route to Colorado by White House spokeswoman Karine Jean-Pierre.
She said the White House is "strongly committed" to the Democratic legislation and the bipartisan package that's moving on a dual-track.
But she also talked up the "whole of government" approach of executive steps and said Biden is committed to "using all of the tools at his disposal."
Our thought bubble: The message on display Tuesday underscores a delicate position ahead of the critical United Nations climate summit that's less than seven weeks away.
Democratic legislative provisions like the expansion of renewables and EV incentives, and new financial carrots for utilities to speed clean power deployment, are vital to meeting the White House 2030 emissions pledge under the Paris deal.
But if the efforts shrink or die in Congress, administration officials still need to convince other nations that the U.S. can put real policy weight behind its nonbinding climate goals.
The dynamic isn't lost on the White House. A spokesperson told CNN that there are "a number of paths to meeting our emission goals and targets" and doesn't rest on Congress alone, but is "integrated throughout both."
Go deeper: The fraught sprint to the UN climate summit
Go deeper