School boundaries often reflect 1930s-era housing discrimination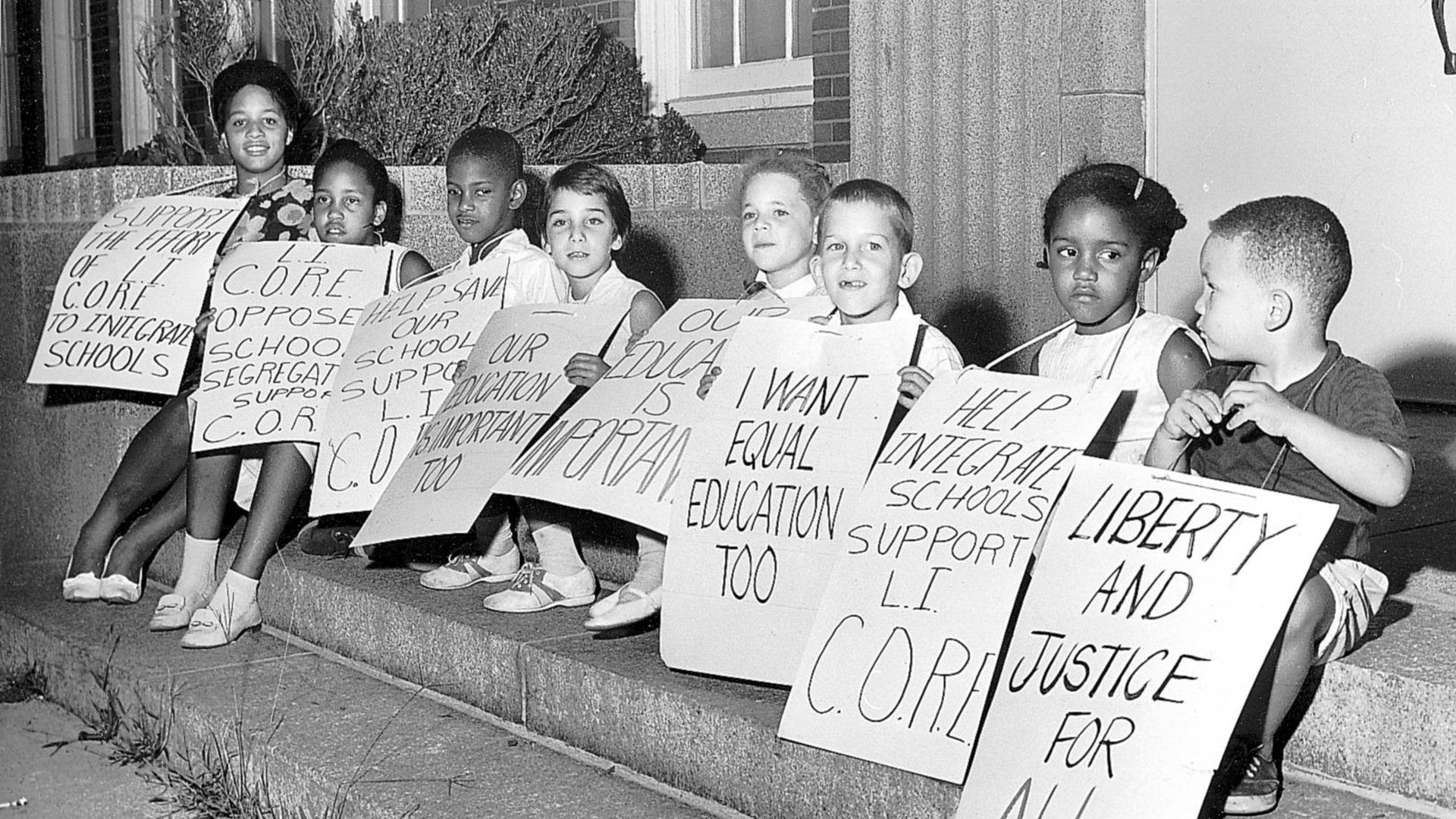 Today's school boundaries in many cities are still linked to a history of housing segregation that goes back to the 1930s, a new study has found.
Why it matters: These boundaries largely determine which schools students will attend, and in many parts of the country they're reinforcing segregation and inequality, despite years of strides.
Details: The Urban Institute examined over 65,000 school attendance boundaries.
More than 2,000 pairs of adjacent public school boundaries had vastly different racial compositions on either side, according to the report..
Many of today's school attendance boundaries closely track old maps of redlining — a practice explicitly designed to keep Black Americans out of certain neighborhoods, the study found.
The big picture: "It's unequal, and not just in terms of race. The schools are different. The quality of instruction is different. Kids get expulsions and suspensions more on one side. There are more cops on one side than the other," said Tomás Monarrez, one of the authors of the report.
How it works: Researchers examined the boundaries using GIS technology, census records, current demographics, and relining neighborhood maps stemming from a New Deal law to provide emergency relief to home mortgage indebtedness.
What they're saying: "When these laws were passed, the government in this country knew exactly what it wanted. It wanted to segregate people based on race and location. And it wanted to make sure that schools reflected that," Derrell Bradford, president of the education advocacy group 50CAN, told Axios after reviewing the report.
Bradford said over the years, local and state governments have imposed criminal penalties on parents who use other addresses so their children will be assigned to better schools. Security guards sometimes follow students home to double-check where they live.
"The most important thing in American public education is place. And we have a system that is based on place because our system of place is based on race," said Bradford, who advocates for school choice.
Yes, but: Some Black residents also are moving to new majority-Black areas by choice, and those areas are more economically and culturally diverse than 50 years ago, said Andre M. Perry, a Metropolitan Policy Program fellow at the Brookings Institute.
Some school districts in new and growing suburbs in California, Arizona, and New Mexico are growing more diverse, and they are less connected to a history of redlining as older metropolitan places.
Don't forget: The Bush-era No Child Left Behind law allowed parents to pull children from schools with poor test scores and grades to those with higher scores.
Yet, parents in many states were left with choosing schools in the same school districts that were overcrowded.
Teacher unions and some community groups fought the labels of "failing schools" and sought to prevent them from closing, even when students leave without basic literacy.
Be smart: School segregation between Black and white students has returned to 1968 levels, even as the nation grows more diverse, according to a report from The Civil Rights Project at UCLA.
Editor's note: This story has been corrected to state that the Urban Institute issued the report on 65,000 school attendance boundaries, not the National Urban League as previously stated.
Go deeper