Texas judge blocks anti-abortion group from enforcing new law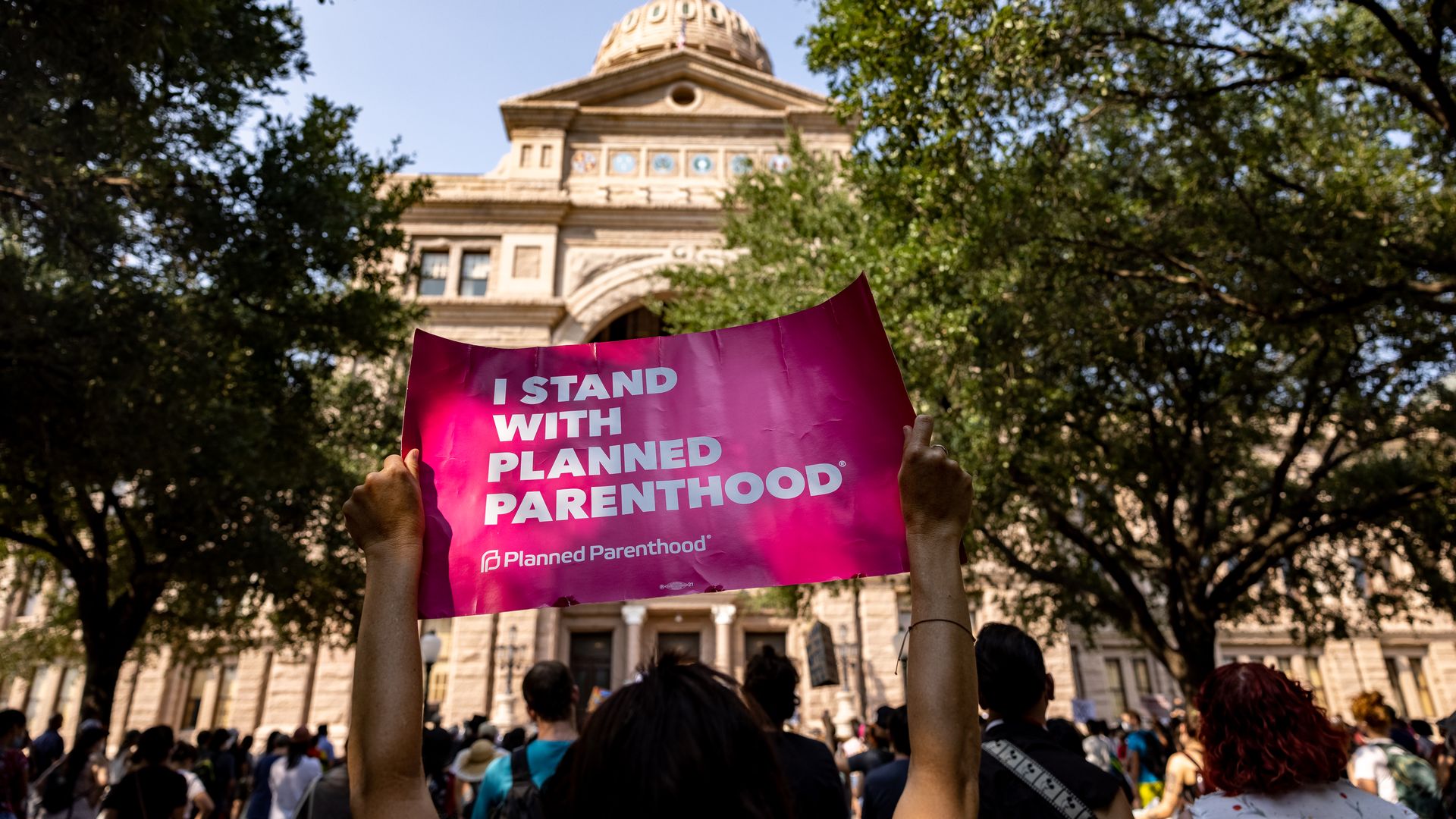 A Texas state judge issued an injunction on Monday blocking anti-abortion group Texas Right for Life from enforcing the state's new law against Planned Parenthood in Texas.
Why it matters: Texas' restrictive new law, which bars abortions after six weeks of pregnancy, incentivizes people to sue anyone suspected of helping a pregnant person obtain an abortion — and awards at least $10,000 to plaintiffs who succeed.
The injunction, which applies only to Texas Right for Life and its affiliates, prevents them from suing Planned Parenthood for possible violations of the abortion ban.

Issued in Austin by Texas District Court Judge Karin Crump, the order will stay in effect until at least April 2022, when a trial on the merits of the case is expected.

It replaces a temporary restraining order granted to Planned Parenthood affiliates last week and "is part of a larger — and piecemeal — approach by abortion rights advocates to try to blunt the effect of the law," CNN writes.
What they're saying: "We are relieved that ... our providers and health care workers will now have some protection from frivolous suits as litigation against this blatantly unconstitutional law continues," Helene Krasnoff, Planned Parenthood's vice president for public policy litigation and law, said in a statement.
"Desperate Texans are being forced to carry pregnancies against their will or flee the state to seek constitutionally protected care, and brave health care providers and staff across the state are working hard to provide care within the law while facing surveillance, harassment, and threats."
"This temporary injunction is an important step, but it is not enough relief," Krasnoff added, emphasizing the group's plan to keep fighting.
The other side: "The injunction only prevents the named parties from filing or assisting others in lawsuits against Planned Parenthood abortion facilities," Texas Right for Life said in a statement.
"Other citizens are legally authorized to sue Planned Parenthood if their abortionists violated the Texas Heartbeat Act, and Texas Right to Life is legally authorized to sue others who might aid or abet abortions."
"Thus, today's ruling ultimately has no effect on the Texas Heartbeat Act or the risk the abortion industry is taking if they violate" the law, the group said.
Go deeper