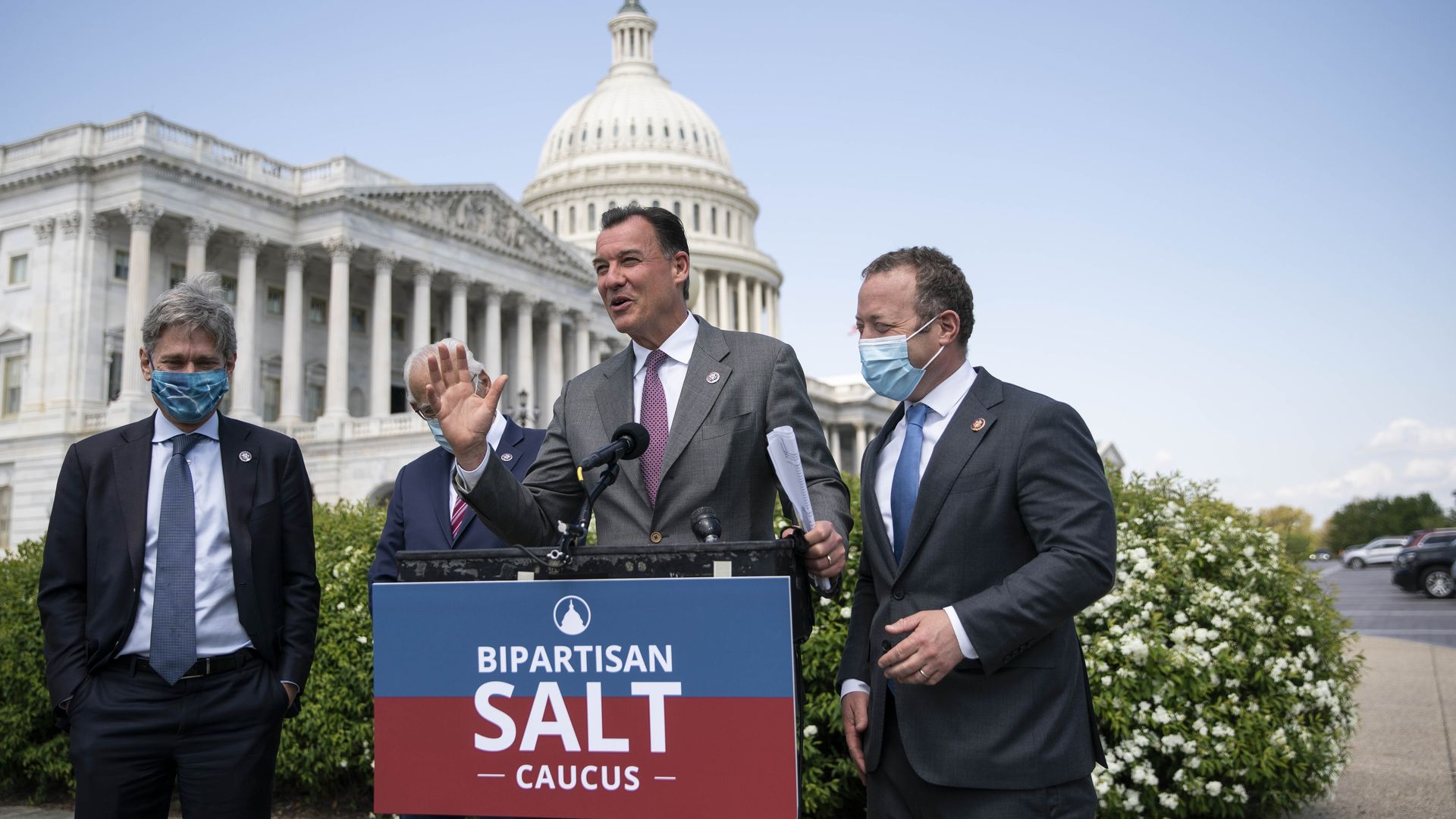 Nine major national groups representing mayors, teachers, public employees and the private sector are coordinating to push Congress to repeal the cap on state and local tax deductions, Axios has learned.
Why it matters: This adds another complication to Democrats' efforts to reach agreement inside their party about how big to go on infrastructure spending — and how to pay for it.
A $1.2 trillion bipartisan agreement has cleared the Senate. The House will consider a massive $3.5 trillion spending plan that could be passed without GOP support through the budget reconciliation process. Some Democrats say that's too high; some say all new spending must be paid for.
Reinstating SALT has an annual price tag of about $85 billion.
Driving the news: Organizers say the following groups will be pressing House Speaker Nancy Pelosi and other leaders in the coming days:
U.S. Conference of Mayors
American Federation of Teachers
Public Employees Federation
National Association of Counties
National League of Cities
International Association of Firefighters
National Association of Realtors
National Education Association
American Federation of State, County and Municipal Employees.
What they're saying: Rep. Tom Suozzi (D-N.Y.), one of the lawmakers leading the push to repeal the SALT cap, tells Axios there's a big enough coalition of lawmakers to kill the $3.5 trillion spending bill if they don't get what they need. He told Axios he will not compromise on a partial repeal.
Randi Weingarten, president of the American Federation of Teachers, tells Axios: "Some people talk about it as rich folks leaving states that are high tax.
"The people who are really getting hurt are the middle class that live in these communities, to tax themselves to make sure that their kids have good schools, parks and proper firefighting and sanitation, water systems and other things that are important for the quality of life."
Before former President Trump's 2017 tax cut bill, residents could deduct against federal income taxes the taxes they paid to state and local governments. Trump's tax bill capped the deduction at $10,000 a year — a move that hit residents of high-tax Democrat-controlled states.
The other side: Opponents argue a repeal would favor the wealthy and not the middle class. Rep. Alexandria Ocasio-Cortez (D-N.Y.) has called it a "giveaway to the rich."
Suozzi says taxes are higher in states like New York, New Jersey and California "because we have progressive policies. We pay our teachers. We insure our children. We … implement policies to address climate change. They don't do that in low-tax states."
Go deeper