FDA "will follow the science" to approve COVID vaccine for kids under 12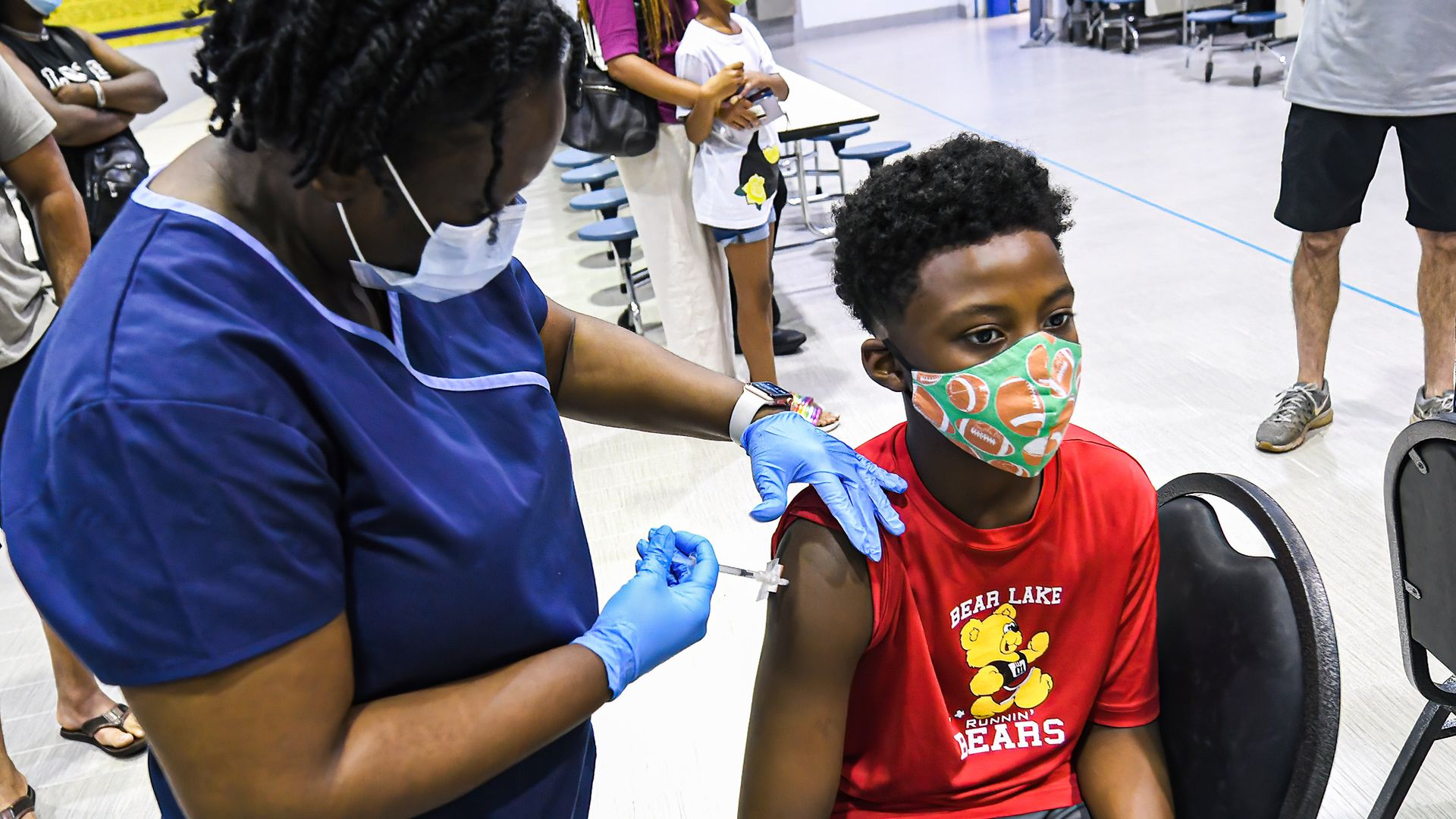 The FDA said on Friday that it is "working around the clock" to support the process of making the coronavirus vaccine available for children under the age of 12.
Why it matters: The number of children getting hospitalized due to the virus is increasing, with some infectious disease doctors worrying that the Delta variant could be causing more serious illness in kids.
Children remain less likely than adults to be hospitalized with COVID-19, but some hospitals are seeing major spikes in health care needs for younger patients, NBC News reports.
The big picture: As children return to school this fall, coronavirus cases among young children could increase — especially as many states end mask mandates for in-person instruction, despite the CDC recommending that masks be worn in schools to reduce the risk of infection.
Driving the news: As numbers increase, the FDA has been facing calls from politicians and the public to expedite its review process to allow for younger children to get inoculated, per Politico.
Meanwhile, Pfizer and BioNTech will soon seek regulatory approval for its vaccine to be used in children as young as 5, the New York Times reports, citing Der Spiegel.
"We will be presenting the results from our study on 5- to 11-year-olds to authorities around the world in the coming weeks," BioNTech co-founder Ozlem Tureci said.
What they're saying: "It's important that the public recognize that, because young children are still growing and developing, it's critical that thorough and robust clinical trials of adequate size are completed to evaluate the safety and the immune response to a COVID-19 vaccine in this population," Janet Woodcock, acting FDA commissioner, and Peter Marks, director for the FDA's Center for Biologics Evaluation and Research, said in a joint statement.
"Children are not small adults — and issues that may be addressed in pediatric vaccine trials can include whether there is a need for different doses or different strength formulations of vaccines already used for adults," they added.
They said that parents must "remember that the vaccine doses that are currently being studied in younger children are not necessarily the same vaccine doses that were authorized for individuals 12 years and older or approved for individuals 16 years of age and older."
What's next: Woodcock and Marks said they cannot offer a specific date for when reviews will be completed, but added that "we are working as expeditiously as possible to meet this critical public health need."
Go deeper