Los Angeles school district mandates COVID vaccines for students 12 and older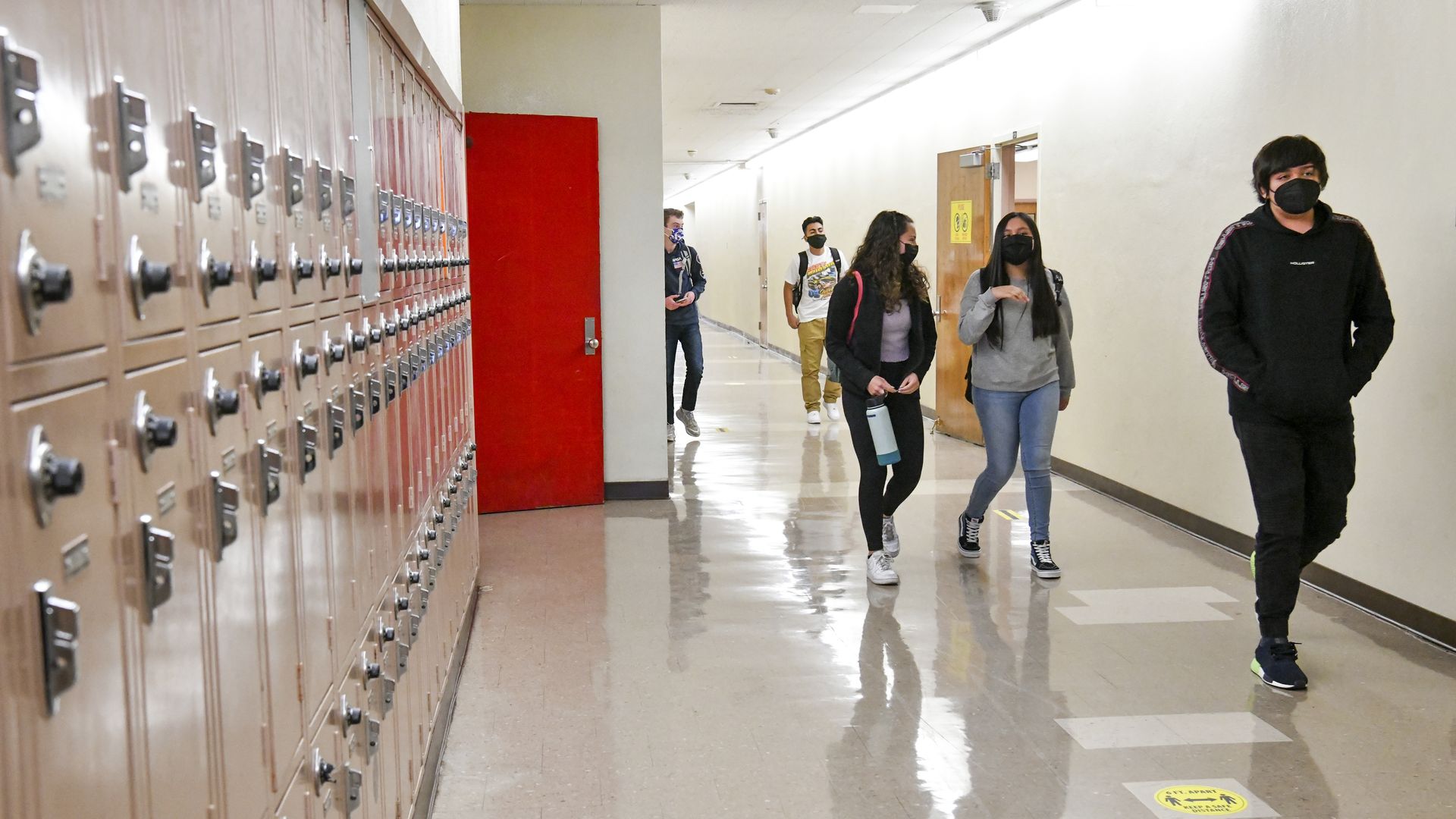 The Los Angeles Unified Board of Education approved a measure Thursday mandating eligible students in the nation's second-biggest school district to be vaccinated against the coronavirus.
Why it matters: It's the first major school district to require vaccines for students — a move that may set a precedent for school districts across the country to follow.
The school district, which has seen a number of legal challenges to its other COVID-19 mitigation measures, will likely face more litigation over the mandate, writes the Los Angeles Times.
State of play: Students 12 years and older have been eligible to receive COVID-19 vaccines in Los Angeles for several months, but many have not, the Los Angeles Times reported.
All students will need to upload proof of full vaccination to the district's Daily Pass system by Jan. 10, 2022, unless they have a medical or other exemption.
All students who attend in-person classes will be required to receive their first doses by Nov. 21, and their second dose by Dec. 19, according to the measure.
Students participating in in-person extracurriculars will be on an expedited timeline, with first doses required by Oct. 3, and second doses by Oct.31.
Students who turn 12 after these deadlines will have 30 days to receive their first dose.
What they're saying: "The science is clear – vaccinations are an essential part of protection against COVID-19," Interim Superintendent Megan Reilly said in the press release. "The COVID-19 vaccines are safe, effective and requiring eligible students to be vaccinated is the strongest way to protect our school community." 
"Our goal is to keep kids and teachers as safe as possible, and in the classroom," Board Vice President Nick Melvoin wrote. "A medical and scientific consensus has emerged that the best way to protect everyone in our schools and communities is for all those who are eligible to get vaccinated."
The big picture: L.A. Unified has established some of the most comprehensive COVID safety measures in the country, testing all students and teachers weekly, requiring masks indoors and outdoors, mandating staff be vaccinated, and even running vaccination clinics in schools, per the New York Times.
Melvoin told the L.A. Times ahead of the vote that "inaction on a state level" had propelled the move to a vaccine mandate.
The district offers online independent study for those who do not want to attend classes in person, but only a small number of students have opted for it, per the Times.
Go deeper