Yellen says U.S. could default in October, urges Congress to raise debt ceiling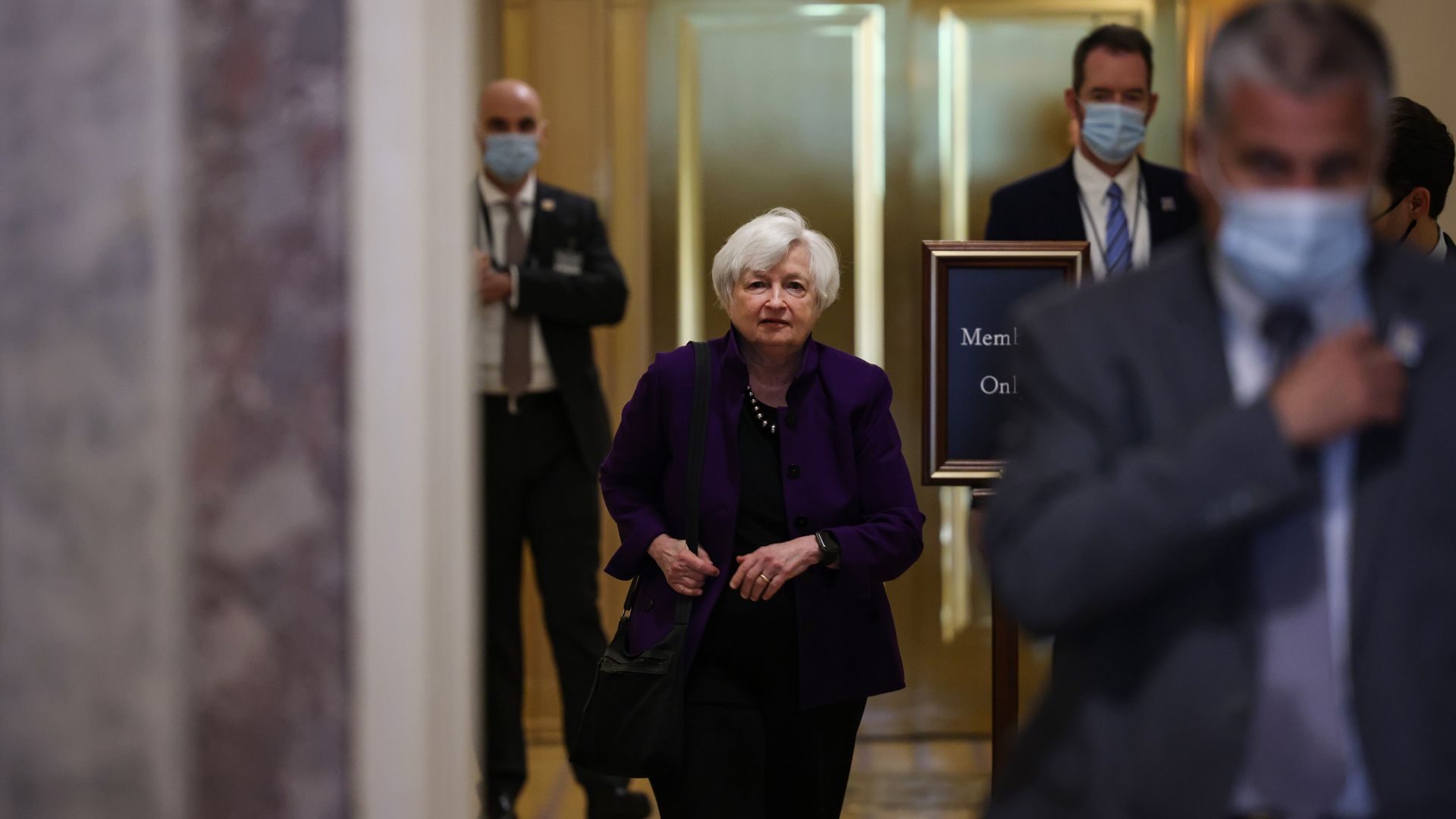 Treasury Secretary Janet Yellen again called on congressional leaders to raise the debt ceiling in a letter Wednesday, saying the country may soon be unable to meet its financial obligations if nothing is done.
Why it matters: Yellen said the Treasury estimates that it will run out of cash and "extraordinary measures" used to finance the government in October.
A default — which has never before occurred in U.S. history — would "likely cause irreparable damage to the U.S. economy and global financial markets," Yellen said.
The last debt-limit suspension, passed in 2019, lapsed on July 31.
Republican lawmakers have threatened to vote against raising the debt ceiling, arguing that it will only promote more government spending.
Senate Minority Leader Mitch McConnell (R-Ky.) has instead urged Democrats to pass an increase through their proposed $3.5 trillion budget reconciliation package because it cannot be filibustered by Republicans.
The move is McConnell's attempt at making it easier to saddle his opponents politically with greater debt. But the reconciliation process may not be finished before the Treasury breaches the debt limit, which could force some Republicans to vote for an increase, Axios' Hans Nichols reports.
Yellen opposes a debt ceiling increase through a budget reconciliation package, saying it should instead be passed "through regular order, with broad bipartisan support."
What they're saying: "We have learned from past debt limit impasses that waiting until the last minute to suspend or increase the debt limit can cause serious harm to business and consumer confidence, raise short term borrowing costs for taxpayers, and negatively impact the credit rating of the United States," Yellen said in the letter.
"At a time when American families, communities, and businesses are still suffering from the effects of the ongoing global pandemic, it would be particularly irresponsible to put the full faith and credit of the United States at risk."
Yellen said there is considerable uncertainty surrounding exactly when the Treasury will run out of funding in part because of the coronavirus pandemic and spending associated with COVID relief programs.
House Speaker Nancy Pelosi (D-Calif.) said in a press conference on Wednesday that Democrats will not include a debt ceiling increase in the reconciliation package.
The big picture: Since the debt limit was reinstated on Aug 1, the Treasury has been forced to resort to "extraordinary measures" to service debt, such as by suspending investments in certain federal retirement and health funds.
The debt ceiling does not determine how much the government spends but only how much the government can borrow to pay for spending approved by Congress.
Republicans and Democrats worked together to raise the borrowing limit three times throughout the Trump administration and several times in other previous administrations.
Go deeper: White House seeks to coordinate debt-ceiling message
Go deeper