Businesses grapple with vax mandates and COVID policies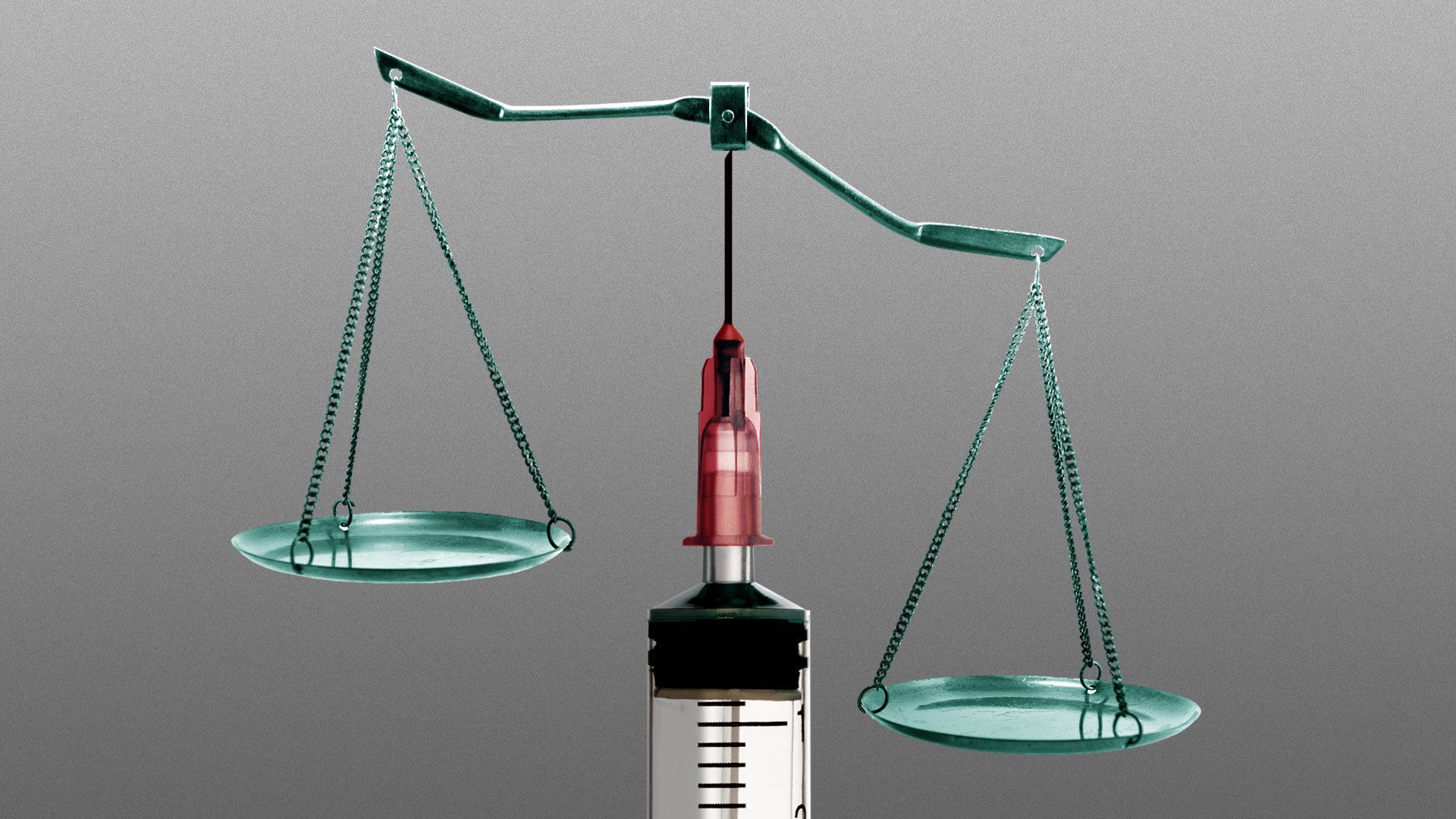 A growing number of U.S. companies have mandated COVID-19 vaccinations for employees. But in the absence of a federal mandate there's a wide variance in what's happening — mandates for all, some, or none — with employee demands being put front and center thanks to the Great Resignation.
Why it matters: How companies answer questions about vaccines and return-to-work policies has wide ranging impacts — on the health of their employees, on where people live, and on the strategic direction of their businesses.
Companies have turned to government health data, internal chief medical officers, partnerships with hospitals and universities, and outside consultants.
But the biggest factor is plain old employee sentiment. And with the war for talent raging, that sentiment has never held more sway.
What they're saying: "If vaccines don't get mandated by the federal government, you're pushing it on regions, cities, businesses, to actually make that decision. And I'm not sure they're necessarily the ones with the most data, or they're not experts in what they're making the decision on," Mike Massaro, CEO of digital payments company Flywire, tells Axios.
Flywire, which has 12 offices and 600 employees around the world, has not instituted a vaccine mandate. Based on employee feedback, the company has adopted a hybrid workplace, allowing for employees to work both at home and from the office. 
"Right now we're starting to deal with questions like 'are unvaccinated people more of a risk to a vaccinated person?' But vaccinated people seem to be able to transmit the virus as well. So it's a question of who are you watching out for, and what is the risk?" Massaro says.
"And the data out there isn't great, even for the medical community. It's almost like the KPIs [key performance indicators] have been have been reset, and no one's tracking them," he adds.
Of note: The CDC stopped gathering comprehensive data on breakthrough COVID infections back in May.
Consulting firms have evolved their practices during the pandemic to focus on remote work strategy, workflow technology and employee burnout. Some of those firms have also invested in public health-specific advisory services.
One example: EY appointed Susan Garfield to a newly created position of chief public health officer this past December. Garfield has worked in public health and life sciences for 25 years.
She and her team advise clients on current public health matters like COVID-19, as well as resiliency — or being ready for the next health catastrophe.
What to watch: One pandemic trend that isn't dying down: companies relying on in-house chief medical officers to help create internal public health policy.
Wells Fargo is currently in the process of recruiting one — its first ever, says Mark Hickman, Wells' head of benefits.
But not every company has the scale to afford a dedicated chief medical officer.
Some companies are also continuing partnerships with universities. For example, Amtrak has been working with George Washington University on its pandemic response since August 2020.
State of play: Vaccine mandates will continue to be a hot topic in the C-suite and at the (virtual) water cooler. The FDA approval for the Pfizer jab means more companies will feel comfortable instituting mandates, but for many executives, it's not getting any less complicated.
"If you have a very low uptake of voluntary vaccination in your organization, the implications for mandating vaccines are very different" than for a higher-uptake group, says Lisa O'Connor, senior managing director in FTI Consulting's health solutions practice, which advises health care companies.
"No health care organization is going to be able to keep operating as usual if they lose a large percentage of their staff," she adds. 
The bottom line: "I've been in the business for nearly 30 years. I can't really think of a time where the factors were more complicated on employers to make decisions," says Joe Atkinson, PwC's U.S. chief products and technology officer.
Go deeper