Multiple civil rights groups sue Texas after voting restrictions become law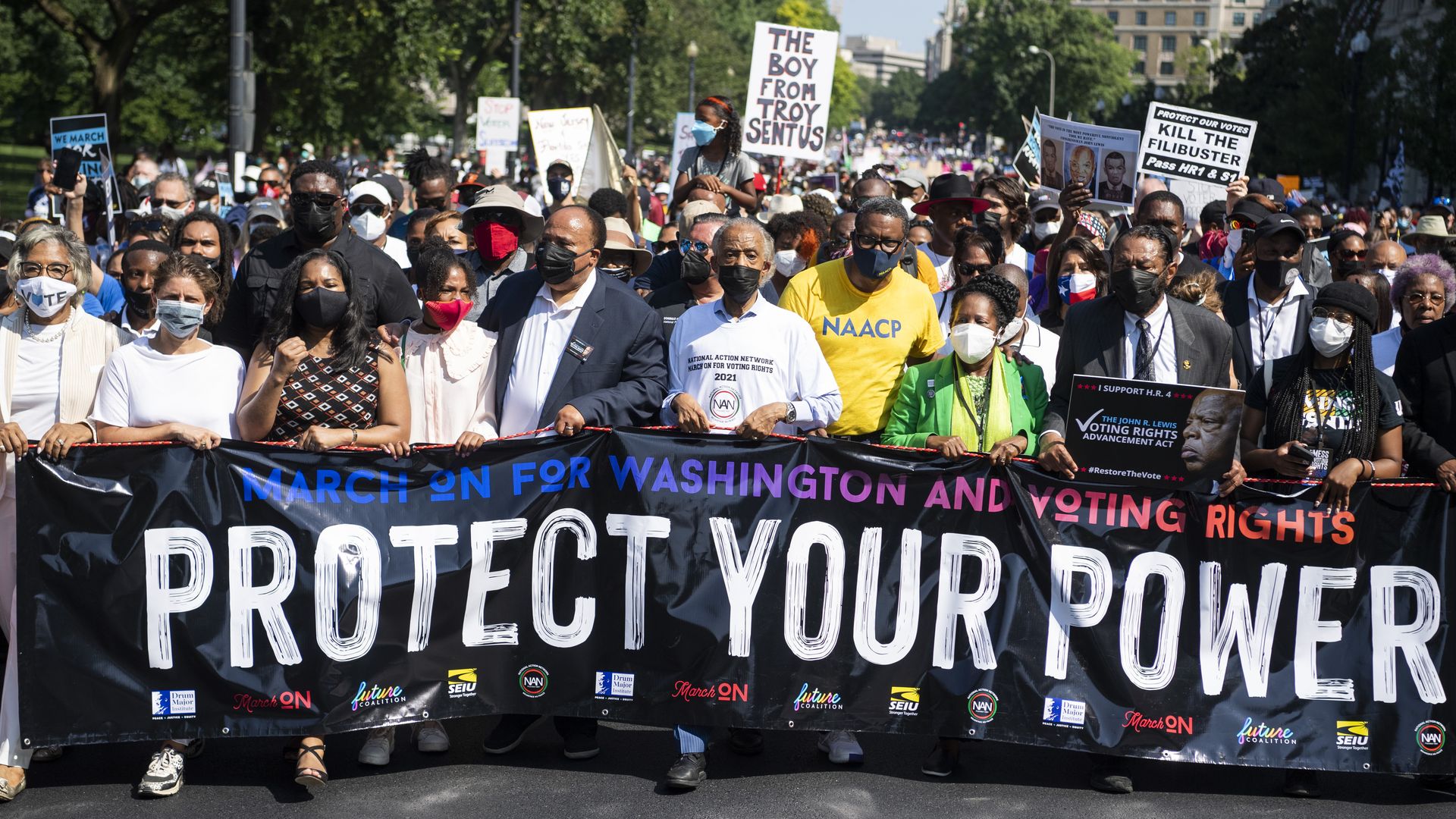 Civil rights groups filed a slew of lawsuits in Texas on Tuesday, kicking off what is expected to be an extensive legal battle mere hours after Gov. Greg Abbott signed controversial voting restrictions into law.
Why it matters: Critics have denounced the new law as a dangerous voter suppression bill that will disproportionately impact communities of color. The bill drove Texas House Democrats to flee the state in protest, but after enough returned to resume quorum, the legislation went to Abbott's desk.
Driving the news: The NAACP Legal Defense Fund filed a federal lawsuit shortly after the bill was signed, arguing it "intentionally targets and burdens methods and means of voting used by voters of color."
It bans 24-hour and drive-through voting, and establishes more stringent voter ID requirements for mail-in voting, among other provisions.
The Lawyers' Committee for Civil Rights Under Law and Dechert LLP filed a separate suit in a state district court in Harris County on behalf of Texas State Conference of the NAACP and Common Cause Texas, among others.
"Texas legislators know exactly what they are trying to do – use brazen tactics to disenfranchise Black voters, Latinx voters, and other voters of color who are a growing part of the electorate and who turned out and made their voices heard in 2020," said Damon Hewitt, president and executive director of the Lawyers' Committee for Civil Rights Under Law, in a statement.
Latino civil rights groups LULAC and Voto Latino also sued in a joint lawsuit with the Texas American Federation of Teachers and the Texas Alliance for Retired Americans, alleging that the new measures "impose an undue burden on the right to vote."
The groups say the law violates the law by "purposely" restricting access for voters of color, disabled voters and people with limited English proficiency.
Worth noting: The law already faced legal challenges prior to signage.
Editor's note: This post has been updated to include a lawsuit filed by the Lawyers' Committee for Civil Rights Under Law and Dechert LLP.
Go deeper