Latino farmworkers more likely to die from extreme heat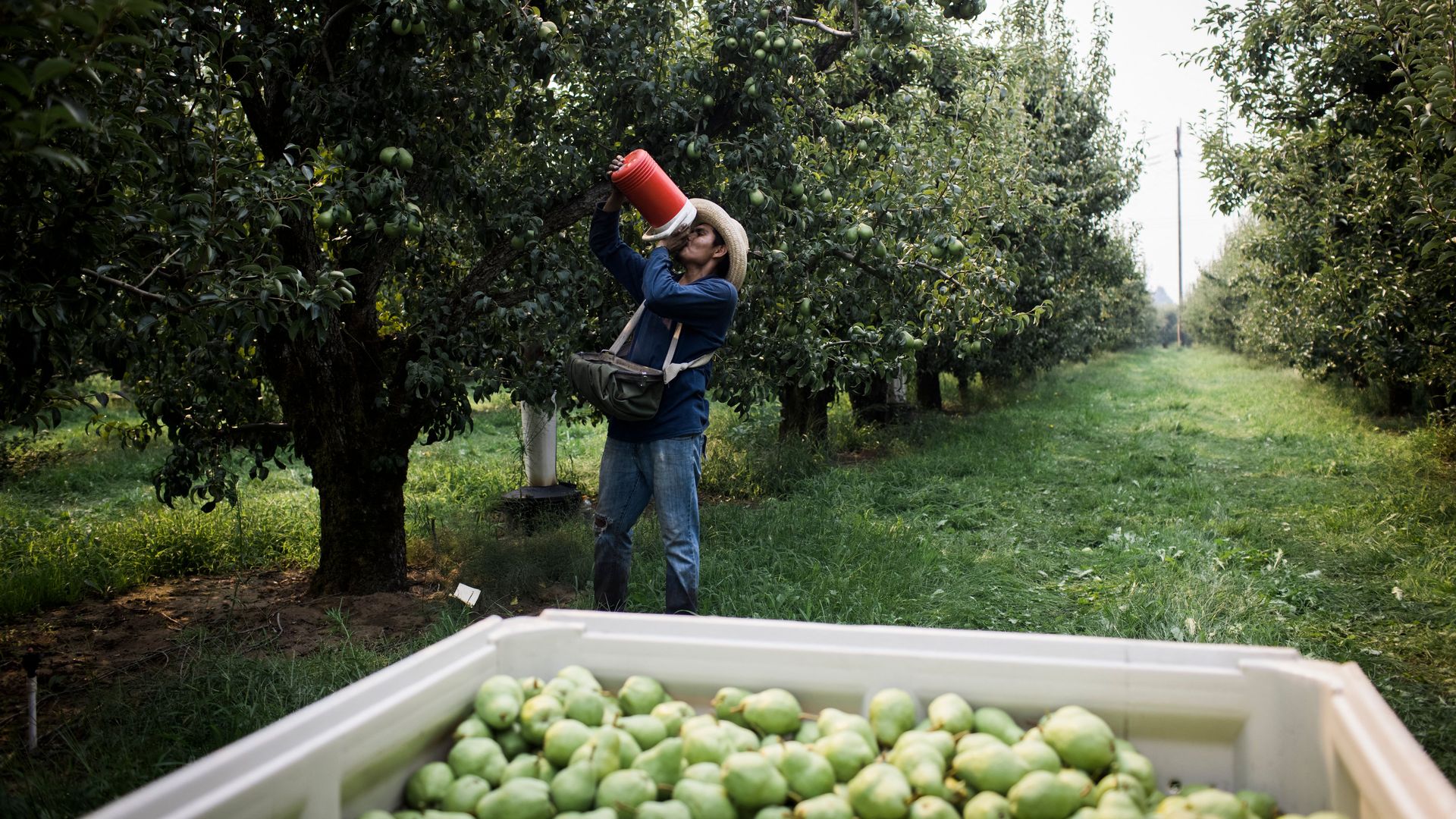 Farmworkers are 20 times more likely than other outdoor workers to die from the extreme heat that has gripped much of the U.S., and Latinos make up around 75% of farmworkers in the U.S.
Why it matters: In the U.S., extreme heat kills more people each year than floods, hurricanes and tornadoes, per the National Weather Service. About 700 people die from heat-related illnesses each year.
Between the lines: Farmworkers are less likely to take breaks during their shifts because they get paid a piece-rate wage — that is, for the number of units they gather, attorneys at the Heit Law Group said.
By the numbers: Approximately 2.4 million farmworkers are in the U.S., 75% are foreign-born, and of those, almost half lack authorized immigration status, according to Farmworker Justice, a nonprofit organization.
What's happening: The federal government currently does not have any heat-safety standards to protect outdoor workers.
Instead, the Labor Department puts that responsibility on individual employers. But without an enforced standard, employers do not have any specific guidance on how to address extreme heat, Rachel Licker, a senior climate scientist with UCS, told NBC News.
With slow to no actions to reduce global carbon emissions, the number of outdoor workers exposed to temperatures higher than 100°F could quadruple by midcentury, per the UCS.
Since Latinos comprise a large part of the outdoor working population, they will be "disproportionately exposed" to extreme heat, compared to the general population.
Zoom in: Workers in California — where Latinos represent 90% of farmworkers — will experience 17 more days per year with temperatures that exceed 100°F by midcentury if no climate change action takes place.
What we're watching: Democratic senators introduced the Asuncion Valdivia Heat Illness and Fatality Prevention Act of 2021 in March, a bill aimed at ensuring the safety and health of workers who are exposed to dangerous heat conditions in the workplace.
It is named after Asunción Valdivia, a Latino farmworker who died in 2004 of heatstroke after picking grapes for ten hours straight in 105°F temperatures.
Congress has yet to take action on the bill.
Go deeper