First look: José Díaz-Balart returning to MSNBC for new show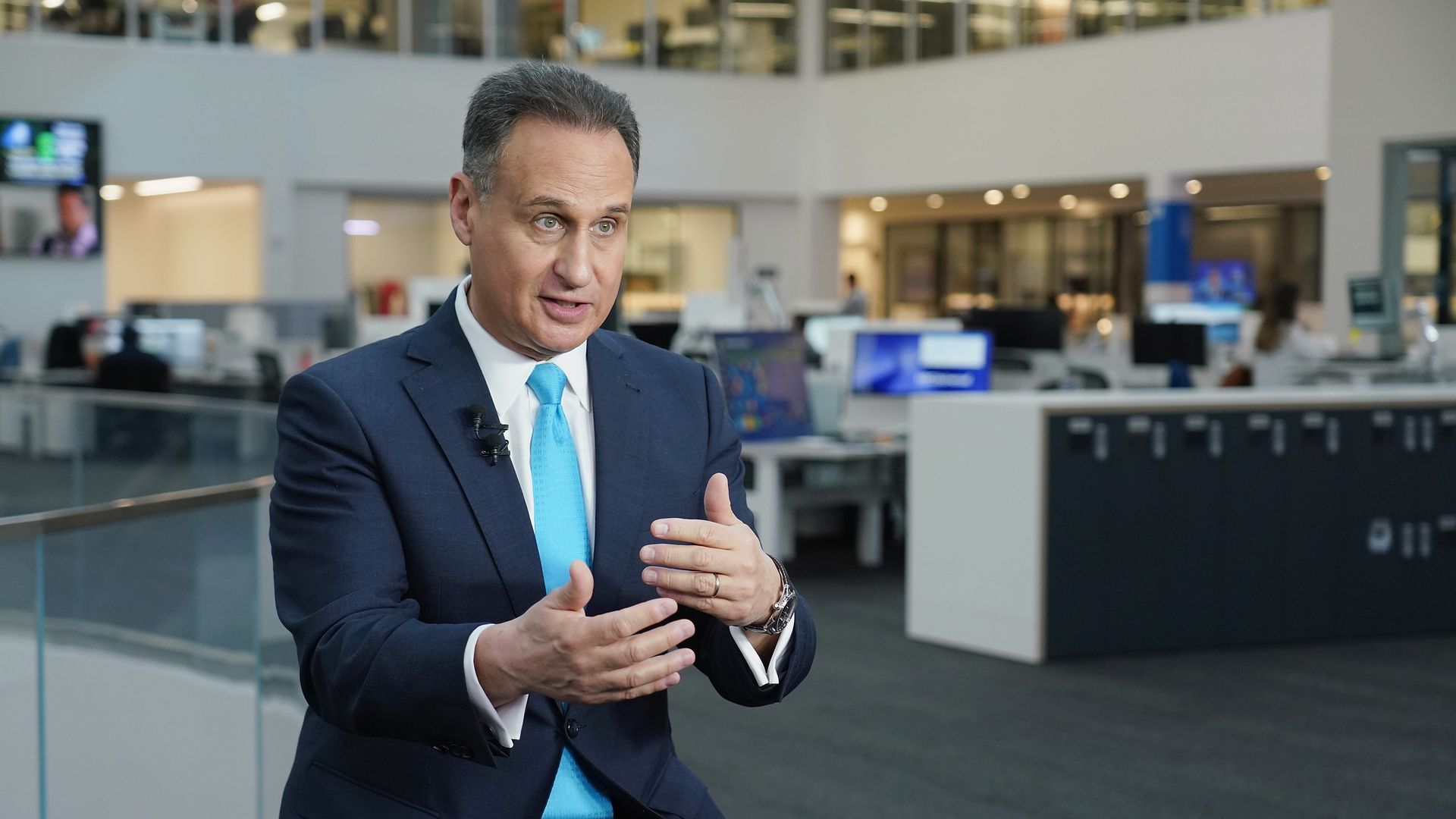 José Díaz-Balart, one of the few Latino anchors on U.S. television, is returning to MSNBC later this month to host a new show, the network announced Tuesday.
The big picture: The "Noticias Telemundo" anchor will take over daily the 10am ET hour on MSNBC for a show called "José Díaz-Balart Reports," beginning Sept. 27, as the network seeks to add more diverse voices.
NBC said Díaz-Balart will continue to anchor "NBC Nightly News Saturday" on NBC News and take on a broader role at Noticias Telemundo, where he will anchor monthly specials and breaking news events.
Díaz-Balart replaces Hallie Jackson, who is moving to a 3pm slot.
He will step down from his current role as anchor of Telemundo's nightly newscast "Noticias Telemundo" at the end of the month.
The intrigue: Díaz-Balart returns to MSNBC during the heart of Hispanic Heritage Month as networks continue to face pressure to add Latino journalists and voices to news shows.
Networks saw harsh criticism in 2019 following the mass shooting in El Paso, Texas, by a gunman allegedly targeting Mexican Americans after most Sunday talk shows failed to include Latinos to discuss the massacre.
Currently, NBC News, MSNBC, and CNBC have nine Latino anchors across its broadcast, cable and streaming platforms. That's more than any other English-language media outlet.
What they're saying: "I'm privileged to anchor MSNBC's 10am hour to report on the issues that matter to all communities across America," Díaz-Balart said in a statement.
"It has been my honor to serve as the anchor of 'Noticias Telemundo,' where we rigorously cover the most important news for the Latino community."
Of note: I spoke with Díaz-Balart in July during a virtual fireside chat for the National Association of Hispanic Journalists, in which he spoke about his career and his passion for covering U.S. Latinos.
The brother of U.S. Rep. Mario Rafael Díaz-Balart (R-Fla.) and a nephew of the late Cuban dictator Fidel Castro, the veteran anchor told me he has always battled the perception he couldn't be fair because of his relatives.
"You don't choose your family," he told me.
The son of Cuban exiles said he has always allowed his reporting to do the talking and avoids posting photos of himself on social media. Instead, he focuses on the people he covers, Díaz-Balart said.
Don't forget: Díaz-Balart became the first journalist to anchor two different evening newscasts on separate broadcast networks in English and Spanish when he took over the Saturday edition of "NBC Nightly News" in 2016.
From 2014 to 2016, he served as an anchor on MSNBC dayside. 
Díaz-Balart began his journalism career in 1983 and took over as the main anchor for "Noticias Telemundo" in 2009.
Editor's note: This story has been corrected to state that NBC News, MSNBC and CNBC have nine Latino anchors across its broadcast, cable and streaming platforms. The original story left off CNBC.
Go deeper