El Salvador's bitcoin experiment begins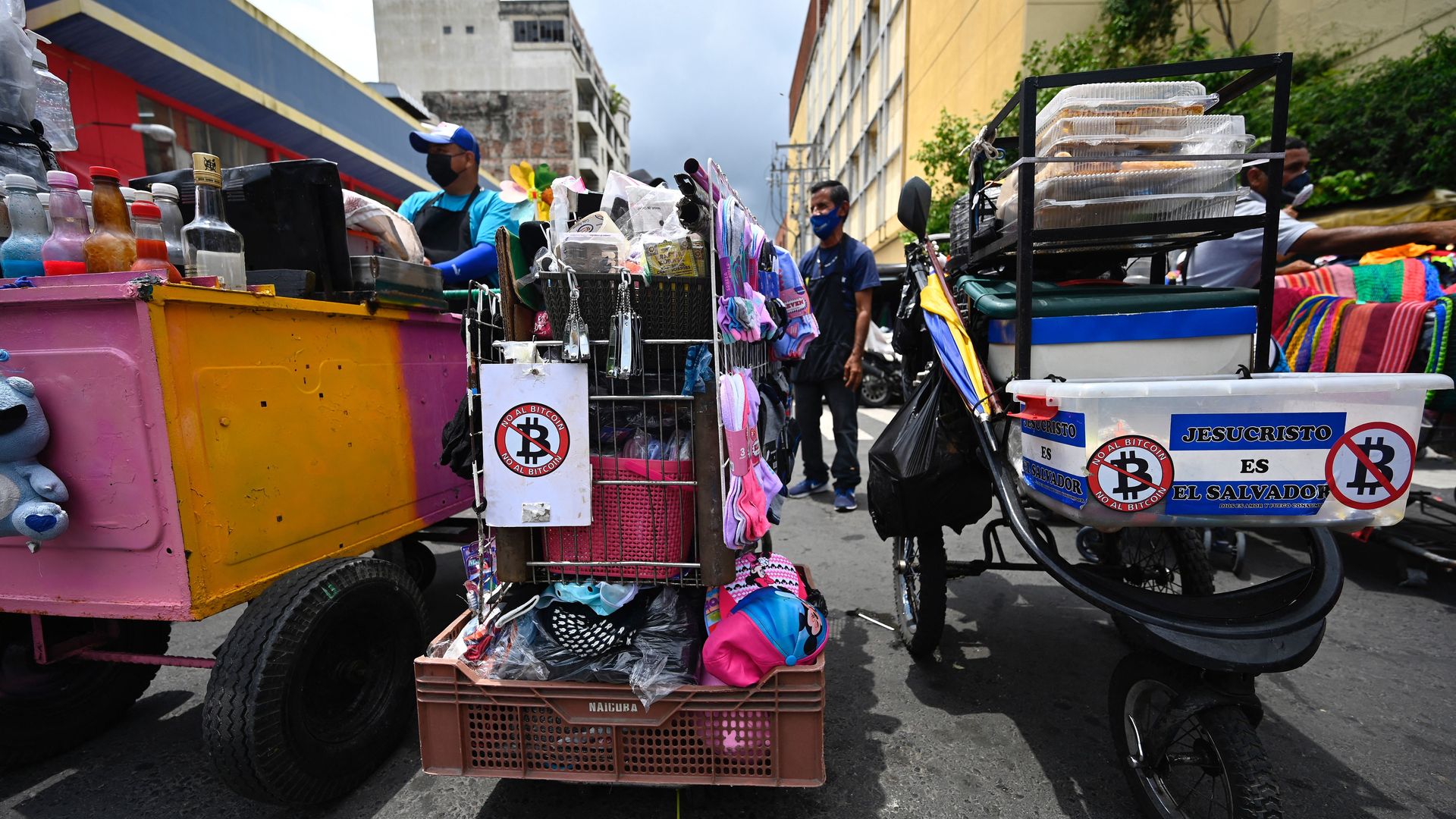 El Salvador's law making bitcoin legal tender goes into effect today, despite skepticism that the decentralized digital coin can actually work as a country's currency.
Why it matters: The Central American nation is the first to establish bitcoin as a formal currency.
President Nayib Bukele has said the move will build financial inclusion as a banking alternative, given that 70% of Salvadorans don't have a bank account, and people will benefit from avoiding fees to get their remittances from U.S.-based family.
But eight out of 10 Salvadorans say they have little or no trust in the famously volatile cryptocurrency, according to a poll from the Public Opinion Institute at the Central American University.
Of note: El Zonte, a coastal community that attracts international tourists for its surf, has been accepting bitcoin as payment since 2018.
Vendors and families began slowly adopting it after an anonymous California donor gave all his cryptocurrency to the town and a U.S. businessman created the "Bitcoin Beach Wallet" app to help stores use it.
Driving the news: The Salvadoran Supreme Court, packed with Bukele loyalists since May, determined this weekend that presidents can seek immediate reelection after their term, despite a constitutional ban, opening the door for a Bukele 2024 run and drawing criticism from the U.S. State Department.
The intrigue: The use of bitcoin will be voluntary for people but mandatory for businesses of all kinds, unless they can prove they are technologically unable to accept it.
El Salvador has the second worst internet connectivity in Latin America and the Caribbean.
Bukele's government announced plans to offer $30 worth of the digital currency to up to 4 million Salvadorans who elect to create a digital wallet called Chivo, as an incentive for the currency's use.
Go deeper: Bitcoin is becoming part of the dollar-based financial system it once sought to displace.
Go deeper