Guinea coup leader bans foreign travel for government officials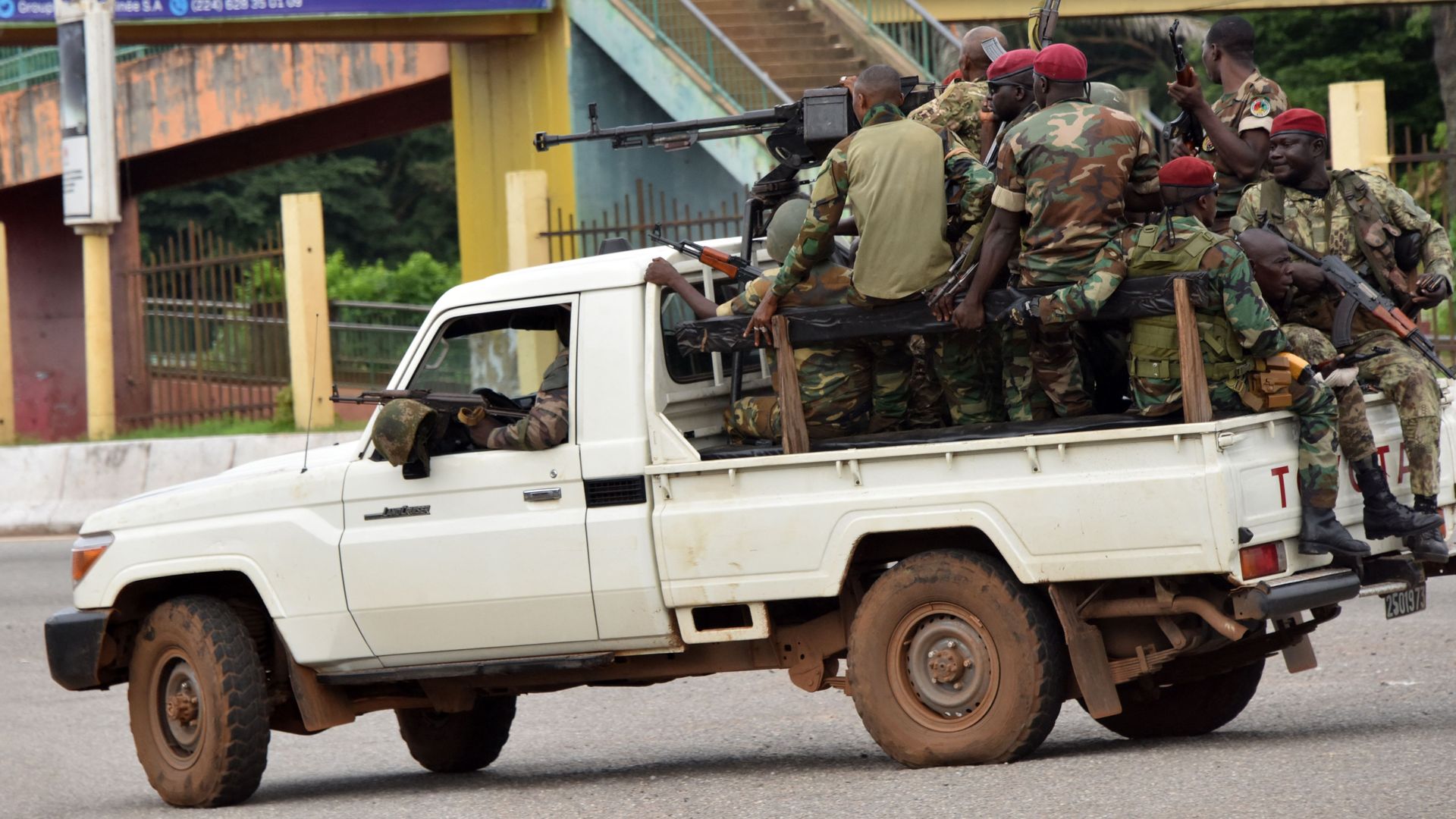 Guinean soldiers on Sunday seized control of state television airwaves to announce that President Alpha Condé's government had been dissolved, AP reports.
The latest: The coup's leader, Army Col. Mamadi Doumbouya, announced Monday that government officials will be barred from foreign travel and requested that they return their official vehicles, per Reuters. He promised that "there will be no witch-hunt."
The country's land and air borders had also been reopened, Reuters reported, citing a military spokesperson.
Doumbouya also allowed mining companies to continue their operations, effectively exempting them from a national curfew, according to the BBC.
He said that a new government will be formed in the coming weeks, but did not elaborate on a timeline, the BBC reported.
The big picture: Heavy gunfire reportedly erupted near the presidential palace early Sunday before the coup leaders announced they had dissolved the National Assembly and the country's constitution.
Condé, 83, has faced stark criticism after seeking a third term last year with his popularity plummeting significantly in the time since, per AP. His whereabouts are not immediately known.
What they're saying: "The personalization of political life is over," Doumbouya said Sunday, per AP.
"We will no longer entrust politics to one man, we will entrust it to the people," he added.
Doumbouya did not explicitly mention Condé during his televised statements Sunday.
State of play: The coup garnered widespread international condemnation.
"The United States condemns today's events in Conakry. Violence and any extra-constitutional measures will only erode Guinea's prospects for peace, stability, and prosperity," State Department spokesperson Ned Price said in a statement late Sunday.
"I strongly condemn any takeover of the government by force of the gun and call for the immediate release of President Alpha Conde," UN Secretary-General António Guterres tweeted.
Editor's note: This story has been updated with additional details throughout.
Go deeper