What the Taliban victory means for Afghanistan's neighbors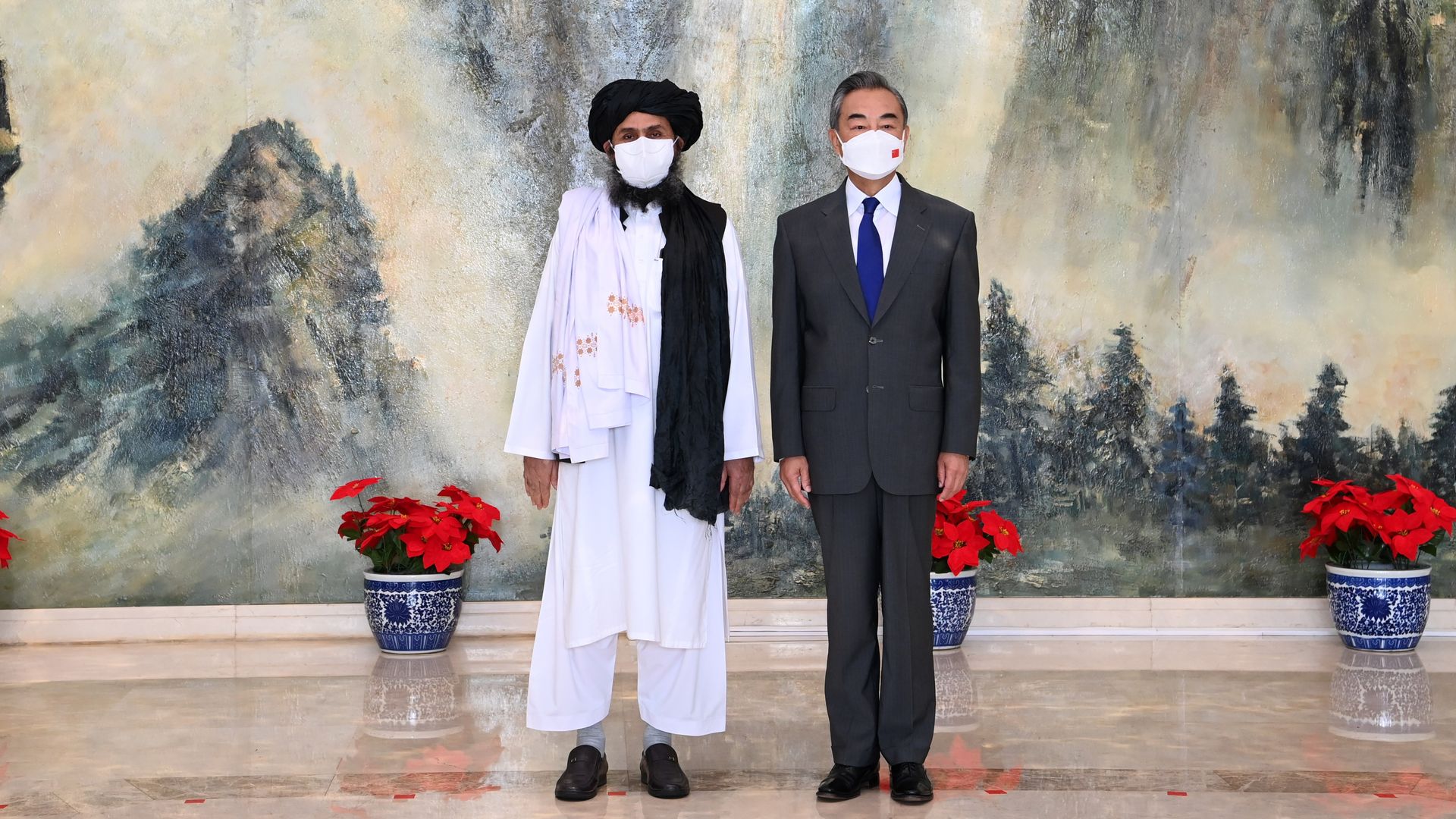 The Taliban's total victory has major implications for Afghanistan's neighbors and the broader region, with countries vying for influence while preparing for potential instability, refugee flows and the threat of a terrorist safe haven.
The big picture: It's largely a strategic victory for Pakistan, which has assisted the Taliban and harbored its leaders, and a defeat for India, which invested heavily in an Afghan state that has now collapsed.
For China, it's both a source of concern and of opportunity, and the Taliban has already made clear that it is depending on close relations with Beijing.
"On the one hand, it is a strategic victory for Pakistan to have a pro-Islamabad government in Afghanistan for the first time in more than 20 years, and that's no small matter," says Michael Kugelman of the Wilson Center.
But the Taliban's capture of Kabul also raises security concerns for Islamabad and has sent tens of thousands of Afghans fleeing to the border.
Pakistan will clearly have influence with the Taliban, but it could also now have less leverage, Kugelman notes: "Now that the Taliban is completely in control and no longer fighting this war, it doesn't need to depend on Pakistan as much."
India, meanwhile, had been the Afghan government's closest friend in the region, investing in aid projects, close diplomatic ties, and even building the parliament building in Kabul.
Now New Delhi has been forced to deal with the Taliban. The first known meeting between the sides took place just last week.
"India was late to come to the realization that engaging with the Taliban is a necessary evil, so to speak," says Kugelman. He says New Delhi will be in no rush to recognize a Taliban government, and could continue to support groups that are still resisting the militants.
Iran and the Taliban were bitter foes in the 1990s, but they have built ties gradually since, and the Taliban's insistence that it will protect Afghanistan's Shia minority is at least partially designed for Tehran's consumption.
Like Pakistan, Iran already hosts upwards of one million Afghan refugees and is attempting to avoid another influx. The land borders on all sides of Afghanistan have been closed to refugees since Kabul fell.
America's humbling exit from Afghanistan provided a propaganda coup for China.
A Foreign Ministry spokesperson chided that another U.S. military intervention, justified on the grounds of "democracy" and "human rights," had ended in "turmoil, division, and destruction."
Beijing will have few qualms with the Taliban's record on human rights, and a Taliban spokesman said Thursday that, with western assistance drying up, the new government would rely on China to "invest and rebuild our country."
China has kept its embassy open in a signal that it's ready to deal with the incoming government, but is unlikely to make such large-scale investments any time soon. Its main concern in Afghanistan is security, and in particular that Islamist groups with roots in China could take inspiration from the Taliban.
The threat of Afghanistan again becoming a hub for international terrorism is much more acute for countries in the region than for the United States, at least in the near term. ISIS looms particularly large.
"Many of the regional players can live with a Taliban government as long as they get assurances about security, because for most regional players — excluding India, but Iran, China, Russia, the Central Asian states — ISIS is a bigger concern than the Taliban," Kugelman says.
Go deeper