Texas county judge temporarily blocks anti-abortion group from enforcing ban against Planned Parenthood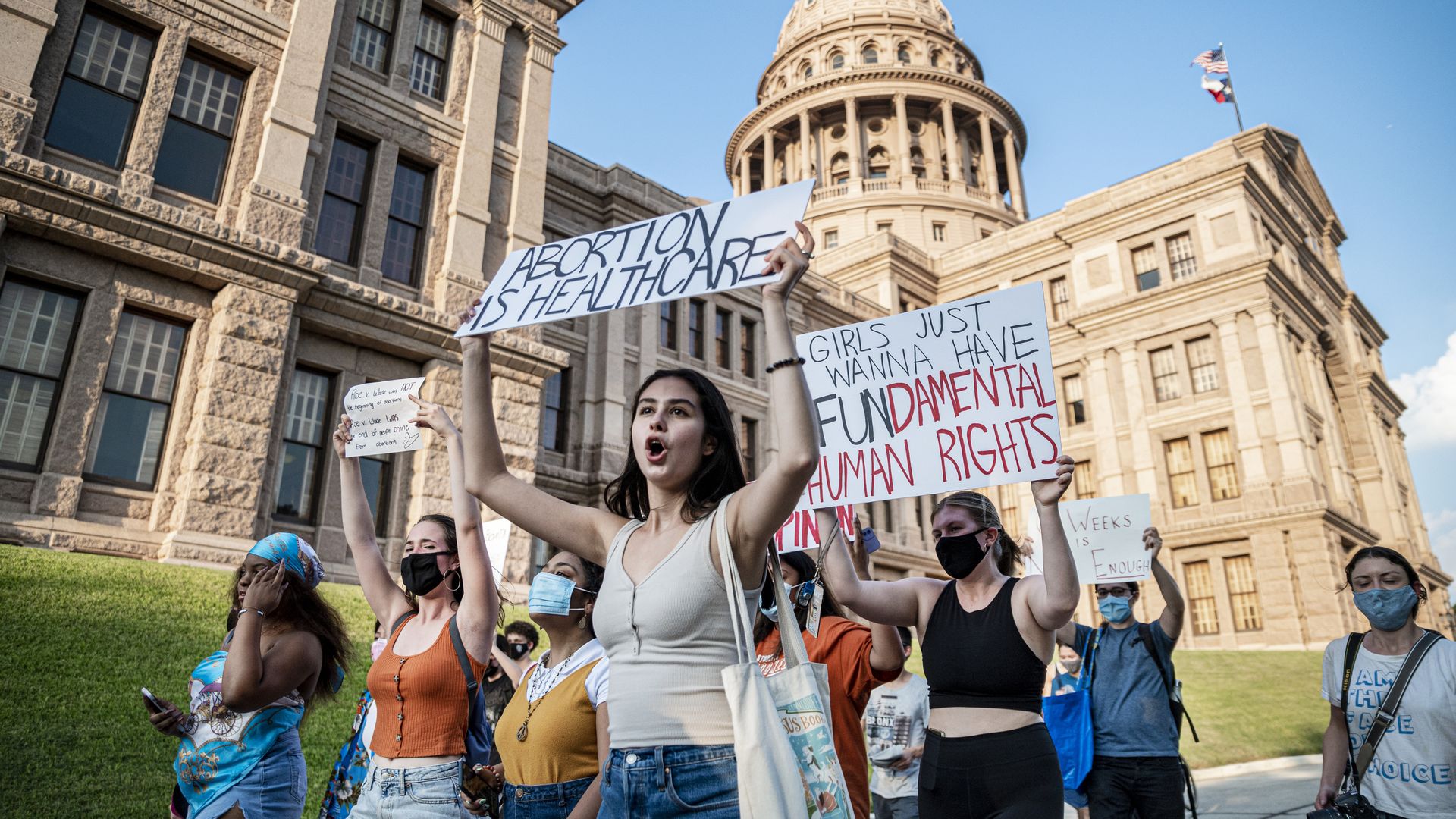 A Texas county judge on Friday granted a temporary restraining order against Texas Right to Life and its associates, preventing the anti-abortion group from enforcing a new six-week abortion ban against three Planned Parenthood affiliates.
Why it matters: The Texas law is the most restrictive abortion ban allowed to be enforced since the 1973 Roe v. Wade decision enshrined abortion as a constitutional right. It also incentivizes people to sue anyone suspected of helping a pregnant person obtain an abortion — and awards at least $10,000 to people who succeed.
Driving the news: The temporary restraining order bars Texas Right to Life and affiliated groups from attempting to sue Planned Parenthood, its physicians and staff while litigation over the law is ongoing.
The order, granted by Travis County District Court Judge Maya Guerra Gamble, will expire on Sept. 17.
Planned Parenthood South Texas Surgical Center, Planned Parenthood of Greater Texas Surgical Health Services, Planned Parenthood Center for Choice and Planned Parenthood Center for Choice abortion provider Dr. Bhavik Kumar filed the request on Thursday.
What they're saying: Gamble wrote that the new law creates "probable, irreparable, and imminent injury in the interim for which [Planned Parenthood] and their physicians, staff, and patients throughout Texas have no adequate remedy at law" if they are subjected to private enforcement lawsuits.
The decision upholds Texas Supreme Court precedent, which has held that "the primary consideration for temporary emergency relief is preserving the status quo while courts consider whether plaintiffs have demonstrated a probable right to the relief sought," Gamble wrote.
"We are relieved that the Travis County district court has acted quickly to grant this restraining order against Texas Right to Life and anyone working with them as deputized enforcers of this draconian law," Helene Krasnoff, Planned President vice president for public policy litigation and law, said in a statement.
"This restraining order offers protection to the brave health care providers and staff at Planned Parenthood health centers throughout Texas, who have continued to offer care as best they can within the law while facing surveillance, harassment, and threats from vigilantes eager to stop them.
"But make no mistake: this is not enough relief for Texas. Planned Parenthood will continue … doing everything we can under the law to restore Texans' federal constitutional right to access abortion."
"This new desperate effort by abortionists comes after the U.S. Supreme Court declined to intervene in a similar lawsuit on Wednesday, which permitted the Texas Heartbeat Act to take effect," Texas Right to Life said in a release after the ruling.
"Planned Parenthood can keep suing us, but Texas Right to Life will never back down from protecting pregnant women and preborn children from abortion," Vice President Elizabeth Graham noted.
What's next: A preliminary injunction hearing will take place on Sept. 13.
Go deeper