Biden: "No question" Delta variant is to blame for poor jobs report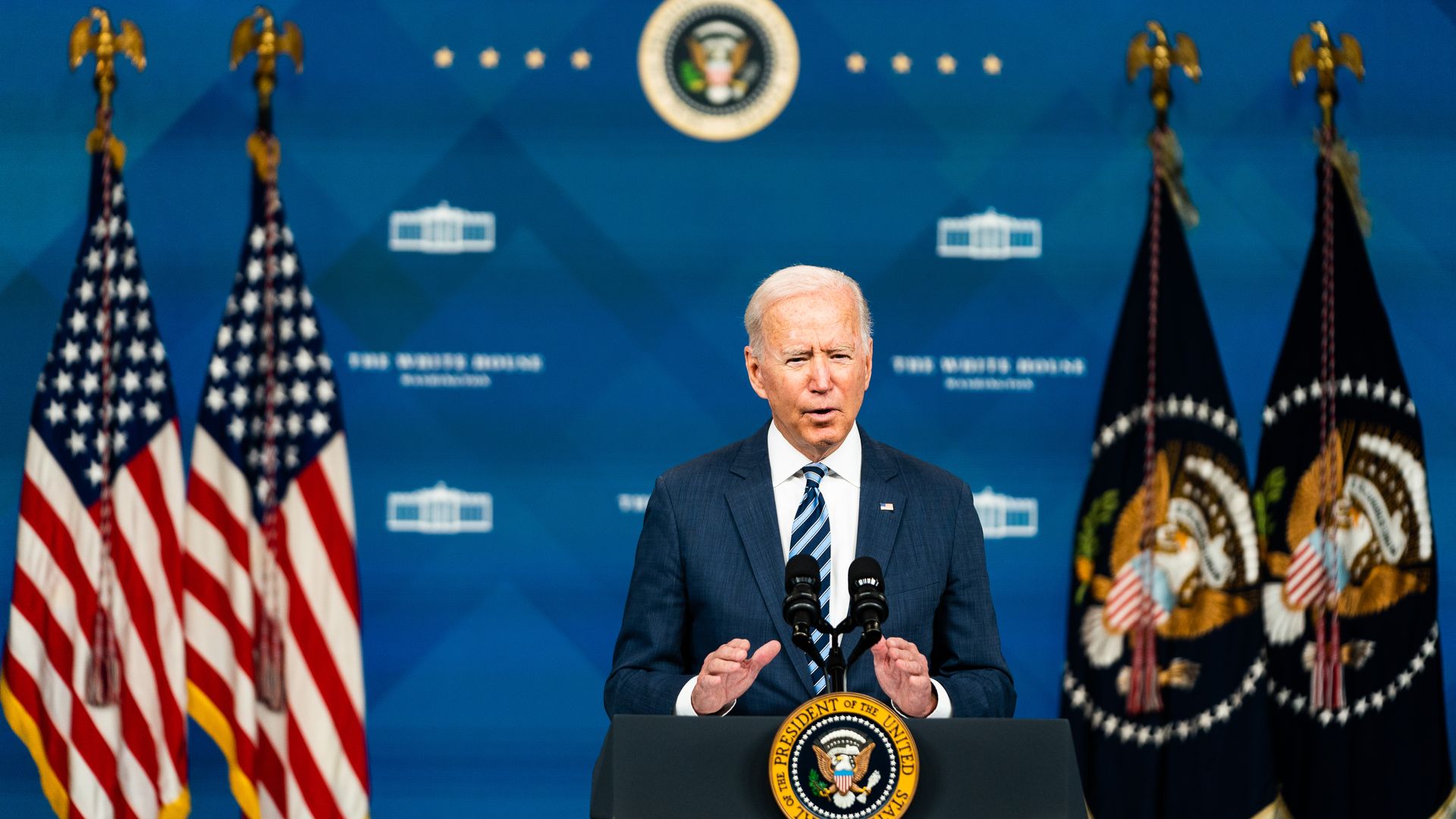 There is "no question" that the Delta variant is to blame for the disappointing August jobs report, President Biden said in remarks on Friday, a fact that he argued underscores the importance of continuing to vaccinate Americans and passing his economic agenda.
Why it matters: The U.S. economy added only 235,000 jobs last month, significantly lower than what economists expected in part because of the surge in new coronavirus cases driven by the Delta variant.
What they're saying: Biden contended that despite the impact of the Delta variant and the poor jobs report, the economic recovery is "durable and strong."
"While I know some wanted to see a larger number today, and so did I, what we've seen this year is the continued growth, month after month, in job creation," Biden said.
"It's not just that I've added more jobs than in the first year of any president; it's that we've added jobs in every single one of my first seven job reports. And wages are going up," he continued.
Biden called on Congress to pass the $1.2 trillion bipartisan infrastructure bill and the $3.5 trillion budget reconciliation package this month in order to ensure the economy experiences "long-term prosperity," in addition to the initial recovery from COVID.
"Our country needs these investments," he said. "Now we need Congress to finish the job, to come through for the American people and ensure that the economy continues to get strength and stability as we move forward."
House Speaker Nancy Pelosi (D-Calif.) also argued Friday that the jobs report is evidence that Biden's economic plan is desperately needed, calling it "transformational for families."
"The Build Back Better Act is what is needed to meet families' needs, both during the pandemic and for years to come," Pelosi said in a statement. "As the delta variant continues, decisive action is needed to ensure that the economic gains forged under President Biden – including four million jobs created – are sustained and shared by all."
The big picture: The Senate's bipartisan infrastructure plan has stalled in the House because of disagreements among Democrats.
Meanwhile, the Democrat-only budget resolution hit a major snag in the Senate this week after Sen. Joe Manchin (D-W.Va.) told his Democratic colleagues to "hit the pause button" and focus on other priorities.
Both developments threaten to derail the bulk of Biden's economic agenda, setting up a massively important month in his presidency.
What to watch: Biden said he will unveil new steps for combating the Delta variant surge next week.
Go deeper: U.S. added 235,000 jobs in August, a massive slowdown
Go deeper