FAA grounding Richard Branson's Virgin Galactic pending investigation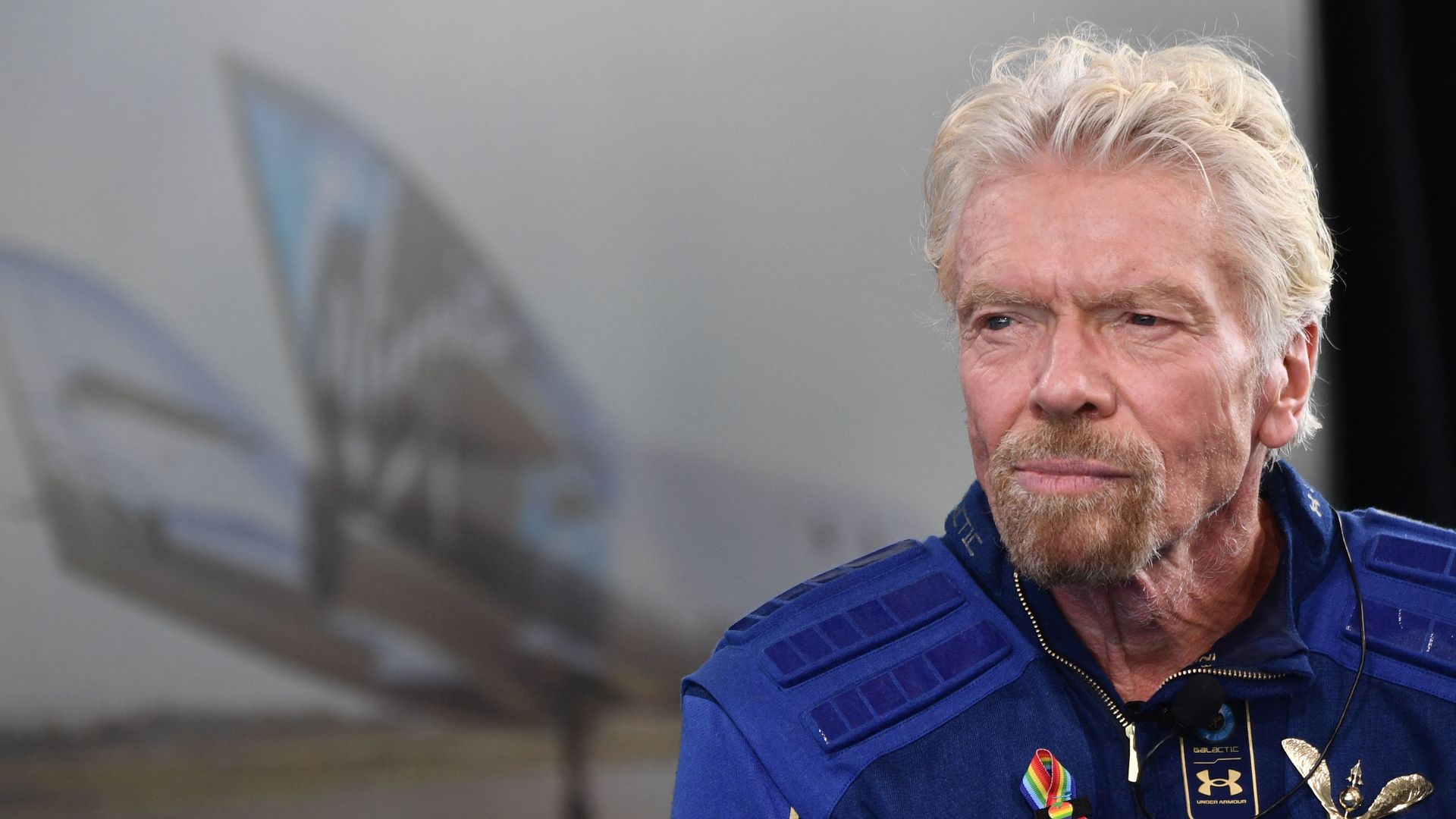 The Federal Aviation Administration said Thursday it is investigating Virgin Galactic's recent flight into suborbital space after the company's Unity space plane veered off course and flew outside its designated airspace during the flight.
The latest: FAA spokesperson Steve Kulm said Virgin Galactic's space plane is grounded and will not be able to fly again until the administration "approves the final mishap investigation report or determines the issues related to the mishap do not affect public safety."
Why it matters: The high-profile flight, which was carrying Virgin Galactic's billionaire founder Richard Branson and five other passengers, including two pilots, was seen as a step forward for the company to begin commercial services in the near future.
The investigation into the mission could complicate those ambitions.
Unity pilots Dave Mackay and Mike Masucci during the flight first encountered a warning that the craft was veering off course, according to a report from the New Yorker.
They then met an entry glide-cone warning, indicating that the vehicle was not ascending at the correct angle and may not have enough glide energy to reach its landing designation, which could force the crew to make an emergency landing elsewhere.
The New Yorker's report was based on interviews with multiple anonymous Virgin Galactic officials and confirmation from unnamed FAA spokespeople.
Flight data showed that the craft went outside of its mandated airspace during the mission, raising the risk of a collision with other aircraft or an emergency landing, per the New Yorker.
The FAA designates airspaces for each space mission to prevent collisions with general air traffic.
An FAA spokesperson said that the craft had "deviated from its Air Traffic Control clearance."
Multiple anonymous Virgin Galactic sources told the New Yorker that the pilots should have aborted the mission in response to the warnings. Mackay and Masucci continued flying but managed to get the craft into space and back to Earth.
What they're saying: Spokespeople for Virgin Galactic told the New Yorker that its top priority is the safety of its crew and passengers but acknowledged that the craft did veer off course and that the company did not initially notify the FAA.
The company described the flight as "a safe and successful test flight that adhered to our flight procedures and training protocols."
"When the vehicle encountered high altitude winds which changed the trajectory, the pilots and systems monitored the trajectory to ensure it remained within mission parameters. Our pilots responded appropriately to these changing flight conditions exactly as they have been trained and in strict accordance with our established procedures," it added, per the New Yorker.
Go deeper: How the FAA keeps airplanes and rockets apart in the sky
Editor's note: This story has been updated with the FAA statement.
Go deeper