Exclusive: Silicon Valley investor dismissed racism, called BLM "the true racists"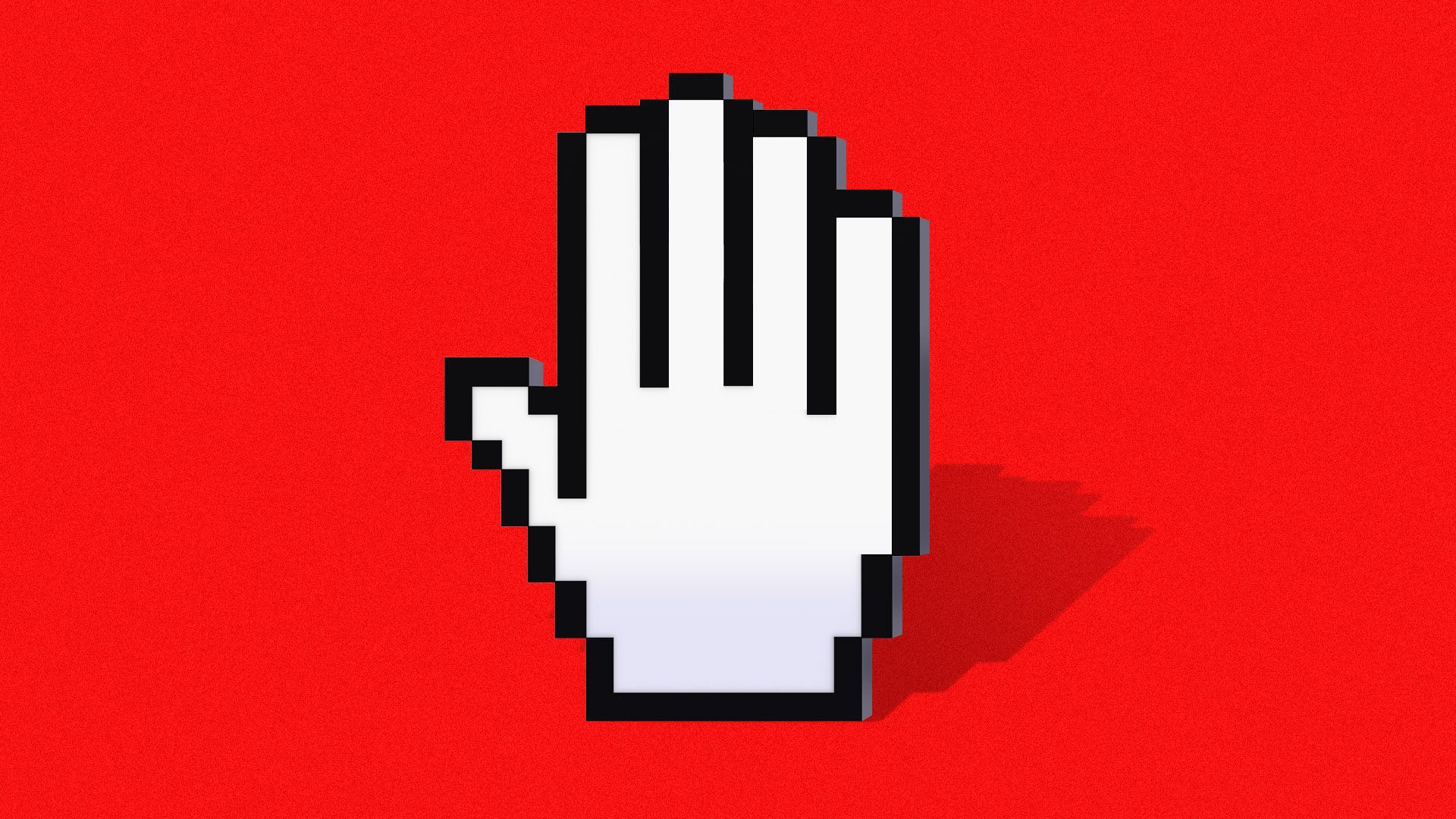 A notable venture capitalist and board member at the public company behind iconic brands like The North Face and Timberland was dismissive of racism in the U.S. and called Black Lives Matter "the true racists," according to emails obtained by Axios.
Details: Veronica Wu was a co-lead on a fund that it once described as the largest pool of money dedicated to seed startups. She's also on the board of VF Corporation, one of the world's biggest apparel companies.
A spokesperson for VF Corp. declined to comment and would not comment on Wu's behalf. Wu did not respond to emails.
Background: Wu was elected to VF Corp.'s board in 2019.
At the time, she was a managing partner at Hone Capital, a U.S. venture arm of China Science and Merchants Investment Management Group (also known as CSC Group).
Wu was previously a co-lead on a CSC Upshot fund, created in 2015 to invest in companies on fundraising platform AngelList. At the time, the companies said it was the biggest-ever dedicated to seed stage funding.
In June 2020, an office manager at Hone Capital notified Wu that the firm would honor Juneteenth as a company holiday, according to email exchanges reviewed by Axios.
Wu responded that she didn't know about the holiday, which commemorates when enslaved Black people in Galveston, Texas, learned of their emancipation.
After the office manager explained that — and noted other companies were honoring the day because of the country's renewed focus on racism in the wake of George Floyd's murder — Wu said she was "particularly not supportive."
"I don't believe in Black Lives Matter. If anything I think they are the true racists trying to stir up things to make this country going [sic] to socialism or even communism potentially," Wu wrote in part.
Wu also said because the company was owned by CSC Group, the decision about making the day a company holiday wasn't theirs to make.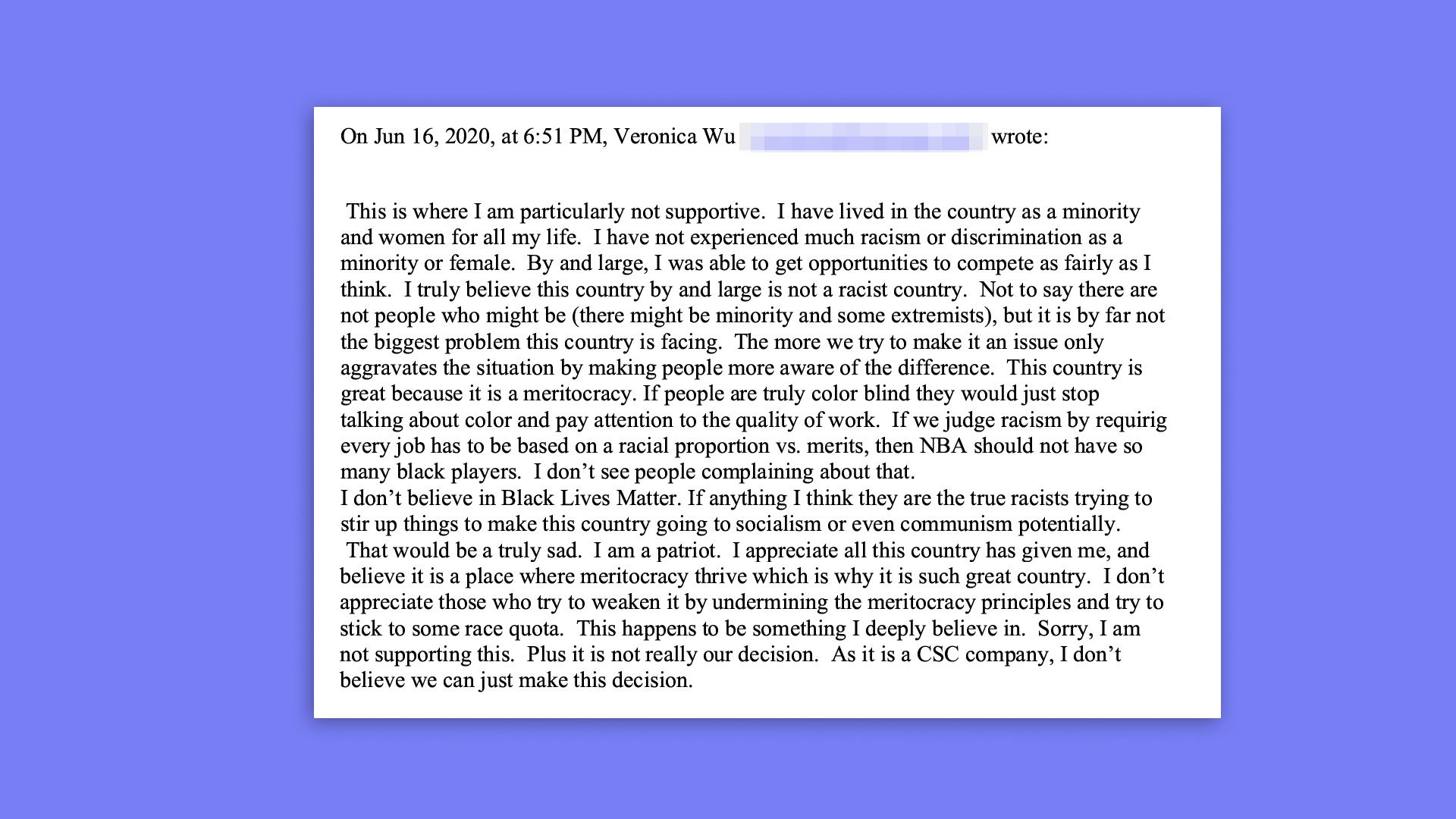 The latest: VF Corp. got wind of this email exchange, investigated its contents and found them to be legitimate earlier this year, a source familiar with the matter tells Axios.
Wu was not removed from the board. Among the committees she serves on as a member, one traditionally recruits potential board members and reviews executives for top management roles.
Wu's email was not the first time she expressed similar comments while at Hone Capital — which touts a "zero-tolerance policy for ... discrimination" on its website — one of the firm's former employees alleges.
"She would say 'the reason you don't see African Americans in tech is because they're lazy and don't work,'" they said.
Black people are underrepresented in Silicon Valley because of systemic barriers to entry. Three percent of venture capital investment partner positions were held by Blacks in 2020, according to a survey by The National Venture Capital Association. And just 1.2% of all venture funding went to Black startup entrepreneurs in the first half of this year, per Crunchbase.
Axios' phone calls to the number listed on Hone's website were not returned.
Of note: Wu was at Hone until August of last year, per her LinkedIn profile. She is on a global advisory board at CapGemini, a publicly traded technology consulting firm. CapGemini did not respond to Axios' request for comment.
She also currently lists herself as the founder and managing partner of First Bight Ventures, which invests in early-stage synthetic biology companies.
The bottom line: Corporations en masse rushed to speak out against racism as they faced increasing pressure to respond to social issues. It has raised questions about whether what companies do about racism down the line would be as vigorous as their comments.
VF Corp. — which owns a dozen household brand names including Supreme and Jansport — was among the corporations that released statements about their commitment to antiracism after Floyd was killed.
"Racism is not welcome at VF Corporation. It never has been and never will be," CEO Steve Rendle said last June.
"[W]hile we as a company can't create a vaccine to eradicate racism from our planet, we can do our part to lead with purpose, inspire others with our actions, break down racial and ethnic barriers and be part of the solution."
Go deeper