Pelosi: House will vote to codify Roe v. Wade to counter Texas abortion ban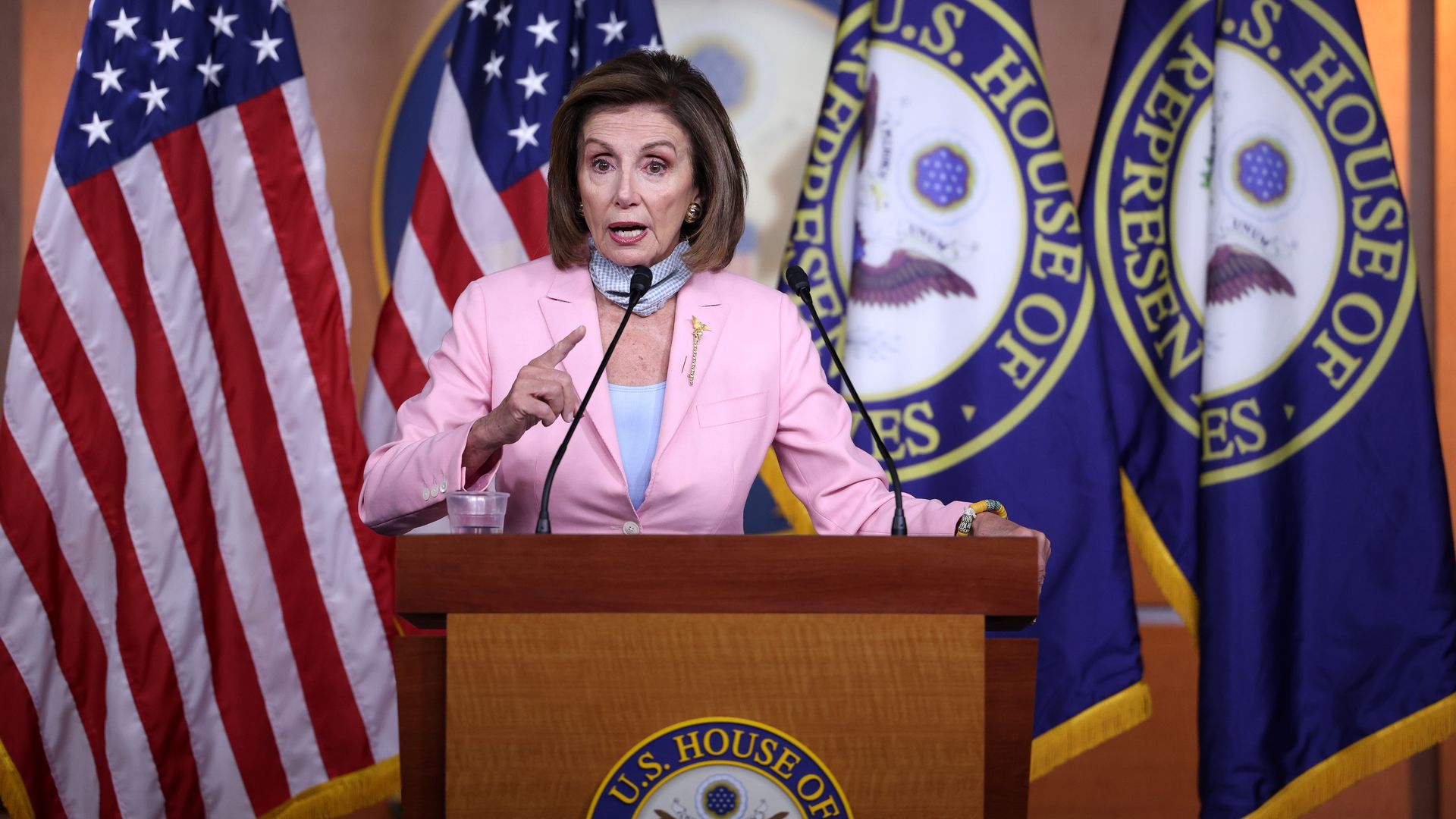 House Speaker Nancy Pelosi (D-Calif.) slammed the Supreme Court's "cowardly, dark-of-night decision" to allow Texas' ban on most abortions to remain in place on Thursday, vowing to pass the Women's Health Protection Act when the House returns from recess.
Why it matters: The bill would "enshrine into law reproductive health care for all women across America," Pelosi said, codifying Roe v. Wade. The legislation faces an uphill battle in the Senate, however, where it is unlikely to have enough votes to overcome the 60-vote filibuster.
The big picture: The Texas law prohibits abortions after a fetal heartbeat is detected, which can be as early as six weeks — before many people know they are pregnant. It makes no exception for cases of rape or incest.
The law is the most restrictive abortion ban in 50 years, since the Supreme Court passed Roe v. Wade in 1973, legalizing abortion nationwide. It also offers at least $10,000 to citizens who successfully sue any person assisting pregnant people with getting abortions that violate the ban.
Earlier Thursday, President Biden called the law "an unprecedented assault on a woman's constitutional rights," and vowed to launch a "whole-of-government" effort to protect access to safe and legal abortion in the state.
What they're saying: "SB8 delivers catastrophe to women in Texas, particularly women of color and women from low-income communities. Every woman, everywhere has the constitutional right to basic health care," Pelosi said in a statement, referring to the name of the GOP-sponsored abortion law.
"SB8 unleashes one of the most disturbing, unprecedented and far-reaching assaults on health care providers – and on anyone who helps a woman, in any way, access an abortion – by creating a vigilante bounty system that will have a chilling effect on the provision of any reproductive health care services," she continued.
"This provision is a cynical, backdoor attempt by partisan lawmakers to evade the Constitution and the law to destroy not only a woman's right to health care but potentially any right or protection that partisan lawmakers target."
Go deeper