Biden blasts Supreme Court's "unprecedented assault" on abortion rights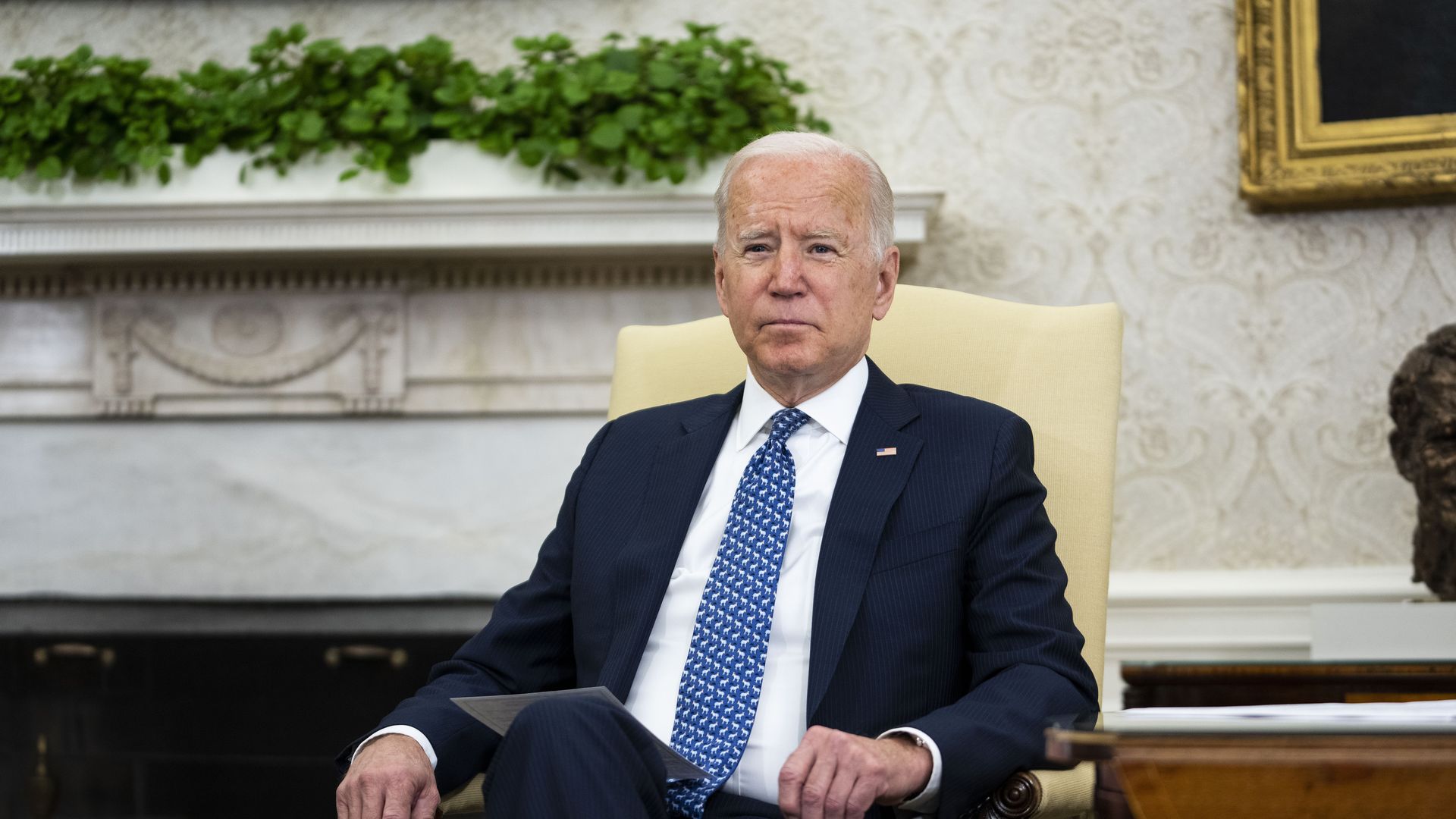 President Biden condemned the Supreme Court's decision to allow Texas' ban on most abortions to remain in place as "an unprecedented assault on a woman's constitutional rights," pledging to launch a "whole-of-government" effort to protect access to safe and legal abortion in the state.
Why it matters: The ban, which took effect Wednesday, is the most restrictive abortion law to be enforced since the Supreme Court's Roe v. Wade decision legalized abortion nationwide in 1973.
Catch up quick: The Texas law prohibits abortions after a fetal heartbeat is detected, which can be as early as six weeks and before many people know they are pregnant.
It also makes no exceptions for pregnancies that are a result of rape or incest if a heartbeat is detected, and offers at least $10,000 to citizens who successfully sue any person assisting pregnant people with getting abortions that violate the ban.
The Supreme Court rejected an emergency application by reproductive rights groups to block the restrictive law with a 5-4 vote on Wednesday but did not rule on the constitutionality of it.
What to watch: Biden said he has directed the Gender Policy Council and White House Council to review what steps the federal government can take to protect abortion rights in Texas, looking specifically at potential policy actions by the Department of Health and Human Services and the Department of Justice.
What he's saying: "The Supreme Court's ruling overnight is an unprecedented assault on a woman's constitutional rights under Roe v. Wade, which has been the law of the land for almost fifty years," Biden said in a statement.
"By allowing a law to go into effect that empowers private citizens in Texas to sue health care providers, family members supporting a woman exercising her right to choose after six weeks, or even a friend who drives her to a hospital or clinic, it unleashes unconstitutional chaos and empowers self-anointed enforcers to have devastating impacts," he continued.
"The dissents by Chief Justice Roberts, and Justices Breyer, Sotomayor, and Kagan all demonstrate the error of the Court's action here powerfully."
"While the Chief Justice was clear to stress that the action by the Supreme Court is not a final ruling on the future of Roe, the impact of last night's decision will be immediate and requires an immediate response."
The big picture: The Supreme Court's five conservative justices said in an unsigned opinion that allowing the ban to remain in place should not be read as an indication of whether the court believes the law is unconstitutional or not.
They wrote, however, that groups seeking emergency relief had not addressed "complex and novel" procedural questions in the case.
Chief Justice John Roberts joined the liberal justices in dissent, describing the law as "not only unusual, but unprecedented." He questioned whether a state can avoid responsibility for a law by giving its citizens the responsibility to enforce it.
Justice Sonia Sotomayor wrote in her dissent: "It cannot be the case that a State can evade federal judicial scrutiny by outsourcing the enforcement of unconstitutional laws to its citizenry."
Go deeper: Texas banned abortion after 6 weeks. Here's what happens next
Go deeper