U.S. financial institutions caught in crosshairs of Afghanistan's economic crisis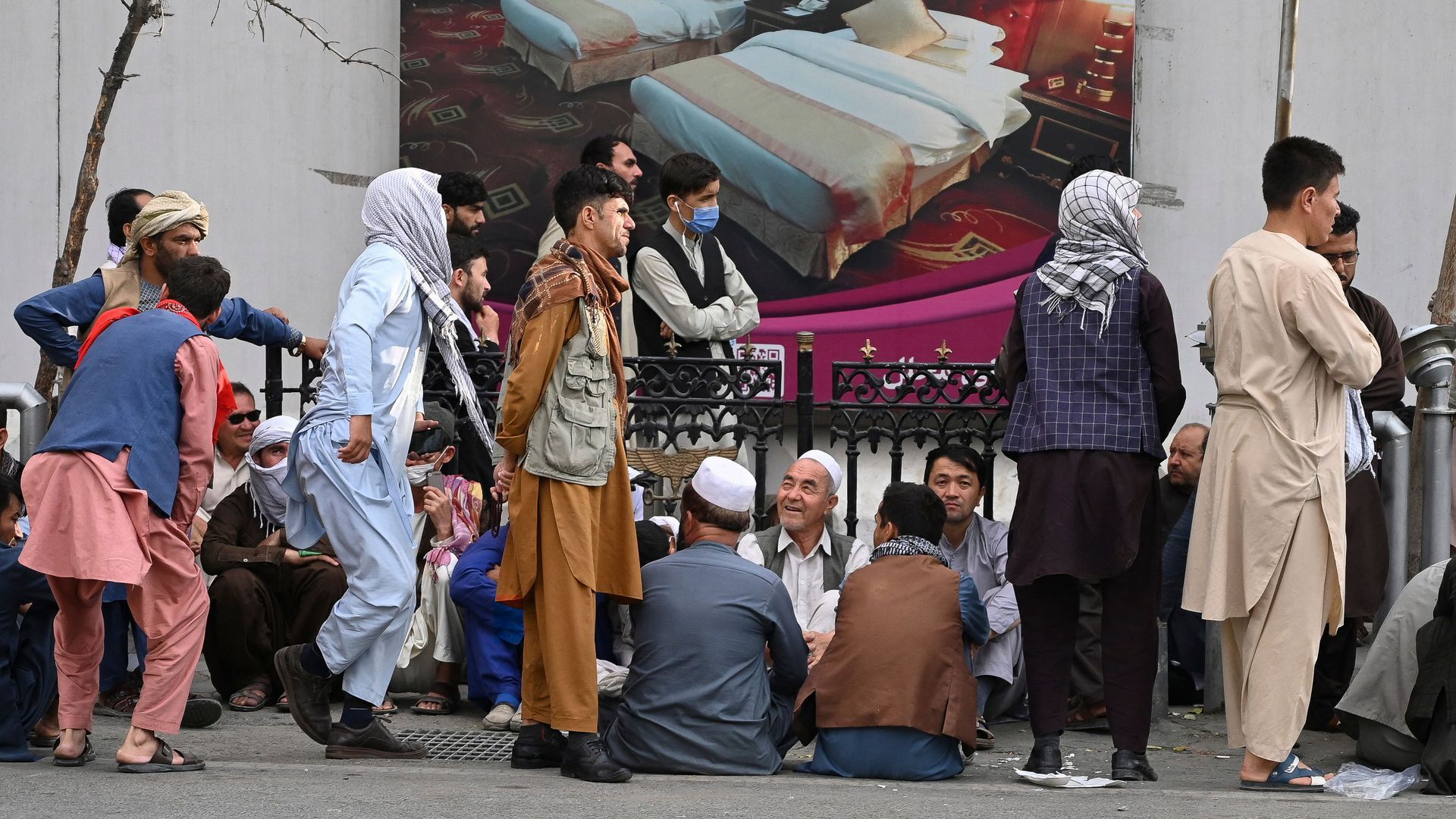 Afghanistan's humanitarian crisis is inextricably tied to its crumbling finances. U.S. sanctions on the Taliban, stemming from 2001, are now causing a flight of capital and aid from the country as the distinction between providing services to Taliban and non-Taliban actors becomes more difficult to vet.
Why it matters: The Taliban's takeover of Afghanistan's government put U.S. financial services companies squarely in the middle of the geopolitical clash.
Afghanistan's economy has been extremely dependent on foreign investment and aid, as Foreign Policy columnist Adam Tooze wrote in a recent column.
Catch up quick: Wire transfer companies MoneyGram and Western Union froze customer payments to Afghanistan last week, the WSJ reported.
MoneyGram just entered the market in the early 2000s, shortly after the U.S. presence there began, CEO Alex Holmes tells Axios.
Afghanistan is a small market for the company — but remittances "play a pivotal role in the livelihood of the Afghan people," Holmes says. Remittances account for 4% of Afghanistan's GDP or about $800 million per year.
The diaspora from Afghanistan is spread out around the world. MoneyGram has a significant volume of customers who send money into the country from the U.S., Germany, Canada and the U.K., adds Holmes.
State of play: When asked by Axios for the driving reasons behind its decision, MoneyGram said that "Our decision to suspend operations and ongoing response are based upon several key considerations: First and foremost, direction from The Administration. MoneyGram will follow the guidance of the U.S. government before making any decisions to reopen."
Following the publication of this story, MoneyGram clarified that it did not receive guidance from the government to shut down — but MoneyGram will follow any of the government's guidance on potentially reopening.
The backdrop: Many banks in Afghanistan have been closed since Aug. 15.
The Biden administration froze access to Afghanistan's central bank reserves, and the International Monetary Fund and World Bank have suspended funding in the country.
There's a new interim central bank head appointed by the Taliban after the previous central banker fled the country.
The country faces a shortage of cash, and the Afghani currency has plummeted in value.
What's next: U.S. financial institutions are looking for more guidance from the Treasury Department.
Holmes adds that MoneyGram also wants direction from partner banks that requested the suspension of its services, as well as from the Afghanistan Banks Association.
This post has been updated to include an additional statement from MoneyGram, as noted above.
Go deeper