Hurricane Ida exposes America's precarious energy infrastructure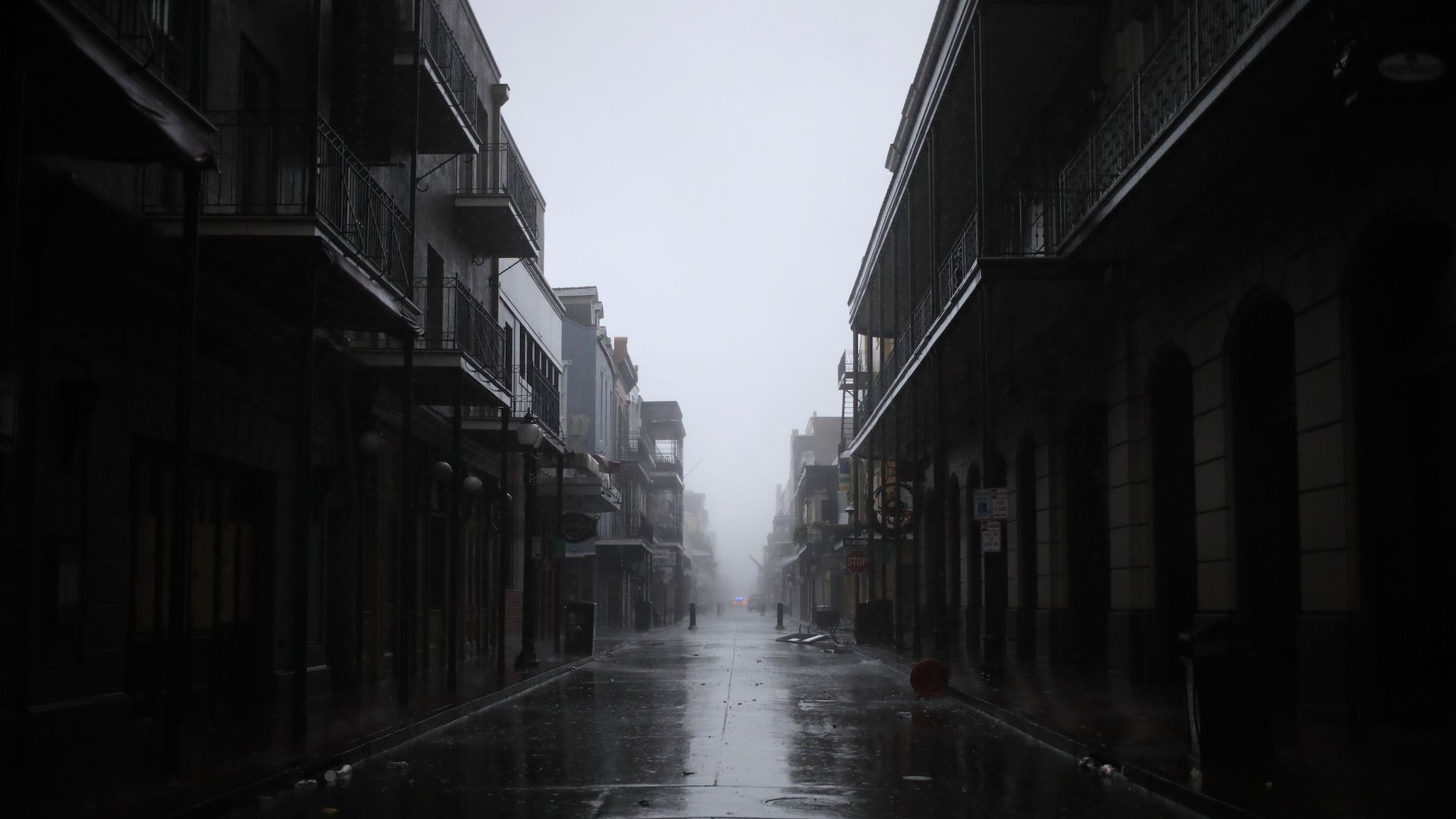 The powerful hurricane that plunged New Orleans into darkness for what could be weeks is the latest sign that U.S. power systems are not ready for a warmer, more volatile world.
The big picture: "Our current infrastructure is not adequate when it comes to these kinds of weather extremes," Joshua Rhodes, a University of Texas energy expert, tells Axios.
Climate science studies show extreme weather events, from wildfires to stronger hurricanes, are expected to affect the U.S. with greater frequency and ferocity than in previous decades.
There is also the risk of "compound events" with concurrent drought and fires in one part of the country and floods and hurricanes hitting another.
Catch up fast: Entergy, the utility that serves much of Louisiana, said Hurricane Ida's "catastrophic intensity" knocked out all eight transmission lines that serve New Orleans.
As of Tuesday morning, more than 1 million customers were still without power in Louisiana, according to PowerOutage.us.
"There are about 10 parishes that the electrical grids are completely collapsed and damaged, smashed, out — however you want to put it," Jefferson Parish Emergency Management director Joe Valiente tells NPR.
Why it matters: The last few years have brought clear signs that point toward the conclusion offered by Rhodes and other experts.
In California, the dangerous combination of drought and high temperatures is worsening wildfires and straining the grid. Outdated transmission lines touched off California's deadliest fire on record.
California power giant PG&E, in June, announced a multiyear plan to bury 10,000 miles of lines underground at a cost of $15 billion-$20 billion.
Texas suffered deadly outages last winter when Arctic air barreled far southward. Judah Cohen, a meteorologist at AER in Massachusetts, tells Axios that event may have had ties to climate change based on how a rapidly warming Arctic is affecting the polar vortex.
What they're saying: WIRES, a power industry group pushing for modernized transmission, said Ida's damage "only reinforces the need for a more resilient grid."
"Extreme weather events like Ida show the value of investment in local transmission projects to replace aging transmission infrastructure with stronger more resilient build out," said Larry Gasteiger, the group's executive director, in a statement.
Rhodes, for his part, has emphasized the usefulness of placing transmission lines underground.
What we're watching: How power companies and policymakers do — or don't — respond at local, state and national levels.
The bipartisan infrastructure bill that passed the Senate earlier this month contains grid modernization and resilience funding, but is nowhere near the scale needed to fully address the challenge while building out new transmission, experts say.
The bill's various provisions include directing the Energy Department to establish a $5 billion grant program for grid hardening to help reduce the impacts of extreme weather events.
The bottom line: Building resilience isn't cheap, even if it ultimately saves money and, more importantly, lives.
Go deeper: Climate change lurks behind Hurricane Ida's unnerving intensification rate
Go deeper