Florida oxygen shortage hits more than hospitals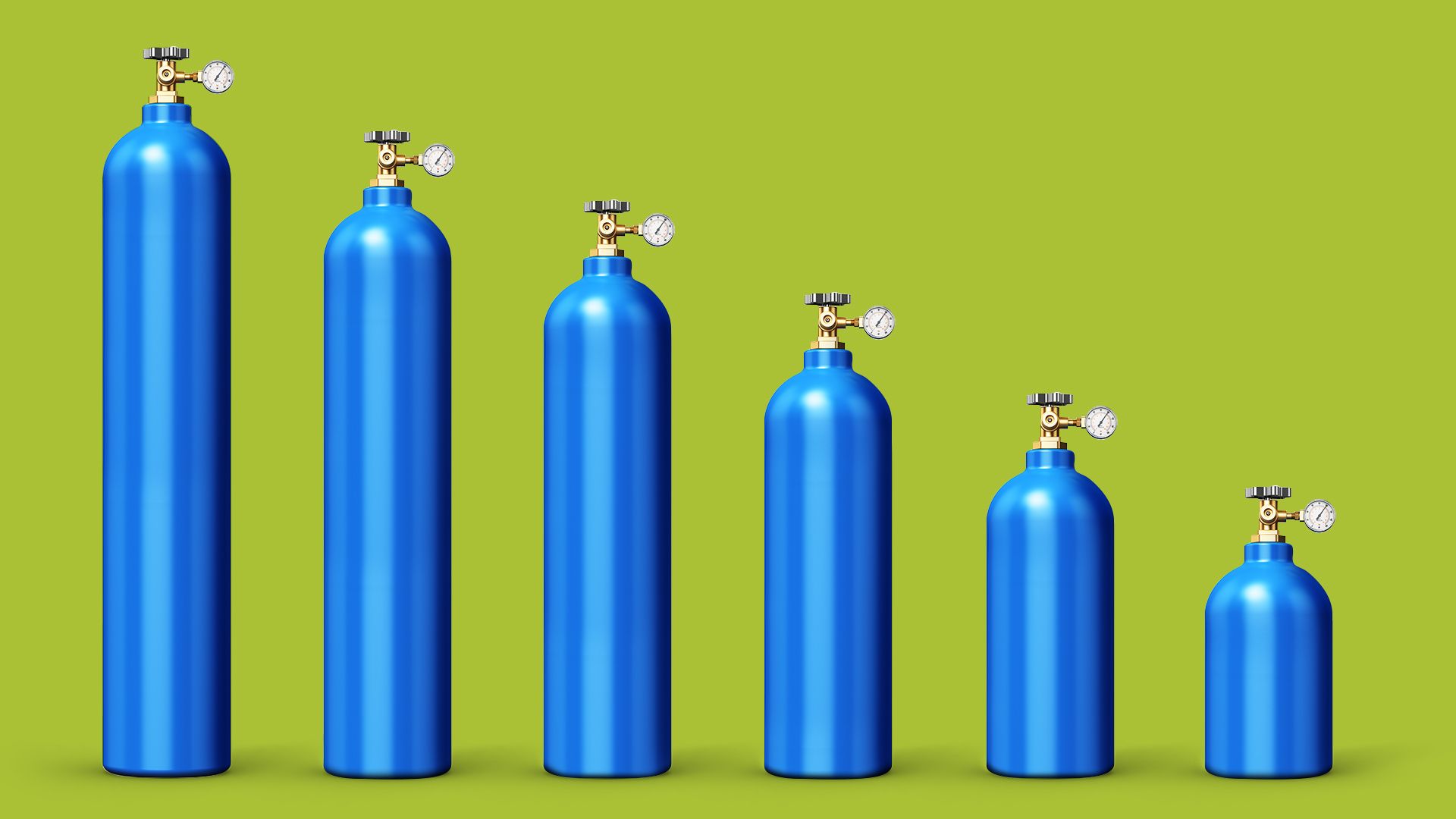 A shortage of medical-grade oxygen in COVID hotspots like Florida is rippling through the economy, crimping manufacturing and intensifying a shortage of truck drivers.
Why it matters: It's the latest example of the supply chain chaos that's developed in the pandemic economy. Oxygen suppliers like Airgas have diverted all their supply to hospitals, leaving industrial customers in a lurch — and potentially putting themselves in legal jeopardy for breaching contracts, sources tell Axios.
The backstory: Liquid oxygen, also known as compressed oxygen, is one of the primary treatments for patients hospitalized with COVID-19. This grade of oxygen is the same as what's used to purify water, as well as to produce high-quality metals that are in turn sold to manufacturers in fields like aerospace and medical implants.
What's happening now: Areas of the U.S. south, especially Florida, are the latest to experience the shortage.
Cities like Orlando have asked residents to cut back on water usage so they don't sap the precious oxygen supply, as the Orlando Sentinel recently reported.
In the business world, medical-grade oxygen suppliers that have failed to make good on contracts with industrial customers are effectively "willing to take the legal risk, and putting themselves in jeopardy that their industrial customers come back and say 'hey, we had a contract here, you're breaking that contract,'" says Rich Gottwald of the Compressed Gas Association, a trade group.
"But, they've got to do it, because saving lives is more important," he says.
The intrigue: Invoking a "force majeure" — a legal term for unforeseen external circumstances, or an "act of God" — is one way that suppliers can try to justify their decision under the law.
Reality check: Liquid oxygen is difficult to transport long distances. It's cryogenic, meaning it needs to be kept really, really cold — and it requires specially designed trucks for transport.
The northern U.S. isn't experiencing a shortage at the moment, but because of those limitations, it's hard to spread the wealth, Gottwald says.
And then there's the truck driver shortage, which Axios has chronicled this year.
"Finding drivers is really difficult," Gottwald says. "Some companies, like Airgas, are rotating in drivers from [nearby regions] of the country, to be able to service hospitals in the areas that need medical oxygen," he adds.
The bottom line: The economic upheaval caused by the pandemic is far from over.
Go deeper