Finally, a video game about the Ever Given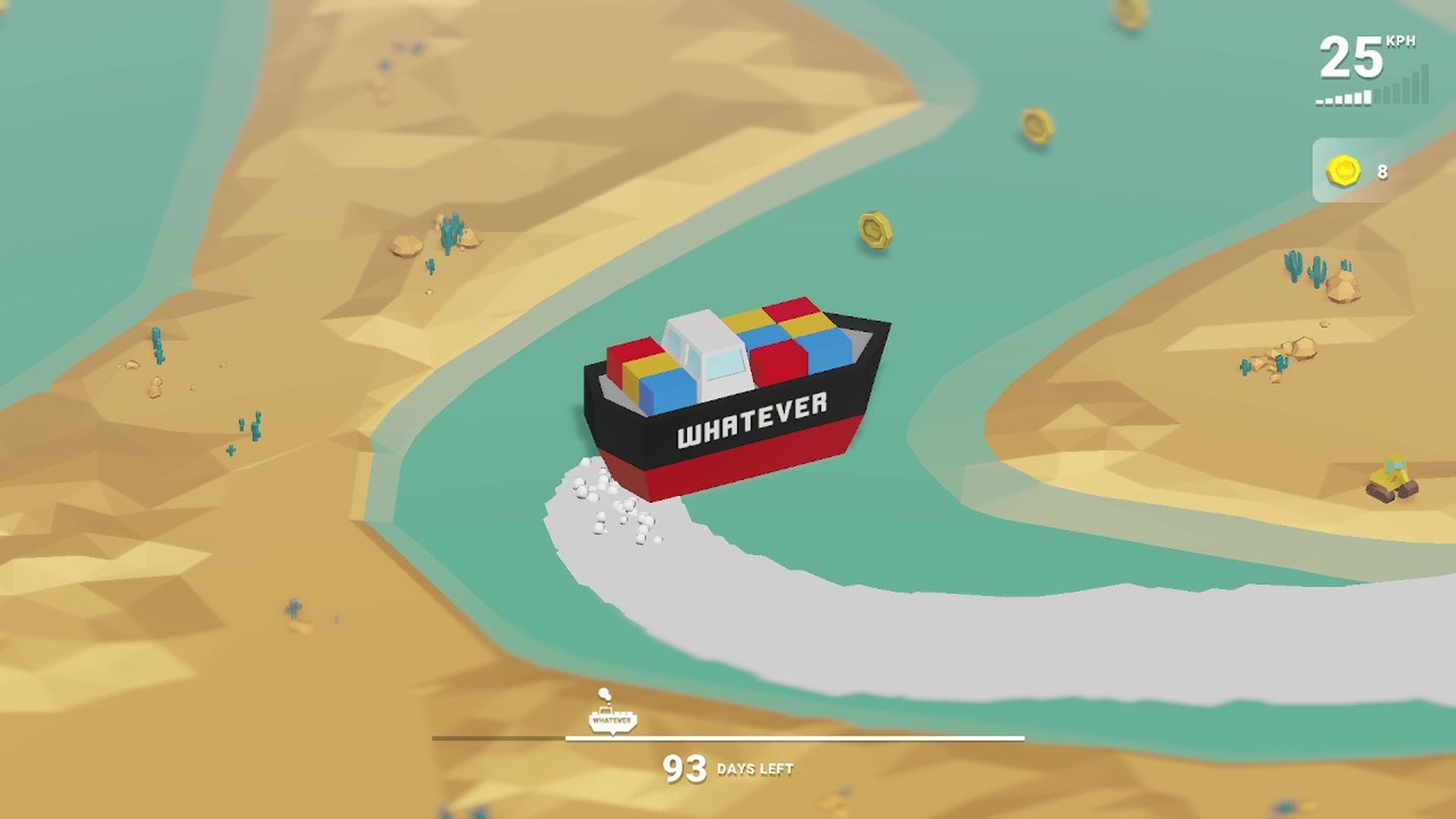 A newly revealed PC game called "Whatever" will give players a rough approximation of what it's like to steer a container ship through a tight canal, a half year after its inspiration, the Ever Given, got unstuck from the Suez.
Why it matters: For all the thousands of video games that are made each year, it's rare that one is based, however loosely, on the news.
Any good game like that takes time, because games, like large container ships, are difficult to steer to completion.
For context: a blockbuster 2011 PlayStation game inspired by 2005's Hurricane Katrina felt unusually timely.
And when a major game released this April referred to a "redneck mob storming D.C.," its creators said that could only be a coincidence, given production timelines.
The details: "Whatever" is a small indie game. It's coming from 36-year-old Bangkok-based amateur game developer Napas "Jet" Torteeka, who told Axios over Discord that he last made a game 15 years ago.
In March, he was tinkering with some game development tools while looking for an idea, when he opened up Facebook and saw the news about the Ever Given.
"I just wondered: How could that be possible!?" he said. "What were the captain and the crew doing to get it stuck that way?"
He got to work making a prototype of a game in which you steer a ship through narrow, winding passages.
Gaming projects about the Ever Given have been infrequent so far.
In late March, a player modified "Microsoft Flight Simulator" so users could fly over the stuck ship.
In the spring, the developer of a game called "Panama Canal Simulator" swiftly released a variation called "Suez Canal Simulator" and in July added the Ever Given to it for players to pilot.
The big picture: The slowness of game development is one obstacle limiting the creation of games tied to the news. The will to "go there," especially with politically fraught topics, is a factor too.
For decades, the industry turned out big-budget, flag-waving war games largely about World War II before finally — and only briefly —focusing any on the more fraught Vietnam War.
What's next: Torteeka is releasing an "early access" version of "Whatever" in late September.
He hopes players will find his game revelatory. It is cartoonish but designed to simulate the feeling of steering a heavy object while fighting inertia.
"When I first played my prototype," he said, "I knew how amazing every cargo ship captain is."
Go deeper