Biden defends ending mission in Afghanistan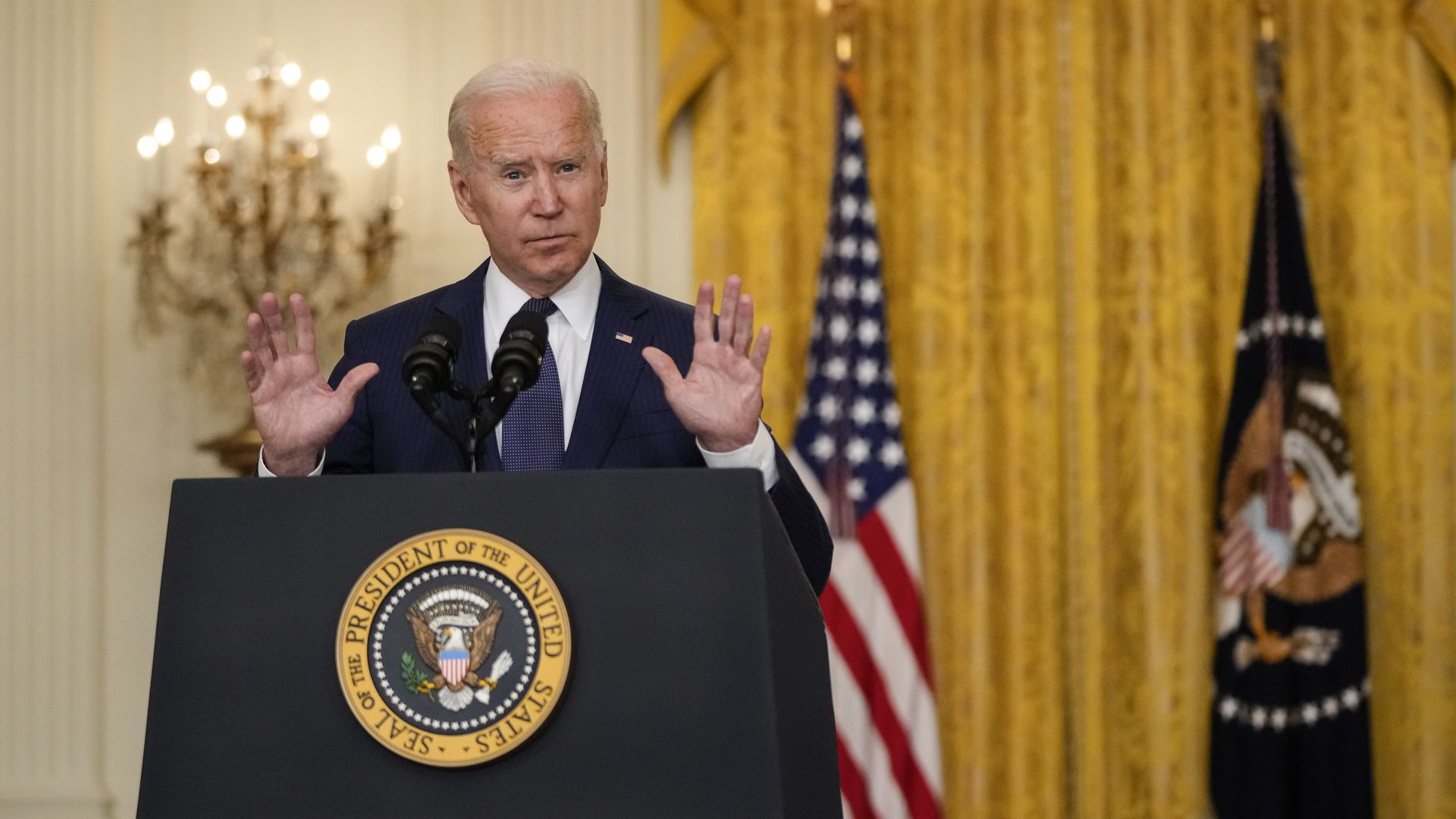 President Biden said on Tuesday that ending the U.S. military mission in Afghanistan "was designed to save American lives."
Why it matters: While Biden said he didn't regret pulling U.S. troops from Afghanistan, he made a commitment to get Americans still in the country out, even without a military presence.
"I simply do not believe that the safety and security of America is enhanced by continuing to deploy thousands of American troops and sending billions of dollars," Biden said.
"We will maintain the fight against terrorism in Afghanistan and other countries. We just don't need to fight a ground war to do it."
The big picture: All U.S. military planes officially left Kabul's airport Monday. Biden said previously he' keep troops for as long as needed to finish evacuations. But the Taliban warned there would be "consequences" if the U.S. stayed past the deadline.
The U.S. and 97 other nations reached an agreement with the Taliban on Sunday to allow them to continue to get Afghan allies out of the country after Aug. 31.
Biden said the U.S. had the resources to ensure the Taliban followed through on the deal.
Between the lines: Biden admitted the "assumption that the Afghan government would be able to hold on for a period of time beyond military drawdown turned out not to be accurate."
He sent a direct message to ISIS-K, the group responsible for the attack on Kabul's airport: "We are not done with you yet. ... to those who wish America harm, to those engaged in terrorism against us or our allies, know this: The United States will never rest.
"We will not forgive," Biden added. "We will not forget. We'll hunt you down to the end of the Earth and you will pay the ultimate price."
By the numbers: The U.S. facilitated the removal of over 120,000 people — including 5,500 Americans, Biden said. 100 to 200 Americans and thousands of allies remained in Afghanistan.
"90% of Americans in Afghanistan who wanted to leave were able to leave," Biden said.
Of note: CNN's Jake Tapper pressed National Security Adviser Jake Sullivan on Tuesday on how the Biden administration would evacuate the remaining Americans.
"We're working closely with other countries to get charter air flights going in the short term," Sullivan replied.
U.S. officials were "working with neighboring countries to be able to accept American citizens or legal permanent residents traveling by ground across borders to get them processed and then get them safely out of the country," he added.
The bottom line: Biden noted that the U.S. had ended the "longest war in American history."
"I was not going to extend this forever war. I was not extending a forever exit. The decision to end the military lift operation at Kabul airport was based on unanimous recommendation of my civilian and military advisers," he said.
"We will continue to help more people leave the country who are at risk. We're far from done.
"We succeeded in what we set out to do in Afghanistan over a decade ago. Then, we stayed for another decade. It was time to end the war.
"As we close 20 years of war and strife and pain and sacrifice, it's time to look at the future, not the past. To a future that's safer, to a future that's more secure. To a future that honors those who've served and all those who gave what President Lincoln called their last full measure of devotion.
"I give you my word with all of my heart. I believe this is the right decision, a wise decision, and the best decision for America."
— Biden
Editor's note: This article has been updated with Sullivan's comments.
Go deeper