Hurricane Ida strengthens into Category 4 storm ahead of expected Louisiana hit
Hurricane Ida strengthened into an "extremely dangerous" Category 4 storm and was "still intensifying," packing maximum sustained winds of 150 mph with higher gusts as it neared Louisiana on Sunday morning, the National Hurricane Center said.
Why it matters: Ida is expected to hit southeastern Louisiana as a Category 4 storm later Sunday. "Life-threatening storm surge, potentially catastrophic wind damage, and flooding" from its heavy rains "will impact" parts of the northern Gulf Coast, starting Sunday morning, the NHC said.
It's set to bring an "unsurvivable" surge to some coastal, low-lying parishes, the National Weather Service said. The storm could leave conditions "unlivable along the coast for some time and areas around New Orleans and Baton Rouge could be without power for weeks," the NWS added.
Ida has the potential to cause catastrophic damage from high winds, nearly two feet of rain and up to 15 feet of storm surge inundation. New Orleans is likely to see significant impacts — including hurricane-force winds and a storm surge that could test the city's post-Hurricane Katrina flood protection system.
The latest: Ida was 75 miles south-southeast of Grand Isle, Louisiana, and 60 miles south-southwest of the Mississippi River's mouth at 7am ET Sunday, exactly 16 years on from Hurricane Katrina devastating Louisiana and Mississippi.
Tornado watches were issued for parts of Alabama, Florida, Louisiana and Mississippi until Sunday evening.
Threat level: In many ways, Ida is a worst-case scenario: A storm traversing extremely warm water in an area conducive to strengthening, headed for a state that is extremely vulnerable to storm surge flooding.
Louisiana has been hit by a COVID-19 surge, with hospitals lacking extra capacity should serious injuries occur. The state chose not to evacuate patients inland from coastal hospitals, per AP.
What to watch: Hurricane and storm surge warnings were in effect for the length of the Louisiana coast, with the highest surge levels — which refers to the storm-driven amount of water vaulted above normally dry land — of 10 to 15 feet occurring between Morgan City to the mouth of the Mississippi River.
Lower amounts, of seven to 11 feet, were predicted for New Orleans, with a six - to eight-foot surge in Lake Ponchartrain. This would be within the design limits of the city's system of levees, flood gates and pumps built in the wake of Hurricane Katrina for about $14 billion.
"Widespread deep inundation" was predicted to occur outside the risk reduction system.
This system could be tested if a surge of 15 feet or higher materializes, and the surge depends on the precise wind direction, tide level and storm motion at the time of landfall.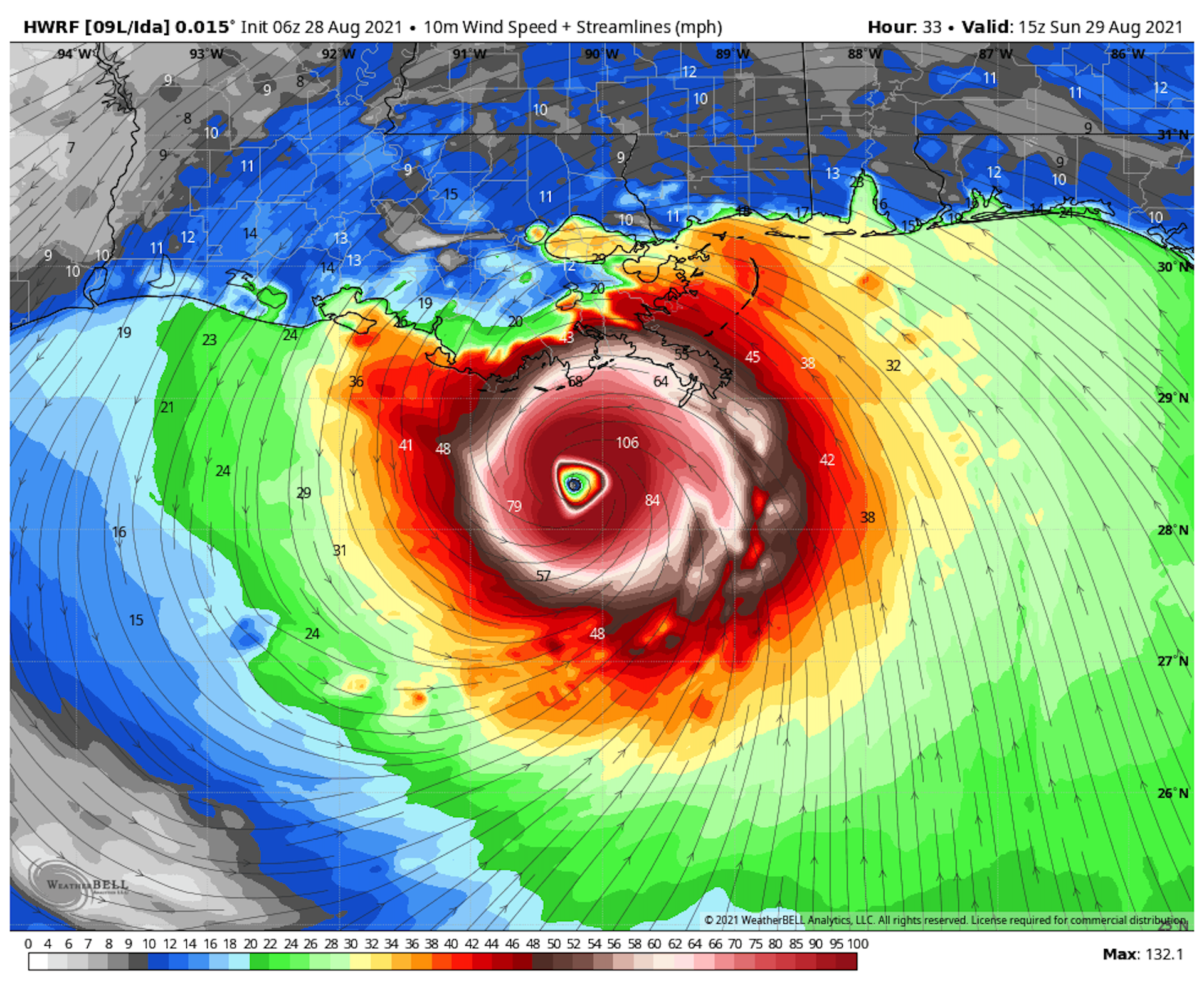 Context: Near and just to the east of where the hurricane makes landfall, wind damage will be "potentially catastrophic," the NWS warned.
Between the lines: Per the latest United Nations Intergovernmental Panel on Climate Change (UN IPCC) report, stronger hurricanes are becoming more common as the climate warms due to human emissions of greenhouse gases, and such storms are also producing more rainfall as air and sea temperatures warm.
Scientists have also shown that rapid intensification may be linked to climate change, with more storms exhibiting such leaps in storm categories.
Sea level rise is making such storms more damaging as well. The combination of sea level rise and land subsidence in coastal Louisiana makes such a trend particularly problematic.
Background: After hitting Cuba Friday night, the hurricane paused its intensification for a time, but resumed its alarming trends Saturday morning.
Editor's note: This article has been updated with details of the latest forecasts and developments.
Go deeper