Upcoming war video game is about saving lives, not taking them
The upcoming video game "War Hospital" is the rare historical war game focused on saving lives, not taking them.
Why it matters: War video games are common and cliche. Not this one.
The details: Brave Lamb Studios' "War Hospital" is a World War I medical simulation game set in and around a ruined town in France throughout the year 1917.
Players assume the role of a British commander named Henry Wells who runs a field hospital set up in the town's half-destroyed church, just yards from trenches where Allied troops fight German forces.
The game is played from a bird's-eye view and includes a dash of combat and exploration outside of the town.
But the heart of "War Hospital" involves doctors, nurses and wounded soldiers and the morally gray choices involved in the care for people during wartime.
One tricky choice presented during Axios' virtual demo with the Warsaw-based studio involved deciding which of two injured soldiers the base's lone doctor would help.
A developer showing the game tried to heal both.
But he didn't have enough resources to spend on two thorough surgeries and had to resort to a cheaper amputation for one. An added life saved, though one fewer fighter available.
The dual operations exhausted the doctor, leaving him more prone to mistakes in future operations.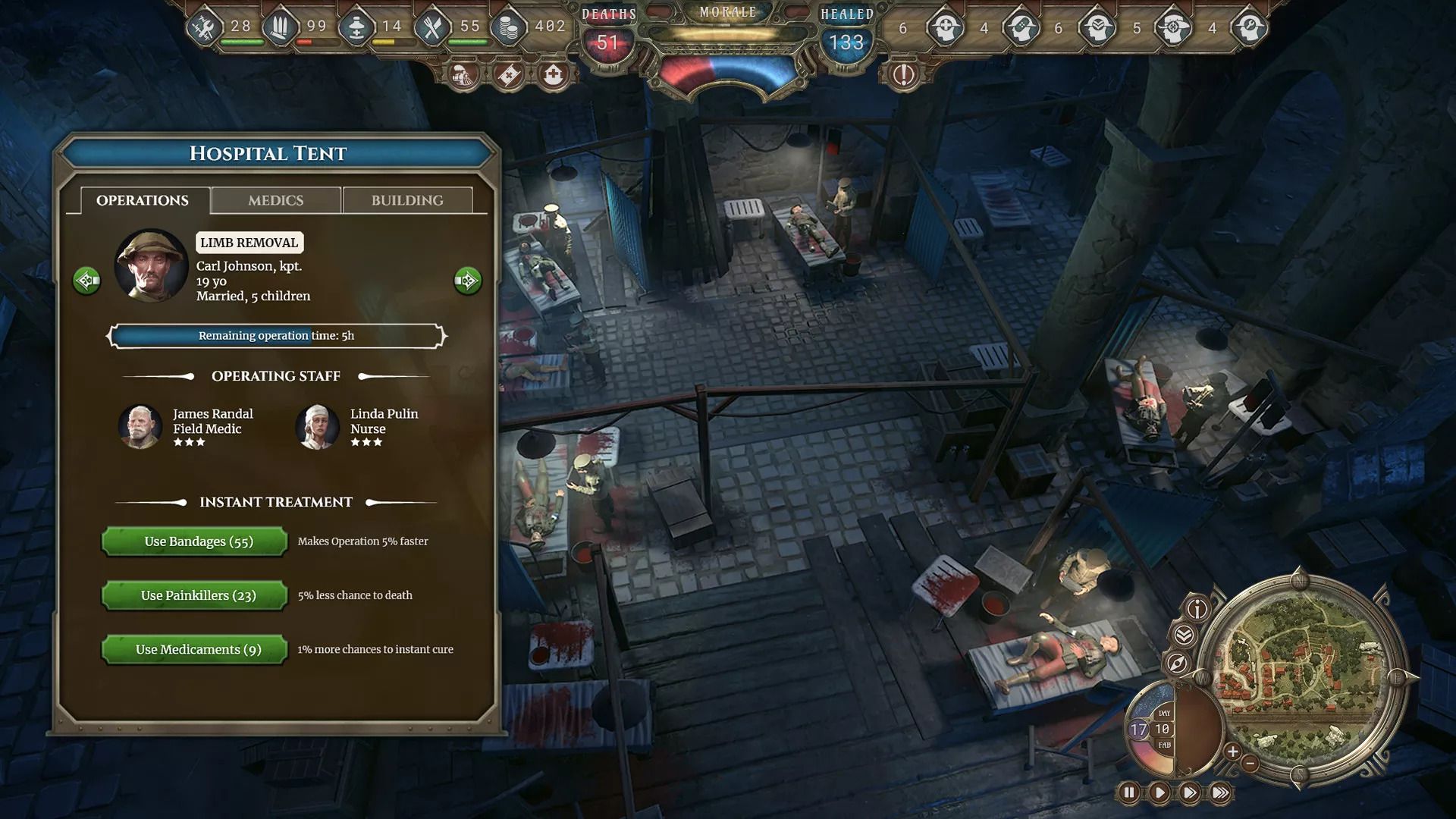 The core tension of the game involves the drive of a war effort and the tug of being humane.
"War Hospital" tracks the camp's morale and the number of soldiers healed or killed. A list of injured soldiers mentions wounds that are physical or psychological and charts their severity.
Camp morale can drop if injured soldiers are repeatedly rushed back to the front.
But sending too many soldiers home can leave the town vulnerable to the encroaching Germans. It may also reduce the resources given to the base by HQ, which limits the player's ability to upgrade the town's medical facilities and add more doctors.
The big picture: Popular war games like "Call of Duty" tend to treat war more as a playground, with a focus on the game-ified fun of combat, not the trauma of true conflict.
Those conventions were challenged by 2014's "This War of Mine," which was inspired by the siege of Sarajevo and challenges players to protect civilians during an urban invasion.
It also inspired "War Hospital" lead designer Michal Dziwniel, who told Axios his 19-person team's game is about "trying to save a small part of humanity in a dehumanized environment."
There is no winning or losing in his game, just getting to the end of the year, maybe inspiring a temporary ceasefire along the way, and seeing how everyone has fared.
What's next: "War Hospital" is scheduled to be released in December 2022 for PC and consoles.
Go deeper