The drone delivery capital of the world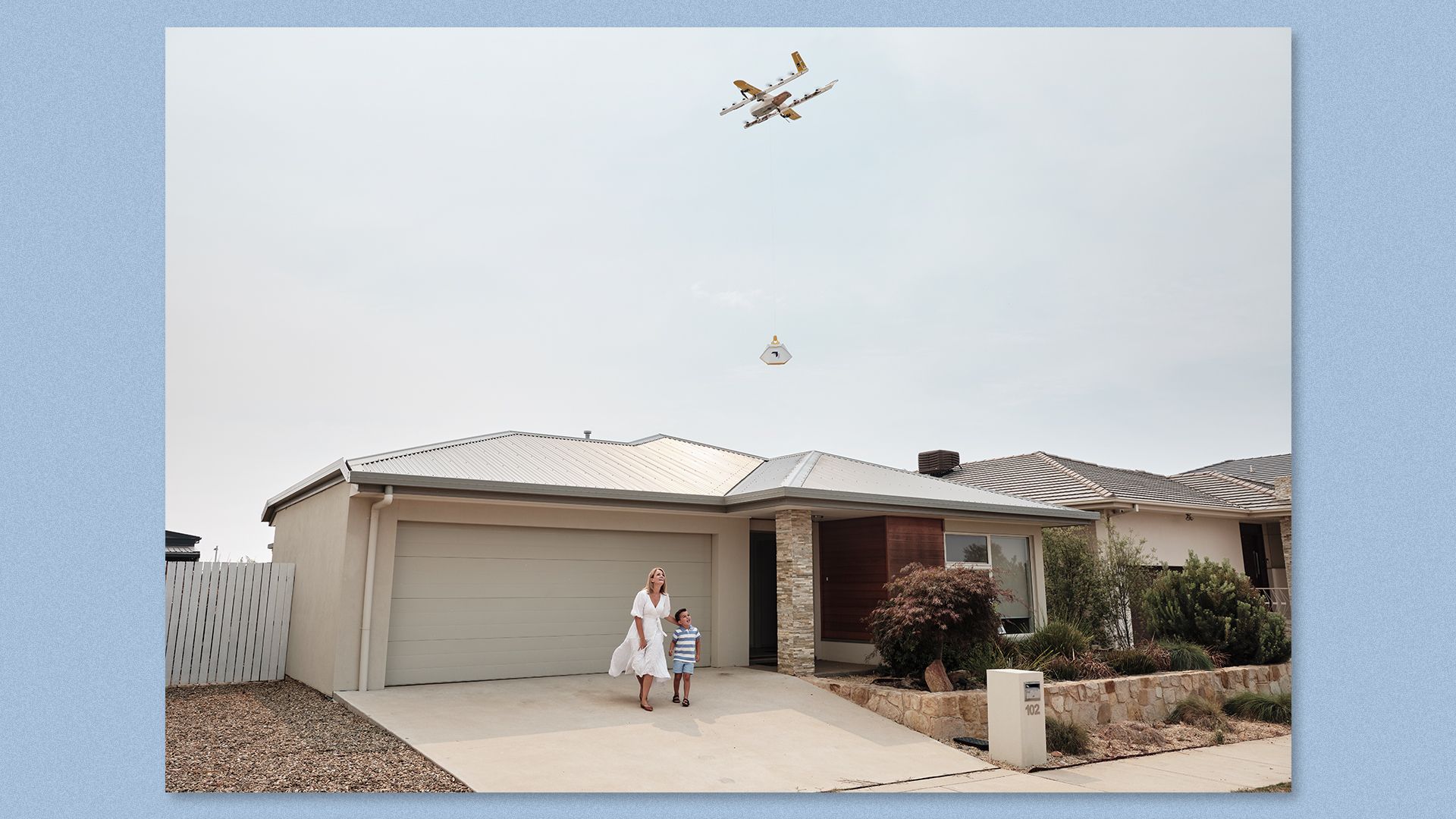 Drone delivery still seems exotic to most of us, but people in Logan, Australia, near Brisbane, routinely get food and other items delivered from the sky.
Why it matters: On-demand delivery is growing alongside an explosion in e-commerce, fueled by changes in consumer behavior during the pandemic. With roadways ever more congested, airborne delivery could sometimes be a faster option.
What's happening: This weekend, Google's drone delivery service, Wing, expects to hit 100,000 deliveries in Logan, two years after starting operations there.
More than 50,000 deliveries were made in the past eight months, including a record 4,500 in the first week of August.
That includes more than 10,000 cups of coffee, 2,700 sushi rolls, 1,000 loaves of bread and 1,200 hot chooks (Australian slang for rotisserie chickens).
Wing started in two Logan neighborhoods and now serves 19 suburbs with a combined population of more than 110,000 people.
Of note: The Google delivery milestone comes a few weeks after Wired reported that Amazon's drone delivery program in the U.K. was "collapsing."
State of play: There are various commercial drone trials in the U.S., but the Federal Aviation Administration is still writing safety and navigational rules.
For now, drones can't fly beyond the line of sight of the operator, which limits any kind of regular delivery service.
Wing has an FAA waiver to test drone deliveries in a portion of Christiansburg, Virginia.
It is also offering drone delivery in Canberra, Australia, and parts of Helsinki, Finland.
Silicon Valley-based Zipline delivers medical supplies via drone in Rwanda and Ghana. It will begin a delivery trial with Walmart later this year in Bentonville, Arkansas.
How it works: Wing's operation in Logan is a live, automated, on-demand service.
Customers use the Wing app to place orders from one of 11 participating vendors operating out of one of Wing's "nests," or operation centers.
Available items include coffee, food, hardware, clothing, pet supplies and beauty products — up to 3 pounds.
The vendor secures the order inside the package and attaches the box with a clip to the underside of the drone, which itself weighs just 10 pounds.
Wing's software chooses the optimal route to the destination, which can be as small as a picnic-table-sized clearing in someone's backyard, driveway or a nearby park.
When the drone arrives, it descends and hovers while the package is dropped down on a line. When it reaches the ground, the clip automatically releases the package, and the line recoils inside the drone.
Customers never interact with the drone itself.
By the numbers: The 3-pound weight cap would seem to be a limiting factor, but Wing says 90% of last-mile deliveries weigh less than 5 pounds.
We checked: The average rotisserie chicken — er, hot chook — is about 2 pounds, per Betty Crocker.
Be smart: Drone deliveries could be a novel service, but the real opportunity for drones is industrial. They can be used to survey and inspect buildings, pipelines and bridges, for example, keeping workers safely on the ground.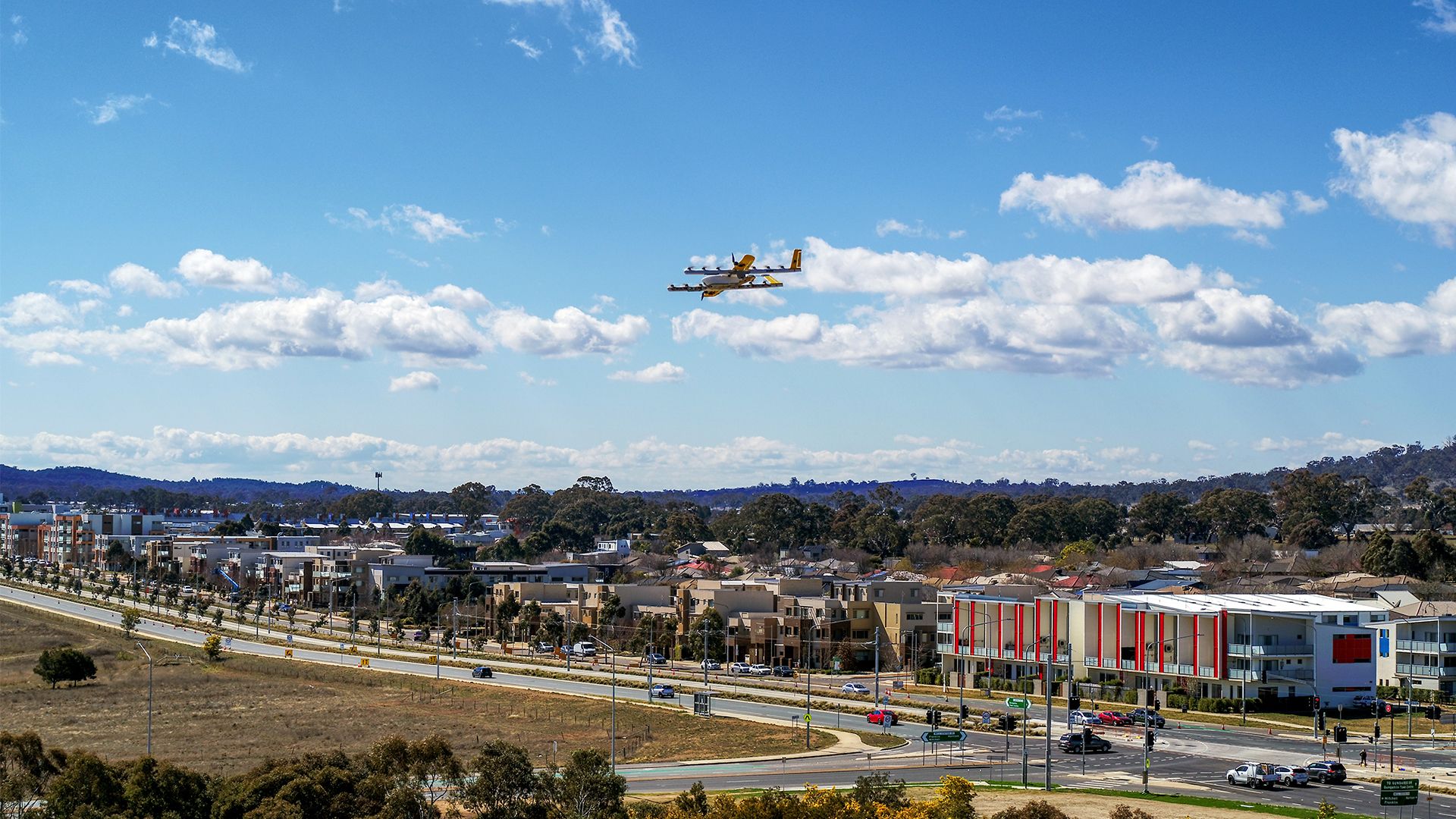 Go deeper: Fly me a pizza (or two)
Go deeper