U.S. vows to continue airlift operation despite deadly bombing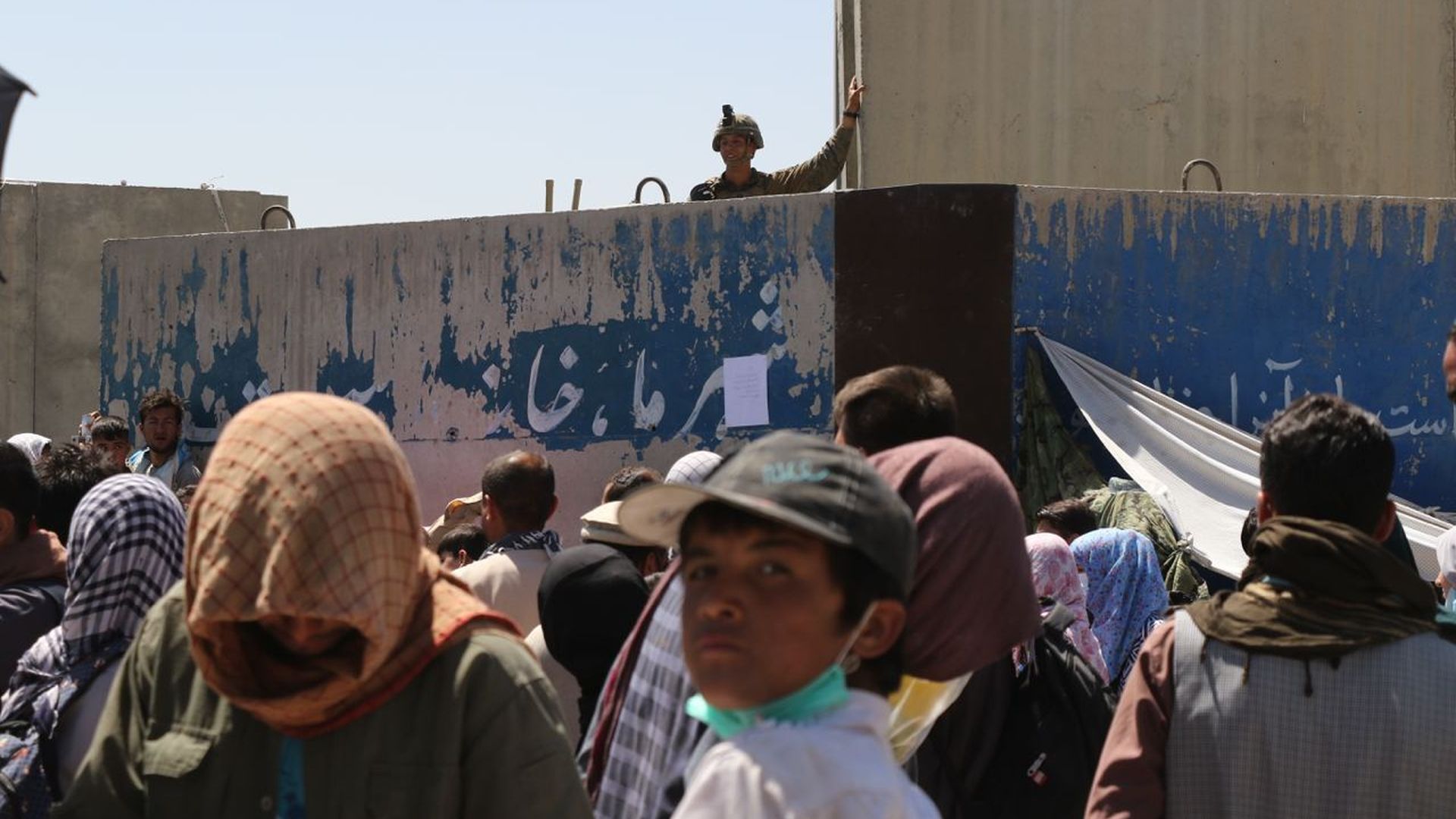 The United States will continue to evacuate people from Afghanistan after a terrorist bombing on Thursday killed 12 U.S. troops and an unknown number of Afghan civilians at the Kabul airport, Marine Gen. Kenneth F. McKenzie, commander of U.S. Central Command, said during a press conference.
Why it matters: The attack came just days before President Biden's full military withdrawal date of Aug. 31 and further complicated already-chaotic evacuation efforts.
The attack involved an explosion at the Abbey Gate entrance to the airport, McKenzie said.
The Taliban, who control the perimeter beyond the airport, condemned the attack and claimed it took place in an area where the U.S. was handling security.
What they're saying: "Despite this attack, we are continuing the mission," McKenzie said.
"Any time you build a non-combative evacuation plan like this, you bring in forces, you expect to be attacked. We thought this would happen sooner or later. It's tragic it happened today. It's tragic there was this much loss of life. We are prepared to continue the mission," he added.
McKenzie said 5,000 evacuees are ready for departure and there are "probably a little more than 1,000 American citizens left in Afghanistan."
McKenzie said at some point the military will have to draw down the evacuation flights to prepare equipment and troops for final departure, but he did not give a specific timeline for when the drawdown may begin.
The big picture: The Department of State on Wednesday night urged Americans not to travel to the airport and to leave immediately if they were gathered near the Abbey Gate, East Gate or North Gate. The department reiterated that warning after Thursday's explosion.
President Biden said on Tuesday that the U.S. and its allies were on pace to complete the evacuation mission by Aug. 31 but ordered the Pentagon and State Department to develop contingency plans "to adjust the timetable should that become necessary."
Go deeper: U.S. allies scramble to leave Afghanistan
Editor's note: This story has been updated and corrected to note that there was only one explosion, not a second one near the Baron Hotel as the Defense Department incorrectly announced Thursday.
Go deeper