U.S. relying on Taliban cooperation to complete mission in Kabul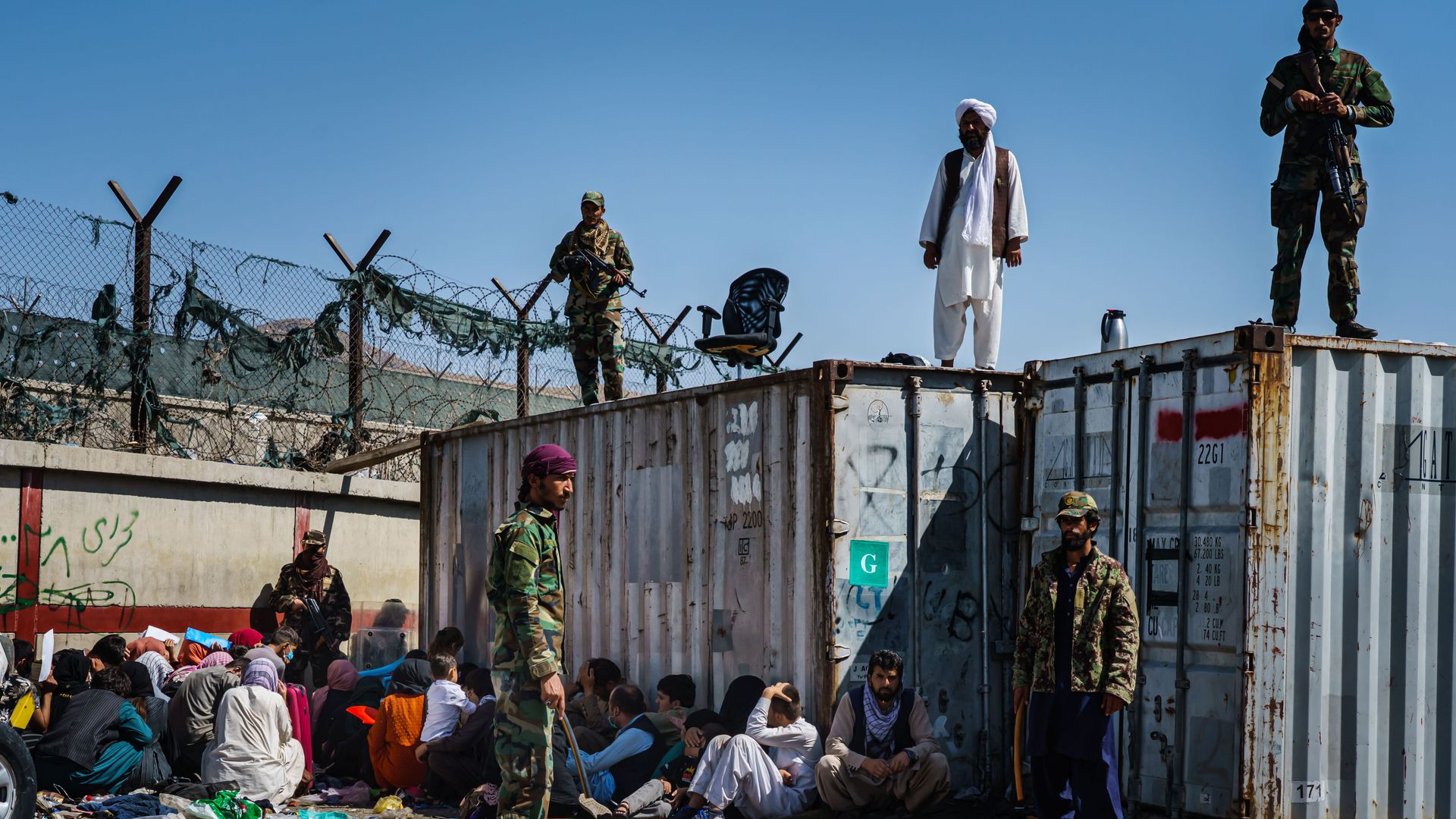 Prior to the fall of Kabul, President Biden dismissed the idea that he could trust the Taliban. "Is that a serious question?" he asked. "No, I do not."
Why it matters: He may not trust them, but as his administration has worked to evacuate Americans and Afghans, the entire mission has hinged on cooperation with a militant group that the U.S. spent years fighting.
Biden had stressed in recent days that the Taliban were letting U.S. citizens and, less consistently, Afghan allies pass through checkpoints. That's crucial, because the Taliban control the flow of traffic to the airport.
He said Thursday night that he had no regrets about allowing the Taliban to control the airport's perimeter because it was in the group's "self-interest" to prevent ISIS-K attacks and facilitate the U.S. evacuations.
And CENTCOM Commander Gen. Kenneth McKenzie noted that security coordination with the Taliban will be essential in preventing another attack. Both Biden and McKenzie said there's no evidence of collusion between ISIS-K and the Taliban.
Biden's cooperation with the Taliban has been a source of some consternation on Capitol Hill, particularly after a Politico report that the U.S. provided the Taliban with a list of names of evacuating Afghans.
The move was reportedly intended to facilitate their travel to the airport but could ultimately make them Taliban targets.
Asked about the report, Biden said the U.S. did tell the Taliban to let certain groups of Afghans through, but he wasn't aware of any such lists.
What's next: The U.S. and its allies — most of which have already suspended their evacuations — are relying on the Taliban to continue to allow Afghans and their own citizens to leave the country beyond Aug. 31.
Secretary of State Antony Blinken said Wednesday that the Taliban have provided assurances to that effect, and German Chancellor Angela Merkel spoke of the need for diplomacy with the Taliban to ensure they follow through.
Yes, but: Signals from the Taliban have been mixed at best. Spokesperson Zabihullah Mujahid lamented the ongoing brain drain on Tuesday and said "we are not in favor of allowing Afghans to leave."
Go deeper: U.S. allies scramble to leave Afghanistan
Go deeper