Biden promises retaliation for attack in Kabul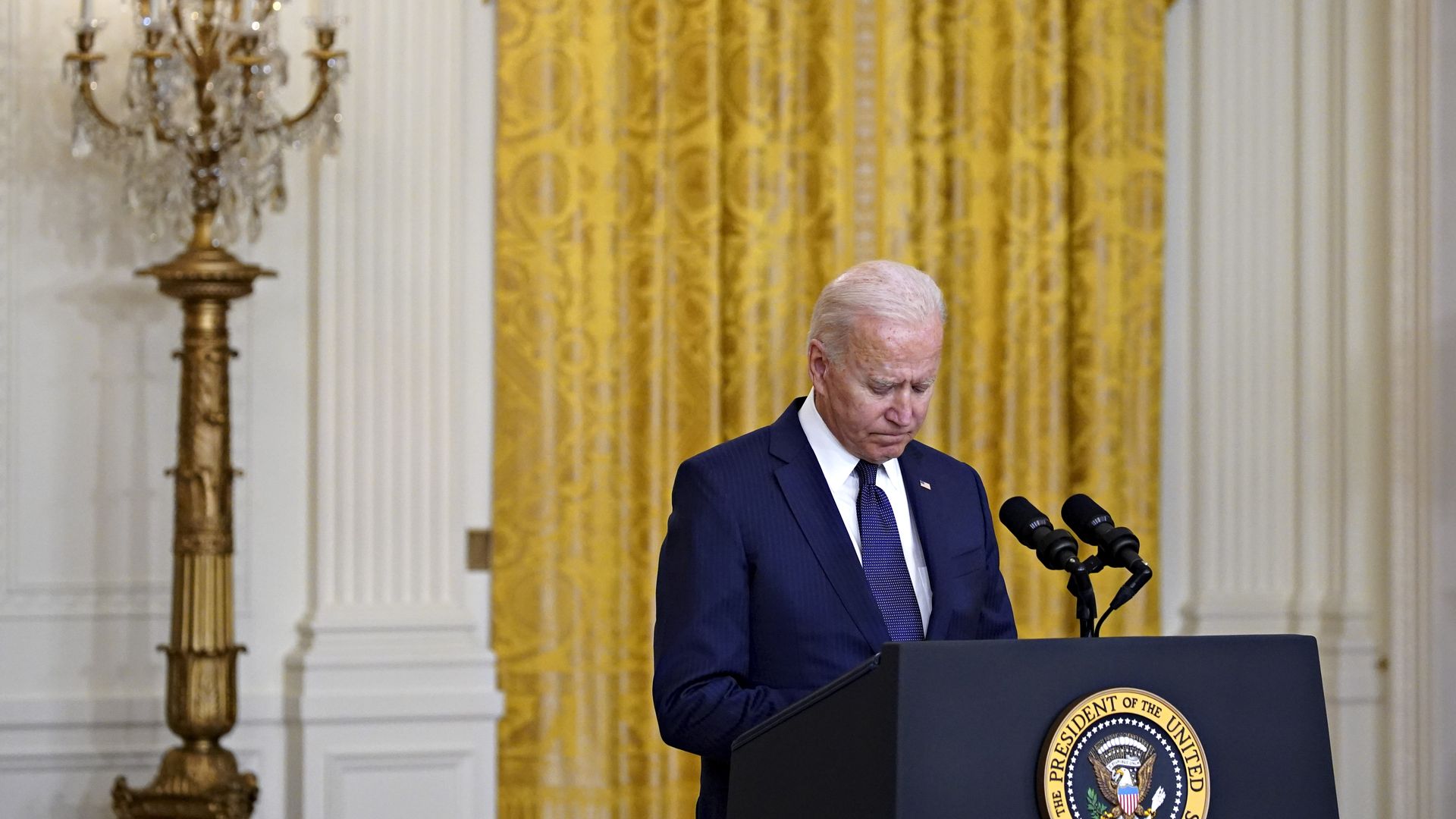 President Biden on Thursday said he has directed the Pentagon to develop plans to "strike" ISIS-K "assets, leadership and facilities" in response to the Kabul airport bombing.
What he's saying: "To those who carried out this attack, as well as anyone who wishes America harm know this: We will not forgive, we will not forget, we will hunt you down and make you pay," Biden said.
"These ISIS terrorists will not win. We will rescue the Americans, we will get our Afghan allies. Our mission will go on. America will not be intimidated. We will not be deterred by terrorists. We will not let them stop our mission. We will continue the evacuation."
Biden added that the Aug. 31 deadline still stands, but said he will "grant" the U.S. military with additional forces if necessary.
Between the lines: Biden said the U.S. will continue trying to get Americans out of Afghanistan after U.S. troops have left, suggesting he expects some to be left behind.
The State Department earlier Thursday said that while they are in contact with Americans that remain in the country, "we know that dozens more do not wish to leave Afghanistan for a range of reasons."
The big picture: The bombing at the Kabul airport killed 12 U.S. troops and at least 60 Afghans. U.S. officials believe ISIS-K were likely behind the attack.
"These American service members who gave their lives … they were heroes, heroes, who have been engaged in a dangerous, selfless mission to save the lives of others," Biden said.
"Jill and I, our hearts ache like I'm sure all of you do as well, for all of those Afghan families who lost loved ones, including small children, or have been wounded in this vicious attack," he added.
Of note: Biden said that while "no one trusts" the Taliban, it was not a mistake to depend on the group to secure the perimeter around the airport: "We're just counting on their self-interest to continue to generate their activities, and it's in their self-interest that we leave when we said and that we get as many people out as we can."
The president noted there is no evidence to suggest the Taliban and ISIS colluded to carry out the airport attacks.
Editor's note: This story has been updated and corrected to note that there was only one explosion, not a second one near the Baron Hotel as the Defense Department incorrectly announced Thursday.
Go deeper