Officials warn of "high threat" of Kabul airport terrorist attack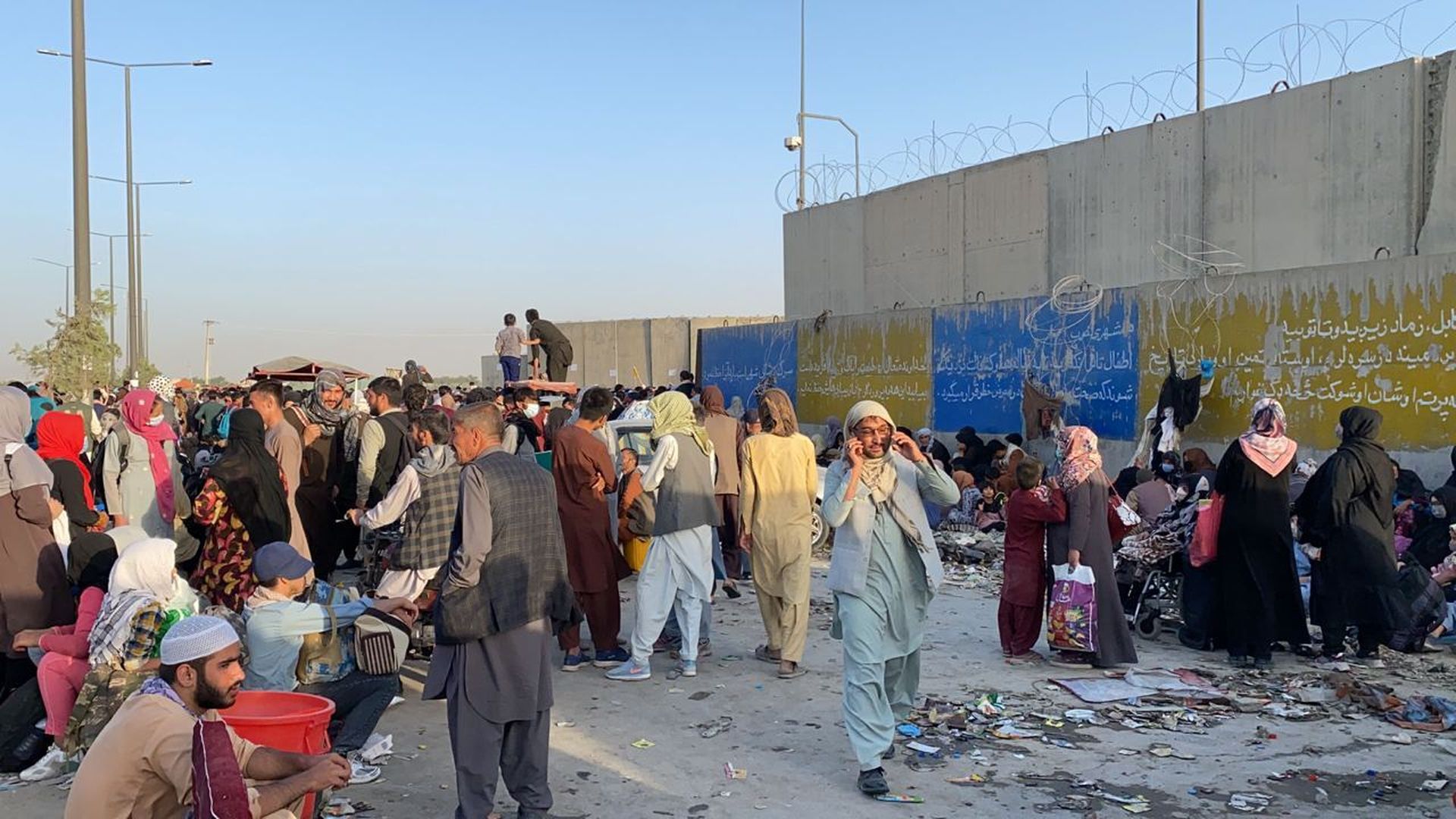 Western nations are warning of a serious security threat outside Kabul's airport and have urged citizens not to travel there.
Driving the news: The Biden administration said there was a "credible" threat at the airport in Afghanistan's capital from an ISIS affiliate in Afghanistan, per the New York Times. The British and Australian governments issued similar statements Thursday of an "ongoing and high threat of terrorist attack" in the area.
Australia, Britain and New Zealand on Wednesday also urged their citizens not to travel to the airport, AP reports.
The U.S. Embassy in Afghanistan issued a security alert on Wednesday, urging Americans at the Kabul airport to "leave immediately."
What they're saying: "Because of security threats outside the gates of Kabul airport, we are advising U.S. citizens to avoid traveling to the airport and to avoid airport gates at this time," the embassy said. "U.S. citizens who are at the Abbey Gate, East Gate, or North Gate now should leave immediately."
No specific details on the threats were provided.
The embassy warned Americans to be aware of their surroundings at all times, follow local authorities' instructions, have contingency plans for emergencies, monitor local media and to follow the State Department on social media to receive updates.
The big picture: There have been growing security concerns at the airport as the Aug. 31 deadline for U.S. military troops looms closer.
"The longer we stay, starting with the acute and growing risk of an attack by a terrorist group known as ISIS-K, an ISIS affiliate in Afghanistan — which is the sworn enemy of the Taliban as well — every day we're on the ground is another day we know that ISIS-K is seeking to target the airport and attack both U.S. and allied forces and innocent civilians," President Biden said Tuesday.
"The Taliban have been taking steps to work with us so we can get our people out, but it's a tenuous situation.  We already had some gunfighting break out.  We run a serious risk of it breaking down as time goes on," Biden added.
By the numbers: Secretary of State Antony Blinken said earlier Wednesday that up to 1,500 Americans were still trying to evacuate.
Since Aug. 14, the U.S. has evacuated and facilitated the evacuation of approximately 95,700 people, per the White House.
Editor's note: This article has been updated with additional details throughout.
Go deeper