Alexei Navalny describes "psychological violence" in first interview from jail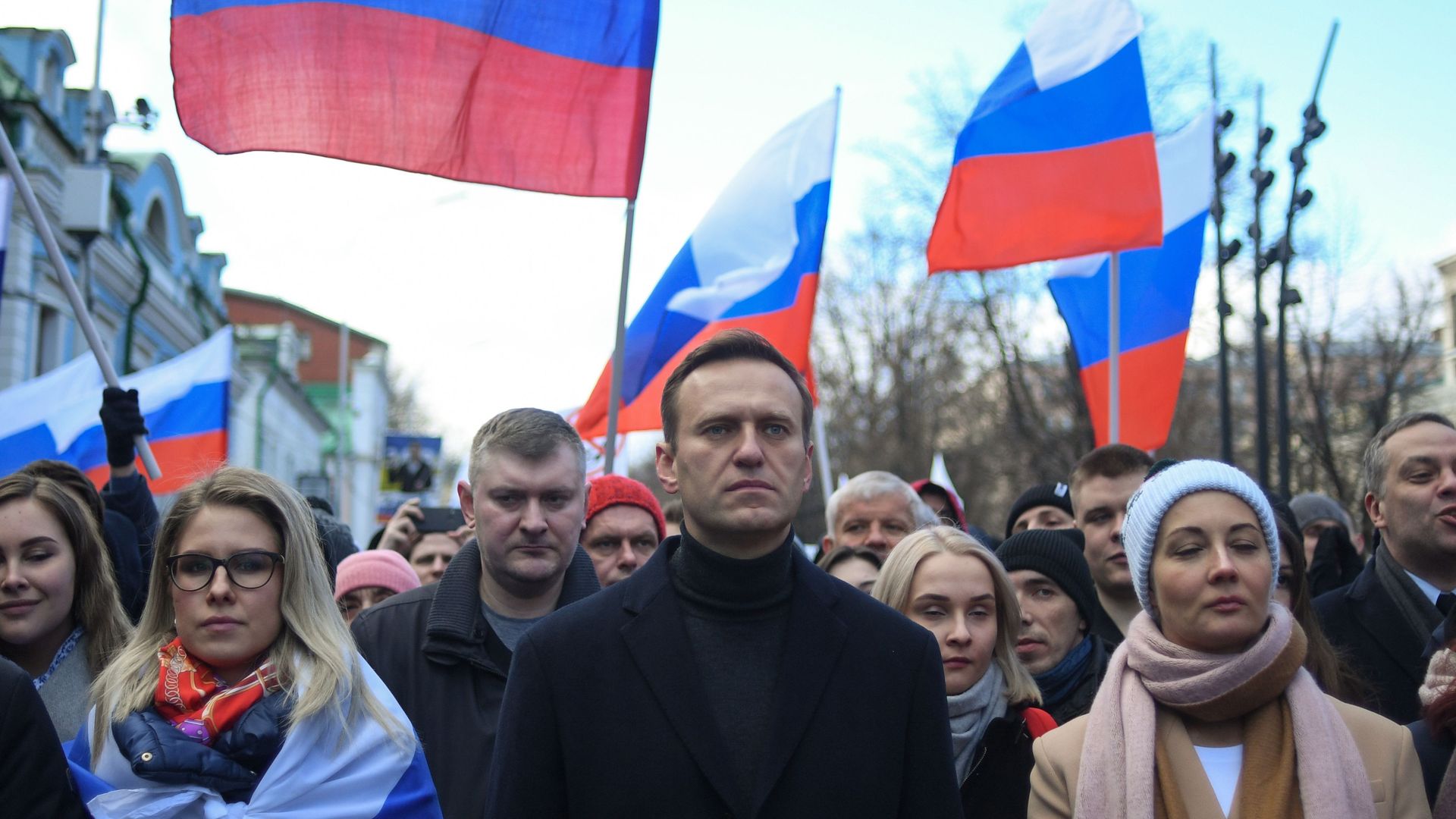 Opposition figure Alexei Navalny likened his experience as a political prisoner in Russia to a "Chinese labor camp," in his first interview since his January arrest with the New York Times.
Why it matters: Though Navalny, 45, has written occasional social media posts through his lawyers, "the written exchange of questions and answers covering 54 handwritten pages is by far his most comprehensive and wide-ranging account," since his incarceration, the Times writes.
What he's saying: "Everything is organized so that I am under maximum control 24 hours a day," Navalny told the Times.
"Reading, writing or doing anything else," is prohibited, he added. "You have to sit in a chair and watch TV."
During the eight hours per day of screen-time, he said: "I most clearly understand the essence of the ideology of the Putin regime: The present and the future are being substituted with the past — the truly heroic past, or embellished past, or completely fictional past. All sorts of past must constantly be in the spotlight to displace thoughts about the future and questions about the present."
"You need to imagine something like a Chinese labor camp, where everybody marches in a line and where video cameras are hung everywhere. There is constant control and a culture of snitching."
Navalny said prison guards used to wake him hourly to ensure he wasn't plotting an escape, saying it was "impossible to tolerate." He said now, "life without the risk of being in a wheelchair from a failing leg is far cheerier."
He struck a positive tone when talking about Russia's future, saying the country "will move on to a democratic, European path of development. Simply because that is what the people want."
"Opposition exists in Russia not because Aleksei Navalny or somebody else commands it from a headquarters," Navalny said, "but because about 30 percent of the country — mostly the educated, urban population — doesn't have political representation."
Flashback: Navalny began his time at the penal colony with a 24-day hunger strike, raising concerns about his health.
Go deeper