Scoop: Police launch new probe into muzzle sent to fired Tennessee vaccine official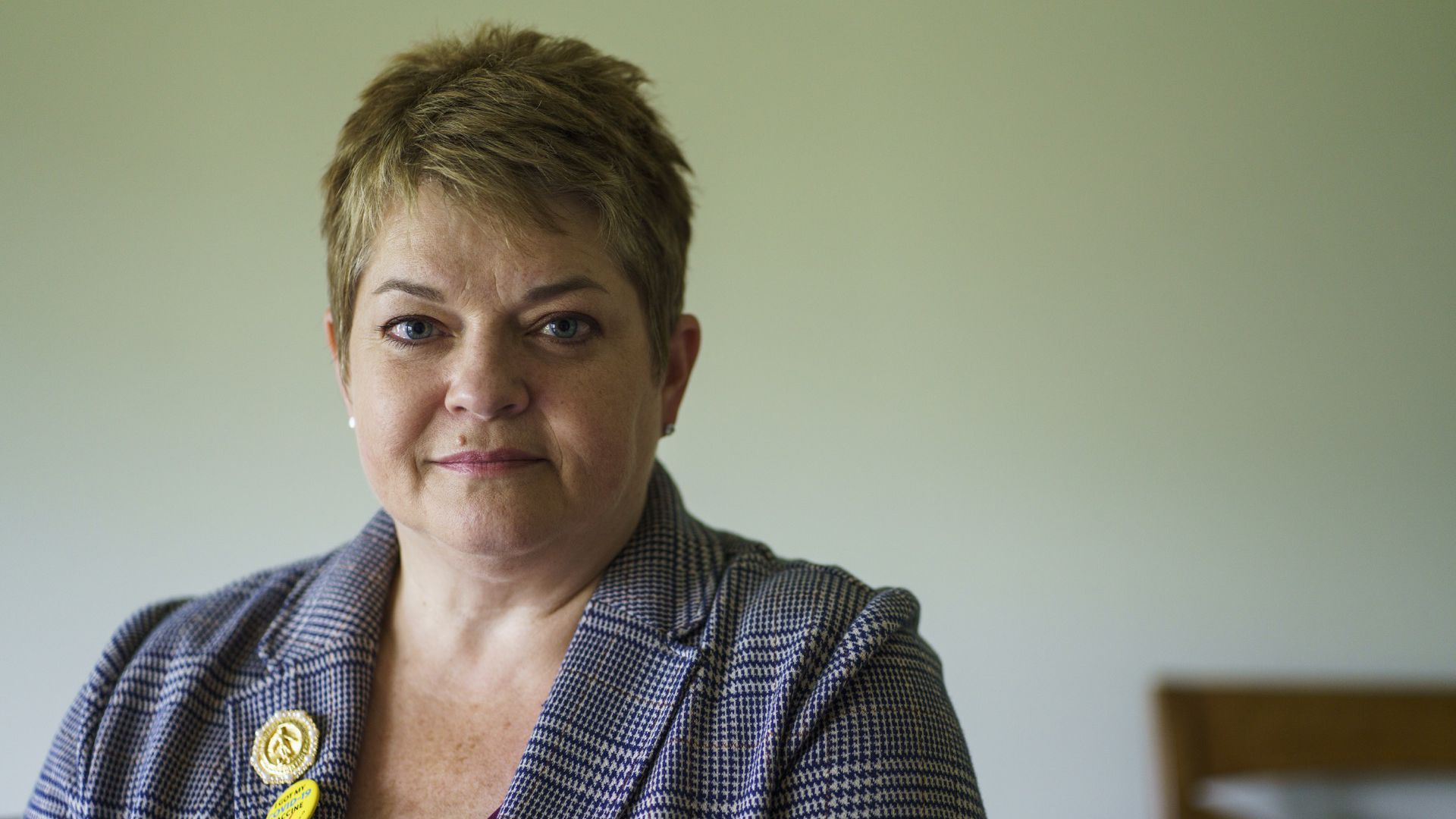 Fraud detectives with the Metropolitan Nashville Police Department launched a new investigation into a dog muzzle sent to the state's fired vaccine chief, Michelle Fiscus, after she reported the matter to officers last week.
Why it matters: State investigators closed their own probe into the muzzle earlier this month after determining it was purchased using Fiscus' American Express card. Fiscus denied she bought the muzzle, and said someone else must have accessed her credit card information. Nashville police spokesman Don Aaron said local detectives will seek an answer.
Fiscus brought the issue to Nashville police on Friday. She told officers she did not buy the muzzle and that she considered it a threat.
"We're going to attempt to figure out how it happened," Aaron said of the harassment investigation.
The context: Fiscus was fired last month amid criticism from Republican lawmakers who were upset about health department efforts to convince teenagers to get the COVID-19 vaccine. The muzzle arrived at her office during her last days on the job.
Fiscus characterized her firing as a political move driven by Republican state officials who opposed her work.
The health department released a memo last month stating Fiscus was fired for poor interpersonal communication skills, ineffective management and attempting to steer state money to a nonprofit she founded.
Fiscus' legal team is now preparing to sue the state for defamation, according to her attorney, Chris Smith.
The background: In multiple interviews after her termination, Fiscus and her husband, Brad, said the muzzle was an attempt to threaten her and stop her from talking about vaccinations.
The Tennessee Department of Safety & Homeland Security investigated the muzzle and released a redacted report about its work last week. Investigators subpoenaed Amazon for details about the purchase. They found it was made using Fiscus' credit card on an account created using her name.
"At this time, there appears to be no threat toward Dr. Fiscus associated with receipt of the dog muzzle," a summary of the case stated.
What they're saying: Fiscus, her husband and her attorneys pushed back on the state's findings.
They said the Amazon account was set up using a "burner phone" number from Washington state. The Amazon account was created in March, several months before Fiscus was in the news for her statements about vaccine messaging to teenagers.
Fiscus said she used her credit card for state purchases and expense reimbursements, suggesting the possibility her credit card information could have been accessed that way. A spokeswoman for the Department of Finance and Administration, which oversees the state's financial software, said personal credit card information is not stored on the system.
A Department of Safety spokesman did not say if the state had investigated whether Fiscus' credit card information was stolen.
Responding to a question about the state investigation, the spokesman said the agency's "sole objective was to determine whether or not there was a threat posed to Dr. Fiscus. Our investigation determined there was not and we closed the case."
For the record: Attorneys representing Fiscus requested a name-clearing hearing to contest the department's rationale for firing her. They submitted a public records request to the state last month to collect information for the hearing.
The Department of Health said it would charge $654,251.95 to produce the records.
Sign up for the Axios Nashville newsletter, launching in September, to get smarter, faster on the most consequential news unfolding in your own backyard.
Go deeper