Why a hospital CEO uses Twitter to detail the pandemic's toll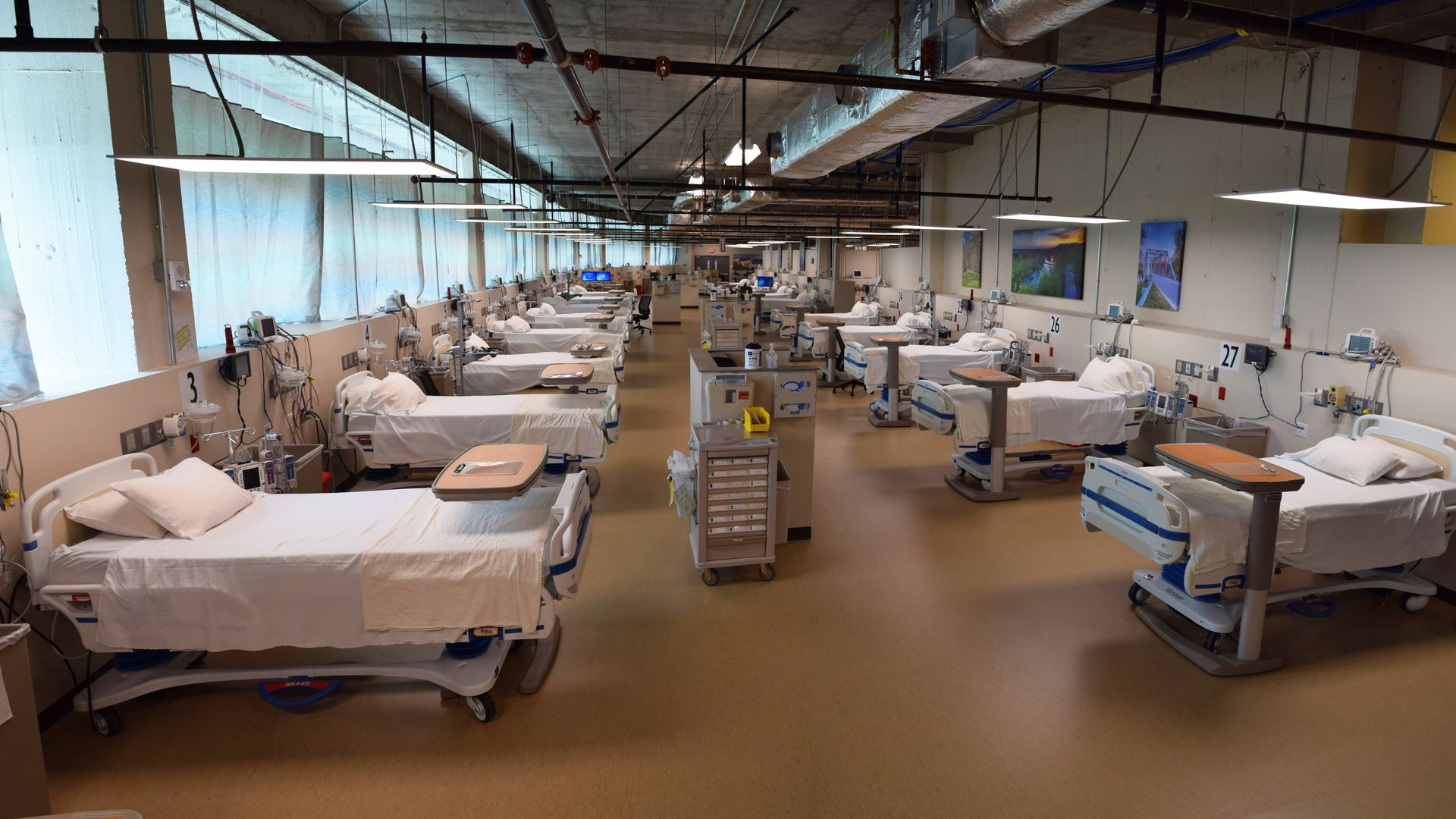 The pandemic in Missouri right now almost has been as bad as ever, with cases soaring and ICU beds filling up with COVID-19 patients. Vaccination rates remain low.
What they're saying: Steve Edwards, CEO of CoxHealth, a six-hospital system based in Springfield, Missouri, has been using Twitter to beg people to get vaccinated and admonish those who try to downplay the virus or vaccines.
This interview has been edited for brevity and clarity.
Axios: Your latest update painted a pretty grim picture of the state of the COVID-19 outbreak in your area. Can you break it down a little more?
Steve Edwards: We know that hospitalization and mortality are trailing indicators, and those numbers are still very high for us. We do have some encouraging data on seven-day rolling average for new cases.
But one of the challenges for us is, we are an early outbreak area. As we begin to be in a position to take a break, other hospitals will be overwhelmed. We are really worried about drowning our staff. We're getting about 50 to 75 requests for transfers a day to our hospital. We can't fulfill many of them because we're virtually full ourselves.
A: How burned out is the CoxHealth staff?
SE: I don't think we'll know how severe it is until the pressure of these inpatient admissions comes down. I think that's when you begin to see staff say, "I'm done." ... But it is exhaustion, extreme exasperation because 95% of our patients are unvaccinated.
A: Why aren't more people getting vaccinated?
SE: My instinct is ... people are overwhelmed with competing information. People telling them to get vaccinated, people telling them not to get vaccinated. I think it's in our human nature that when we are overwhelmed, we become paralyzed and choose not to act. Mistrust of the government and medicine also is a common denominator.
A: Has CoxHealth tried going to employers, places of worship and people's homes — in essence, bringing the vaccines to people instead of waiting for people to come to you?
SE: We've tried so many things in our own employee base. We have been finding success by holding forums and have different physicians stand there for an hour answering questions. We've done that with businesses as well. We've done home visits. We've sponsored "get a vaccine, get a beer" with a local brewery. But I think there's this hardcore group of people who are going to be hard to reach, and there are political, ideological, faith-based reasons with their reluctance.
A: You are in the minority of hospital executives who use social media to communicate. You've told vaccine opponents to "shut up." You've mentioned how many people who have died lately are parents with young children.
SE: I'm really not that sophisticated when I'm tweeting. A lot of it is kind of visceral. That last tweet was really recognizing a friend of mine who lost a brother. I'm frustrated that people want to minimize or diminish the severity of the disease. I know it hurts people who've lost someone.
A: So why have you been tweeting more during the pandemic?
SE: Beginning in March of 2020, I read three different books on pandemics. John Barry was the best I read, and his lesson was, millions died because we didn't tell the truth. That resonated with me.
I think [using Twitter] has built some credibility. Early on, we didn't hide behind how we didn't have enough personal protection equipment, and the community raced to help us. But it also does make you a lightning rod. I've gotten death threats; I was approached by a guy who served me papers. I'm not an outgoing person, honestly, and I'm rather introverted. But I told myself if there's ever a crisis, that's a time to stand up.
Go deeper