Biden says U.S. on "pace" to complete full withdrawal by Aug. 31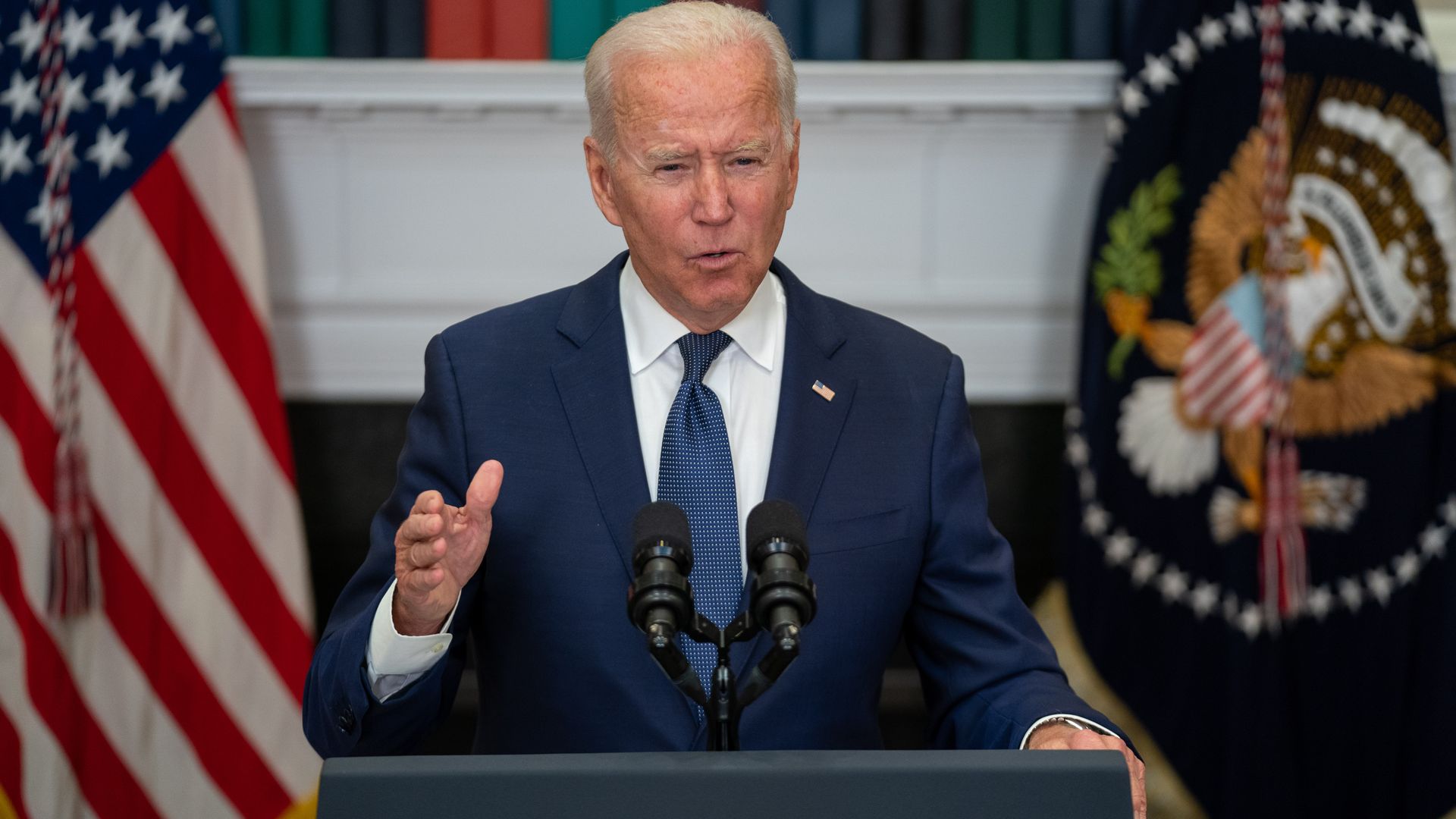 President Biden said on Tuesday that the United States and its allies are on pace to finish evacuating Americans and Afghans from Afghanistan by his full military withdrawal date of Aug. 31.
Why it matters: Biden said America's massive rescue mission will end in around seven days, though he said he directed the Pentagon and the Department of State to develop contingency plans "to adjust the timetable should that become necessary."
Biden suggested Sunday that U.S. troops may remain beyond the date to help evacuation efforts and ensure that all Afghans who worked with U.S. and NATO troops are evacuated from the country.
Taliban officials in response said there would be "consequences" if U.S. troops remain in the country beyond Aug. 31, calling it a "red line."
What he's saying: "The sooner we can finish, the better," Biden said after a digital meeting with G7 leaders on Tuesday. "Each day of operations brings added risk to our troops."
"But the completion by Aug. 31 depends upon the Taliban continuing to cooperate and allow access to the airport for those who we're transporting out and no disruptions to our operations," he added.
"I'm determined to ensure that we complete our mission, this mission. I'm also mindful of the increasing risks that I've been briefed on and the need to factor those risks in."
"They're real and significant challenges that we also have to take into consideration. The longer we stay starting with the acute and growing risk of an attack by a terrorist group."
By the numbers: Biden said around 12,000 people had been evacuated in the last 12 hours and more than 70,000 people have been evacuated since the airlift operation began on Aug. 14.
Approximately 4,000 Americans have been evacuated from Afghanistan, per the State Department, which had been refusing to provide that number.
Biden said Secretary of State Antony Blinken will give an update tomorrow on how many Americans are still in Afghanistan.
In a joint statement Tuesday, G7 leaders conveyed "grave concern about the situation in Afghanistan."
"[O]ur immediate priority is to ensure the safe evacuation of our citizens and those Afghans who have partnered with us and assisted our efforts over the past twenty years, and to ensure continuing safe passage out of Afghanistan," they said. "We will continue to coordinate closely on this."
U.K. Prime Minister Boris Johnson was expected to press Biden to extend the airlift operation during the digital event on Tuesday.
Behind the scenes: Lawmakers have expressed frustration over a classified briefing they received today in which Blinken, Secretary of Defense Lloyd Austin and Gen. Mark Milley answered only a few questions and declined to provide an estimate of how many Americans remain in Afghanistan, two sources in the room tell Axios' Alayna Treene.
The big picture: Taliban spokesperson Zabihullah Mujahid said Tuesday that Afghans should stop attempting to reach Kabul's international airport and that the militant group is "not in favor of allowing Afghans to leave."
He added that the group would not agree to extend the Aug. 31 deadline for U.S. troops to withdraw.
CIA director William Burns secretly met with Abdul Ghani Baradar, the Taliban's de facto leader, in Kabul on Monday, though the contents of the meeting are not known.
Go deeper ... "A living hell": Leaked email describes Afghan refugee conditions
Go deeper