N.Y. Gov. Cuomo condemns harassment probe in defiant farewell address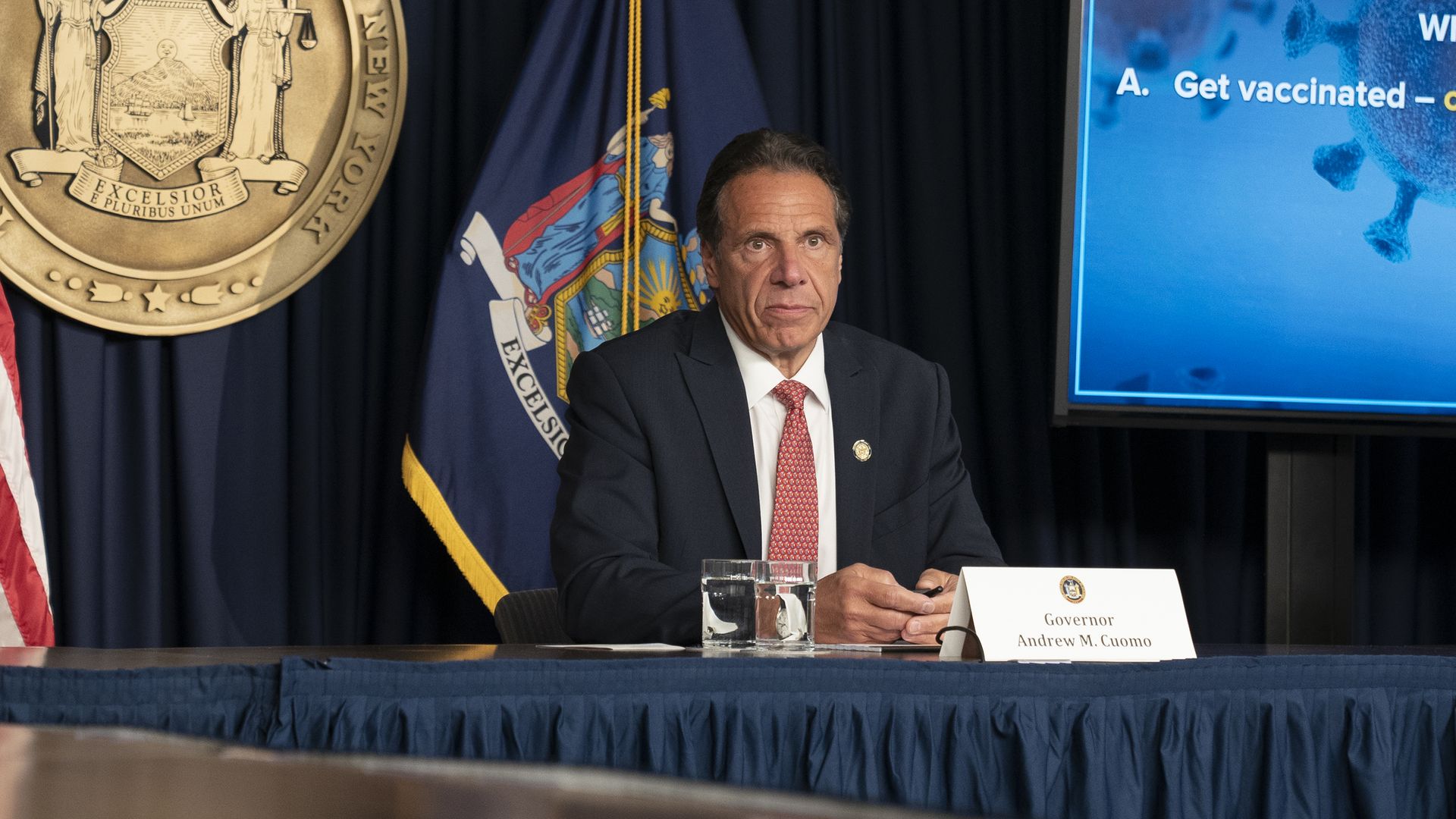 New York Gov. Andrew Cuomo criticized an independent investigation that found he sexually harassed multiple women in violation of federal and state law in a prerecorded farewell address released during his last day in office Monday.
Why it matters: Lt. Gov. Kathy Hochul will be sworn as governor at midnight on Tuesday when Cuomo officially resigns; she will become the first woman to hold the position.
Though Cuomo did not specifically address the allegations against him, he claimed "intense political pressure and media frenzy" caused a "rush to judgment" against him and promised to fight back "because it is unfair and unjust in my mind."
What they're saying: "The truth is, ultimately, always revealed," Cuomo said. "The attorney general's report was designed to be a political firecracker on an explosive topic and it worked. There was a political and media stampede."
"Prolonging this situation could only cause governmental paralysis, and that is just not an option for you and not an option for the state, especially now," he added.
Cuomo, who was nearing the end of his third term in office, thanked his staff and said he believes Hochul will "step up to the challenge."
Of note: He took a swipe at New York City Mayor Bill de Blasio, saying Eric Adams, the Democratic nominee and front-runner for mayor, "will bring a new philosophy and competence to the position."
The big picture: Despite Cuomo's resignation, the New York State Assembly is proceeding with its impeachment investigation against him and will publish a report on its finding, though that does not mean lawmakers will ultimately move toward formally impeaching him, according to the New York Times.
Cuomo also still faces criminal investigations opened by multiple local prosecutors.
Go deeper: Hochul vows to turn the page on Cuomo's "toxic work environment"
Editor's note: This post has been corrected to say Hochul will be sworn in at midnight on Tuesday, not noon.
Go deeper