Tennessee flooding leaves at least 22 people dead and dozens missing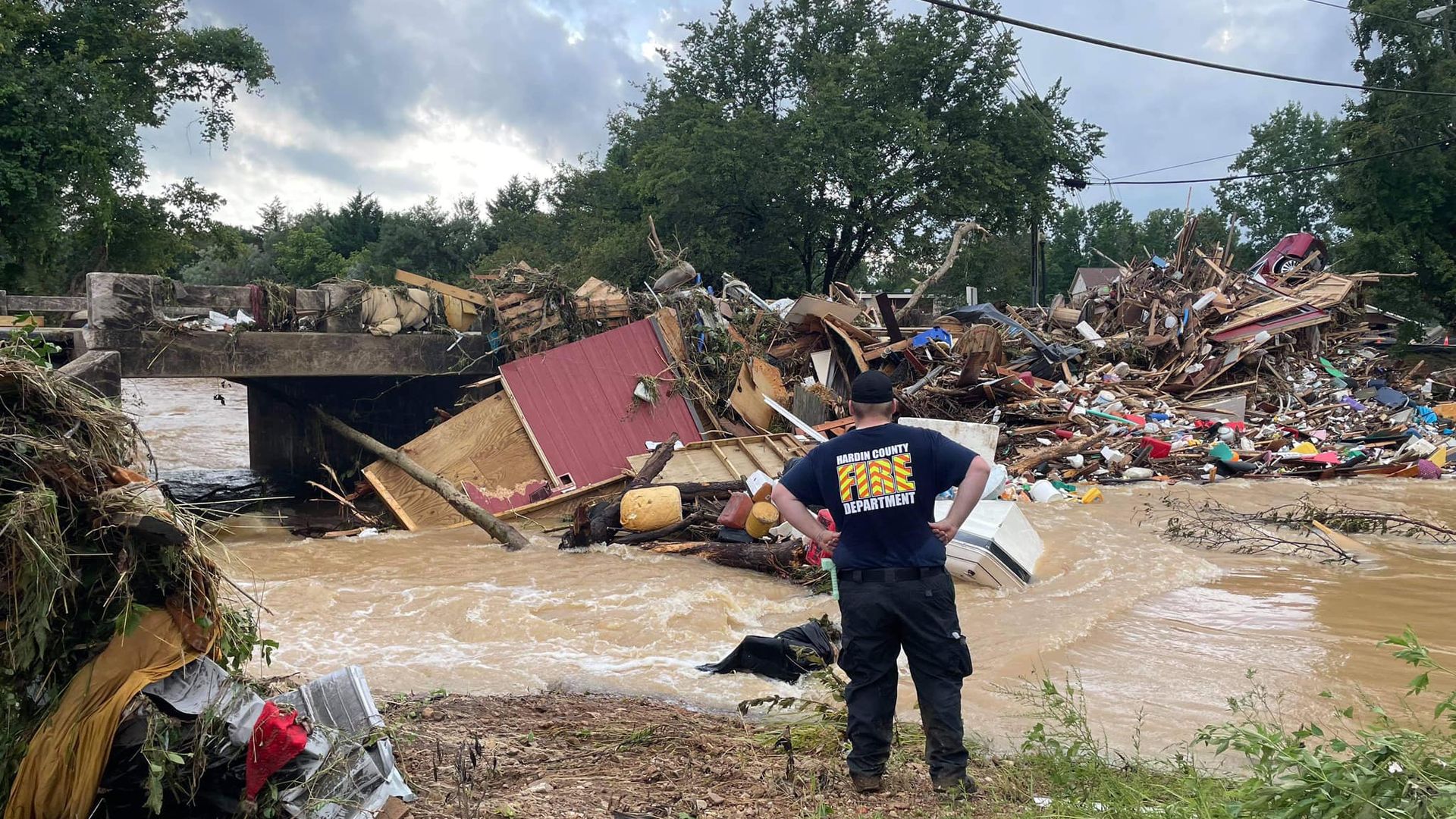 Severe flooding in parts of middle Tennessee has left at least 22 people dead and dozens of others unaccounted for, local authorities said on Sunday.
The latest: Waverly Chief of Public Safety Grant Gillespie told reporters search-and-rescue were working into the night to find those missing from Saturday's flooding, driven by heavy rainfall.
Gillespie noted that with the extreme weather causing internet and phone lines to go down in some places — including the 911 emergency line — rescuers were conducting "old school" work, conducting door-to-door checks.
In Waverly, Humphreys County — the town hit hardest by the flooding — hundreds of homes were left uninhabitable, and the waters snapped power lines and "slabs of roadway peeled from the ground," the Tennessean reports.
Officials announced an 8 p.m. curfew in Waverly.
By the numbers: 17.02 inches of rain had fallen in the city of McEwen from midnight to just before 10.30p.m. Saturday ET — meaning it "likely broke the all-time 24 hour rainfall record for the state," the NWS tweeted.
The big picture: The National Weather Service issued its most dire flood alert for the affected area on Saturday as relentless heavy rain caused creeks to overflowed amid a "flash flood emergency."
The water from the Saturday's flooding has started to recede in some areas, per the Washington Post.
What they're saying: Speaking from the White House Sunday evening, President Biden expressed his "deepest condolences for the sudden and tragic loss of life" due to the flash flooding. 
The White House has reached out to the community and stands ready to offer its support, the president added.
Waverly Mayor Buddy Frazier told WKRN: "This is the most devastating disaster that we've every experienced in this area."
Of note: A UN IPCC report on climate science published earlier this month found that extreme precipitation events, including heavy downpours, are becoming more frequent and severe.
Editor's note: This story has been updated with to reflect the death toll increase and with additional other details throughout.
Go deeper