Biden says Afghan evacuation efforts could extend beyond Aug. 31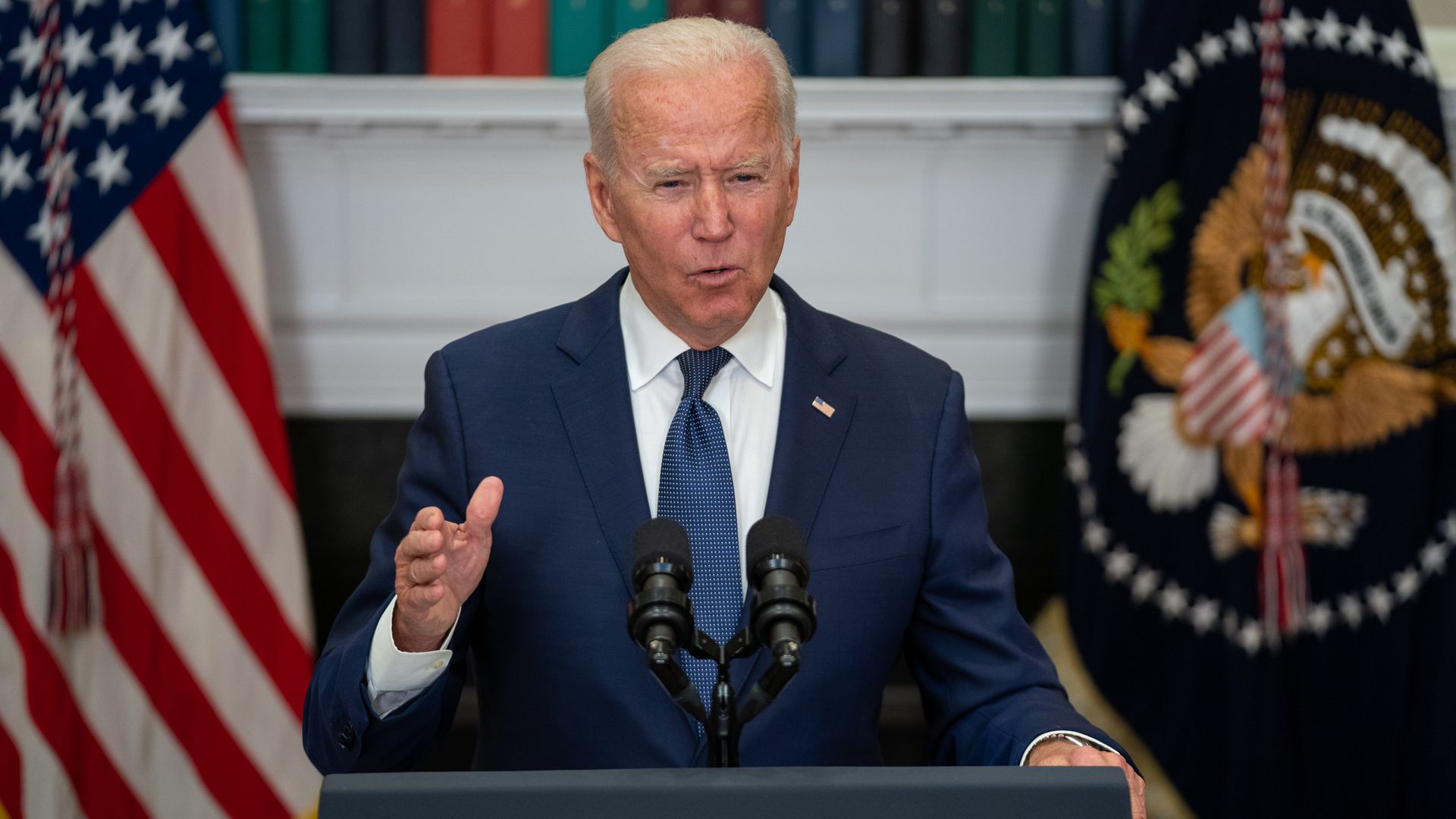 President Biden said on Sunday that U.S. evacuation efforts from Afghanistan could be extended beyond Aug. 31.
Why it matters: Biden sought to address criticisms of much of the White House response to the Taliban's takeover of Afghanistan, outlining why the administration was using commercial airlines to help relocate evacuees and the protocols in place to ensure that Afghans arriving to the U.S. have been thoroughly vetted.
"The security environment is changing rapidly," Biden said, adding that the U.S. is carefully monitoring any terrorist threats, including from ISIS-K, which may endanger U.S. troops, Americans or Afghan civilians near the airport.
Over the weekend, the U.S. Embassy in Afghanistan warned Americans not to venture to Kabul's airport "because of potential security threats."
Of note: When asked earlier in the day whether he would advise the president to extend the Aug. 31 deadline if American and Afghan allies aren't safely out of the country in time, Defense Secretary Lloyd Austin said on ABC's "This Week" that "as we approach that deadline, we'll make a recommendation to the president."
Biden isn't inclined to fire any senior national security officials over the chaos in Kabul unless the situation drastically deteriorates or there's significant loss of American life, people familiar with the matter told Axios.
Driving the news: In wide-ranging remarks, Biden focused on the number of U.S. citizens, allied and Afghan civilians evacuated so far. He also emphasized the Americans at home who've moved to welcome and support Afghan refugees, saying: "[T]hat's who we are. That's what America is. ... It exemplifies the best of America."
The White House said in an emailed statement later Sunday that since Aug. 14, the U.S. has evacuated and facilitated the evacuation of about 30,300 people on military and coalition flights.
"Since the end of July, we have relocated approximately 35,500 people," the statement added — noting that 1,700 passengers were evacuated from Kabul's airport in the 12 hours from 3a.m. Sunday ET
"In addition, 39 coalition aircraft took off with approximately 3,400 passengers," the statement added.
What else he's saying: Seeking to address safety concerns about Afghans coming to the U.S., Biden emphasized that planes would not fly directly from Kabul to U.S. airports.
"Anyone arriving in the United States will have undergone a background check," Biden added.
He also underscored that "we will welcome these Afghans who have helped us in the war effort over the last 20 years to their new home in the United States of America."
What to watch: Biden will attend a G7 leaders' meeting virtually on Tuesday to discuss Afghanistan, according to White House press secretary Jen Psaki.
Psaki added that "the leaders will discuss continuing our close coordination on Afghanistan policy and evacuating our citizens."
Go deeper...
GOP ad-makers jump on Afghan footage
Editor's note: This article has been updated with the latest numbers of people evacuated from Afghanistan.
Go deeper