Food aid in Ethiopia's Tigray region will run out this week, U.S. warns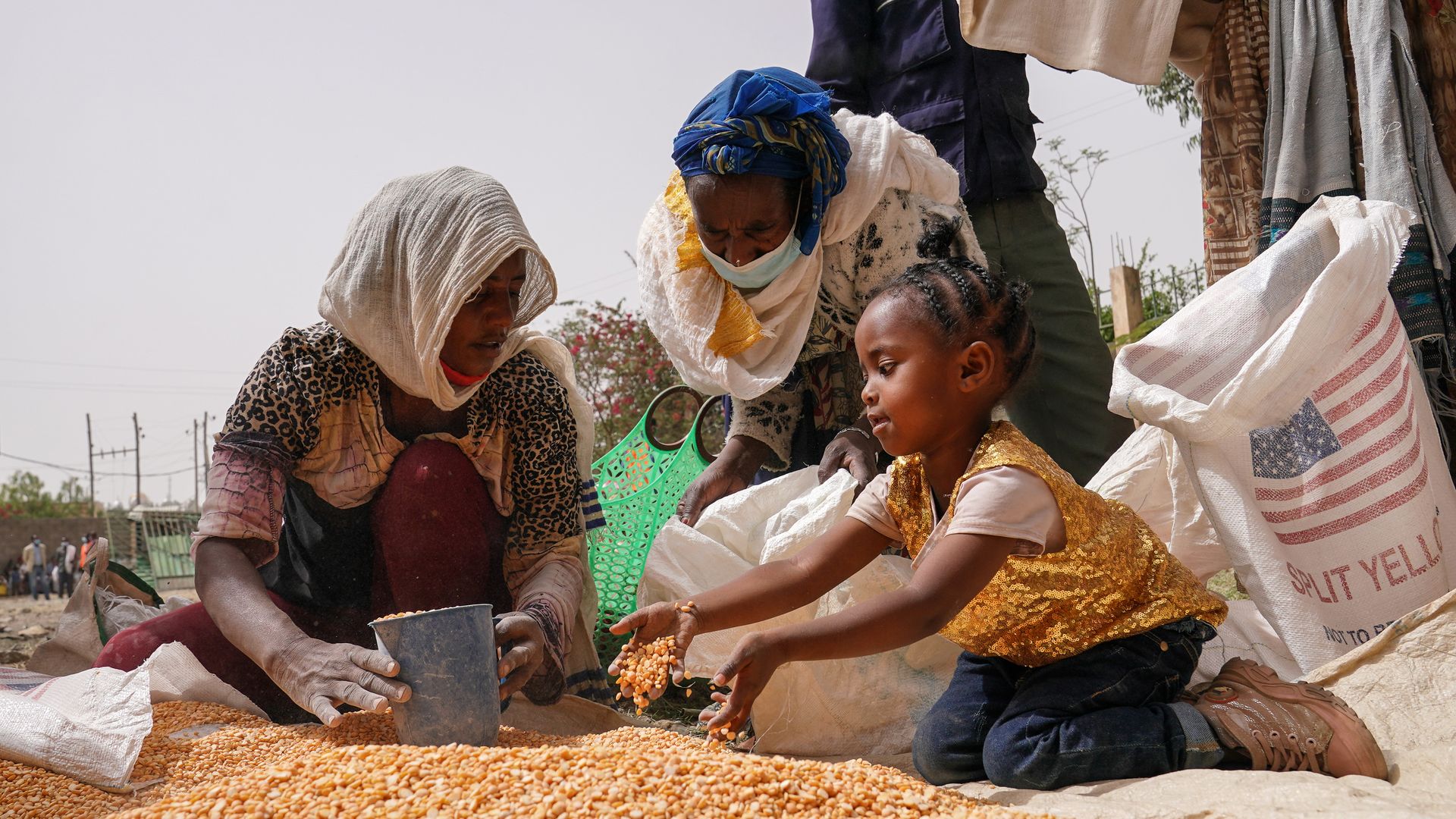 Food aid could run out for millions of people in Ethiopia's Tigray region this week due to hurdles imposed by Ethiopia's government making it difficult for aid workers to deliver food, the U.S. Agency for International Development said Thursday.
Driving the news: "This shortage is not because food is unavailable, but because the Ethiopian Government is obstructing humanitarian aid and personnel, including land convoys and air access," USAID administrator Samantha Power.
Less than 7% of the needed food aid has reached the Tigray region, where up to 900,000 people face famine conditions, according to Power.
What she's saying: "[Humanitarian workers] have encountered unacceptable delays at multiple checkpoints, some of which take hours to clear, as well as repeated intensive searches," Power said.
"Aid workers are harassed, and we have seen an increase in troubling and harmful rhetoric coming from the Ethiopian Government against humanitarians," she added.
"The U.S. calls on the Ethiopian Government to immediately allow humanitarian assistance to swiftly move into Tigray in order to prevent a catastrophic stop to food assistance that millions need to survive."
The big picture: The U.S. warning comes just hours after UN Secretary-General António Guterres described humanitarian conditions in the region as "hellish," AP reports.
Ethiopia's government, which has accused humanitarian workers of arming and supporting Tigray fighters, has confiscated aid workers' personal medication, cash and communications equipment as they try to enter the region, per AP.
Bank services and telephone and internet access are also cut off in the Tigray region.
According to Thursday's U.N. humanitarian update on Tigray, 100 trucks of supplies — 90 of them with food — must enter Tigray every day to help meet the needs of more than 5 million people. But just 316 trucks entered the region between July 12 and last Sunday.
Guterres said he spoke to Ethiopian Prime Minister Abiy Ahmed on Thursday and there ""there was a commitment things would improve, but we have to see what happens in the next few days," per AP.
Go deeper: 900,000 face famine in Ethiopia's Tigray region, U.S. says
Go deeper