NYPD: Unvaccinated officers must wear masks or face discipline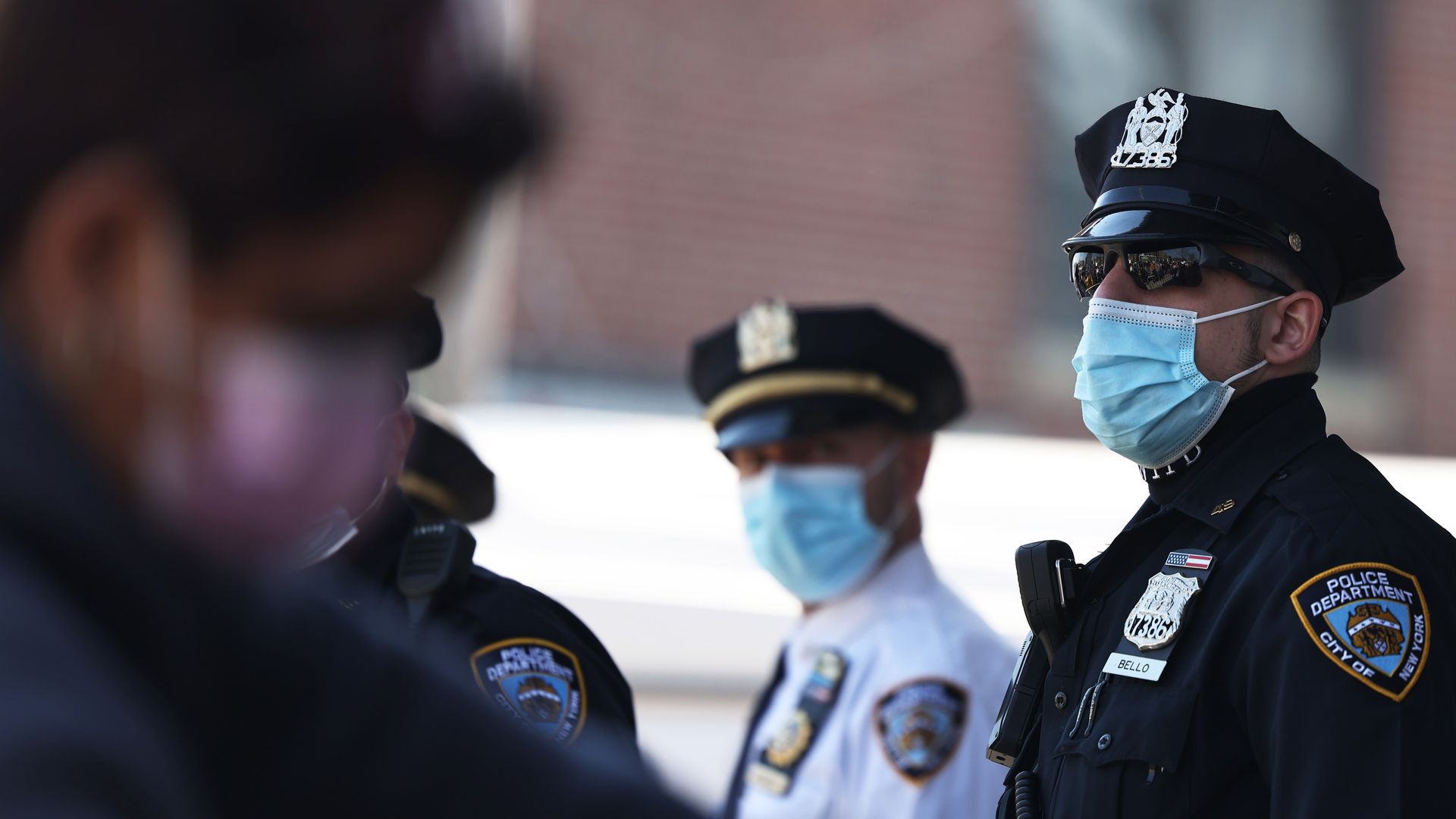 Unvaccinated officers at the New York Police Department will be required to wear masks on duty or face disciplinary action, the department confirmed Friday.
Why it matters: Public and private entities are increasingly considering reinstating mask mandates amid a surge in Delta cases. Mayor Bill de Blasio announced last month that all city employees, including law enforcement, must get vaccinated or submit to weekly testing.
Details: "As per Mayoral Executive Order 74, members of the service who wish to remove their face coverings in the workplace must be fully vaccinated and provide proof of COVID-19 vaccination to the Medical Division," a department spokesperson said in an emailed statement.
If a member does not have proof of vaccination on file with the medical division, they must wear a mask indoors and outdoors at all times, including while in department vehicles.
They are allowed to temporarily remove their masks while eating or drinking. Adjusting the mask due to temperatures or breathing difficulties is also considered "reasonable," per the statement.
Members in the rank of sergeant or above are tasked with enforcing the policies. The statement did not specify what kind of disciplinary action would occur if a member violated the rule.
Worth noting: All officers regardless of vaccination status must wear a mask while engaging members of the public or in elevators, the policy added.
The big picture: NYPD had administered vaccines to roughly 43% of police officers and professional support staff as of July 21, though that number doesn't take into account people who may have gotten the vaccine elsewhere, according to an NBC affiliate.
Over 11,000 members of the force have tested positive for COVID since the start of the pandemic.
Editor's note: This story has been updated with the NYPD's emailed confirmation.
Go deeper