Colleges crack down on unvaccinated students as campuses reopen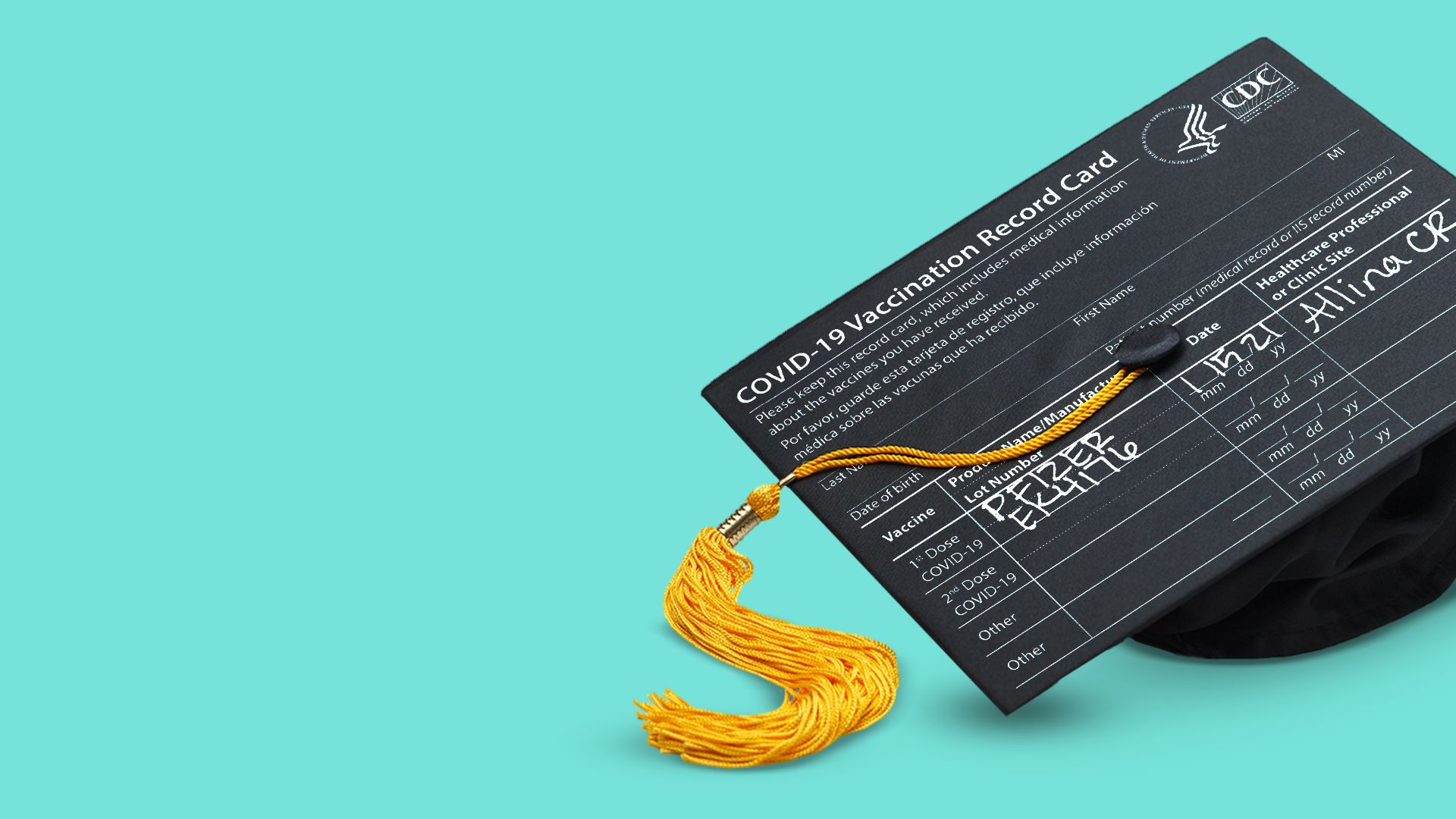 Colleges and universities are welcoming students to campus against the backdrop of a nationwide surge of COVID-19 cases largely driven by the Delta variant — posing questions about how best to reopen campuses safely.
Driving the news: Some schools are turning to disciplinary actions — through fees or, in one case, suspending internet access — as a way to promote strict adherence to COVID-19 protocols. Others, however, are giving away prizes in an effort to incentivize students to get vaccinated.
What's happening:
Additionally, students who do not fulfill the vaccine requirement by Sept. 14 will lose access to Wi-Fi and the Quinnipiac network.
Some colleges, however, are taking the opposite approach, offering prizes and raffles — ranging from gift cards to chances to win scholarships or unlimited meal plans — to encourage students to get the vaccine.
Auburn University has an incentive program for fully vaccinated students, which includes raffles for prizes, including upgraded parking passes, unlimited meal plans and $1,000 scholarships.
The University of Kansas is offering $40 gift cards to the first 4,000 vaccinated students and holding a raffle, which includes a chance at free in-state tuition for a semester.
West Virginia University also entered fully vaccinated students and employees into a raffle for a chance to win laptops, Chick-fil-A gift certificates or a free zip-lining session, NPR reports.
The big picture: About 700 schools — about a quarter of colleges — have opted for vaccine requirements among students and employees, according to the Chronicle of Higher Education.
Nearly half of all colleges are encouraging students to get vaccinated through outreach to students, campus vaccine clinics and prizes, NPR reports. But at least 12 states have prohibited schools from mandating vaccines, per the Wall Street Journal.
Meanwhile, some campuses are relying on mask mandates and regular testing, per Inside Higher Ed.
Between the lines: Some schools' coronavirus protocols hinge on financial considerations, the Journal noted.
A report from the University of Texas at Austin modeled different scenarios for the fall semester, finding that without frequent testing or mask-wearing inside, an average of 11,200 students could become infected with COVID-19 in the fall.
Additionally, the difference between a student vaccination rate of 60% and 80% would cost the the University of Texas about $4 million, per the report.
The bottom line: "There are these two different worlds: There's a world where we do all this mitigation, it's successful enough that we could actually safely continue school in person and we don't have to go online," Lauren Meyers, a professor at the University of Texas, told the Journal.
"Or there's the world where we don't do enough to mitigate, or there's not enough vaccination in the community, and we're forced to go online, and that incurs additional cost to UT."
Go deeper: America's patchwork back-to-school plan
Editor's note: This article has been updated to include OSU's vaccine mandate announcement.
Go deeper