A rescue option if you get COVID overseas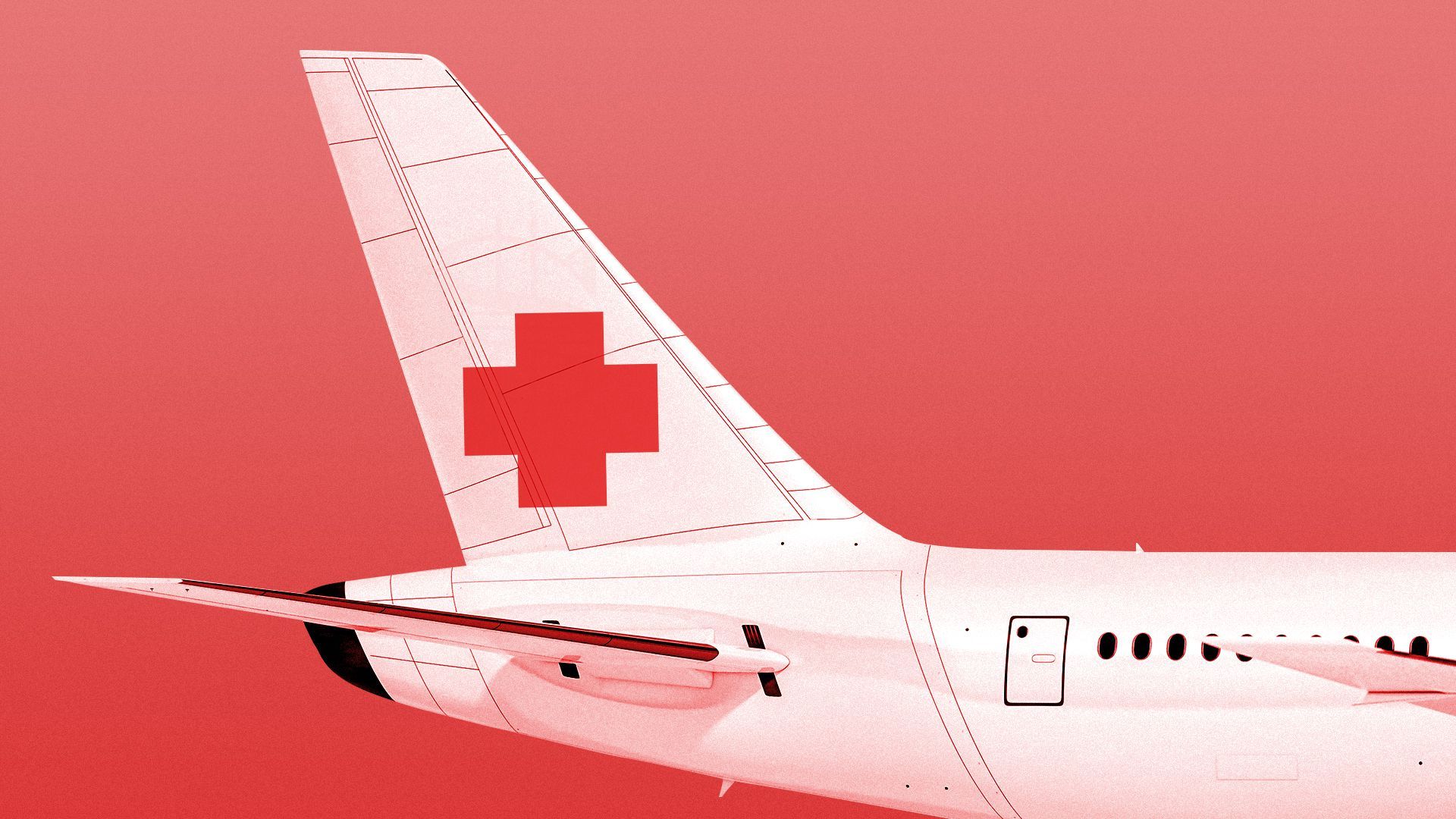 There's a lot of pent-up demand for overseas travel, but one thing holding Americans back is the worry that they'll be stranded in a foreign country if they contract COVID-19 while traveling.
Why it matters: The U.S. requires all arriving air passengers — vaccinated or not, including Americans returning home — to test negative for COVID-19 no more than three days before their trip.
Isolating for an extra 10 days in a hotel room, even in paradise, can be expensive — not to mention risky, if you get really ill and need medical care in a foreign country.
What's happening: A company called Covac Global will send a medical jet, helicopter or even a speed boat — "whatever it takes," they say — to rescue COVID patients in other countries and bring them home for care.
Some vacation destinations are even partnering with Covac to prevent infections from spreading in their country.
The Bahamas government is a client, doing weekly evacuations to transport positive visitors off the island, the company says.
And some hotels, like the Eden Roc in St. Barts, are including evacuation service in their vacation packages.
Context: Most travel insurance policies like Allianz Travel Protection Plan generally don't cover COVID-19 claims because a pandemic is "foreseeable." Nor do they cover fear of travel.
During the ongoing health crisis, however, Allianz says it will temporarily cover emergency medical care as well as trip cancellation for a traveler who becomes ill with COVID-19.
Covac Global focuses on getting them home, regardless of whether they are sick.
The intrigue: It's not trip insurance — it's a membership-based service.
Membership for a 15-day trip is $675 per person; a 30-day trip costs $995. Annual membership is $2,400, for unlimited trips up to 90 days each.
How it works: Unlike most insurers, Covac doesn't require customers to be hospitalized before it authorizes a medical evacuation.
All the company needs is a positive COVID test result and one self-reported symptom, like a scratchy throat, cough or runny nose.
Covac medical personnel will pick up the patient wherever they are and transport them back to the U.S.
They don't have to comply with the CDC's rules on isolation if the medical team delivers them directly home.
"All they have to do is wait in the hotel, and we pay for the whole thing, up to a million dollars, to take them home," CEO Ross Thompson tells Axios.
The bottom line: Since launching the service early in the pandemic, Thompson says Covac has sold "tens of thousands of memberships" and performs "about a dozen" evacuations per month.
Most are fully vaccinated travelers who still contracted COVID while abroad, he said.
The catch: Non-members are eligible for evacuation service too, but it could cost as much as $250,000 door-to-door, depending on where they are.
Go deeper